A budding highland for AI innovations
By He Wei in Shanghai | China Daily | Updated: 2018-09-22 00:52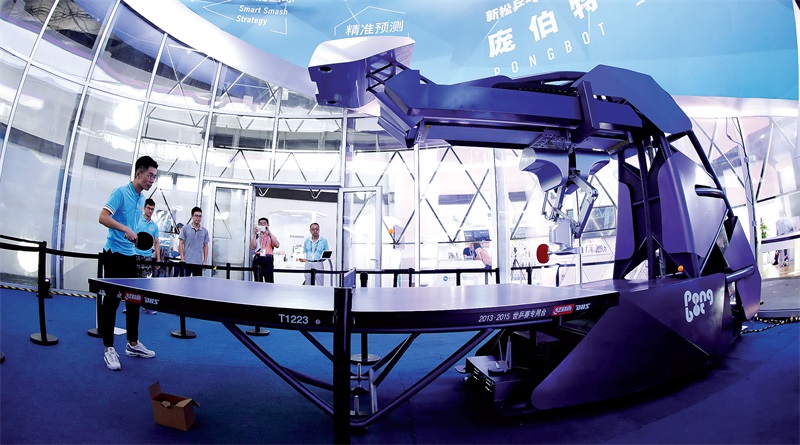 Industry experts, academics and venture capitalists weigh in on Shanghai's ambitions to become a global powerhouse in artificial intelligence at the recent World Artificial Intelligence Conference in the city
Major cities in China have been ramping up their efforts to bolster their artificial intelligence sectors in light of the central government's plan to turn the nation into an AI powerhouse that is home to a 1 trillion yuan ($145.5 billion) industry by 2030.
According to a municipality plan unveiled last year, Shanghai is looking to lead the pack by becoming a global AI hub, with plans to expand the scale of its industry to more than 100 billion yuan by 2020.
While the city is not home to China's trinity of tech giants — Baidu, Alibaba and Tencent — it has leveraged its reputation as a talent hub with the necessary infrastructure to pursue this goal. Within the span of just one week in August, the local government had inked two deals with Alibaba and Tencent to deepen cooperation on AI research and bolster its smart city initiative.
In September, Baidu said that it will open up more than 110 AI-related capabilities by establishing an innovation center in the city.
"The matured industrial chain of smart chips, software and hardware services, along with the ability to attract technology talents have equipped Shanghai with an exceptional advantage in AI development," said Pony Ma, chairman of Tencent, during his keynote speech at the inaugural World Artificial Intelligence Conference (WAIC) in Shanghai on Sept 17.
The event, which was the latest demonstration of the city's AI ambitions, attracted a host of high profile personalities including Turing Award winner Raj Reddy.
Clear government agenda
During the opening ceremony of the WAIC, the city's Party Chief Li Qiang again pledged to turn Shanghai into a "national AI highland" that would focus on AI research and achieving breakthroughs in core technologies such as intelligent sensing.
Officials and industry experts have pointed to the municipality's wealth of big data resources, wide variety of application scenarios and its large R&D talent pool as key components in its quest to become a global AI hub.
According to Li, the goal is viable thanks to a variety of industry-specific application scenarios in Shanghai and the surrounding Yangtze River Delta region, China's most affluent area, the mines of data in traffic and goods, the capital to train AI algorithms, as well as the sound IT infrastructures to support the new generation of mobile communications and Internet of Things technologies.
Chen Mingbo, director of the Shanghai Municipal Commission of Economy and Informatization, pointed out that Shanghai is also an ideal place to establish pilot zones where AI-powered applications in manufacturing, finance, healthcare, autonomous driving and robots can be tested.
To aid its goal, Shanghai is planning to set up AI development funds containing 100 billion yuan, as well as 10 public platforms for AI innovation, six demonstration zones and 60 AI applications. On Sept 17, city authorities issued a 22-point circular, which proposed the establishment of three to four towns and five pilot zones featuring AI, with no timeline being disclosed.
Attracting companies
The city's efforts to stimulate AI development have already seen results, with international heavyweights and thriving domestic startups scrambling to set foot in the city to ride the boom.
For example, Amazon Web Services (AWS) announced on Sept 17 that it is planning to launch its first-ever Asia-Pacific AI research institute in Shanghai.
According to AWS Vice-President Swami Sivasubramanian, this facility would conduct research on natural language processing that is centered on Chinese and provide an open source, deep learning ecosystem to help Chinese customers launch AI products.
Microsoft Corp had also announced this week that it will set up an arm of its Asian research house in Shanghai later this year to support the city's ambition to groom more AI talents.
Alain Crozier, chief executive officer of Microsoft Greater China, said that Shanghai is the perfect destination for grooming AI talents due to the concentration of industrial partners located in the city, as well as the presence of strong government support. He pointed out that the city is already home to many leading companies such as crane giant ZPMC and automaker SAIC that leverage Microsoft's cloud computing offerings and AI technologies.
Meanwhile, scholars and venture capitalists believe that Shanghai needs to establish a firm grip of application scenarios and fundamental algorithm research in order to take the lead in the thriving sector. Mao Junfa, an academician of the Chinese Academy of Sciences, noted that Shanghai has unique advantages in AI categories such as connected cars, smart manufacturing and medical image recognition.
Li Zhu, founding partner of venture capital firm Innoangel, pointed out that while pure play internet companies can benefit from AI adoption across a number of customer-facing scenarios, AI can also be better employed to facilitate business-to-business sectors in the region, which is home to numerous small and medium-sized high-tech enterprises.
Alibaba Chairman Jack Ma also said that the coupling of AI and the service industry is set to become the real game changer for traditional manufacturing,
"Integrating AI and the service industry will place Shanghai in a highly advantageous position as the city generated 70 percent of its economic output from the service sector," said Ma, whose company has been leveraging AI to predict customer needs and rejuvenate offline shopping through a massive New Retail campaign that kicked off in Shanghai.
According to Zhang Wen, president of Chinese image recognition startup SenseTime, Shanghai has a solid industrial foundation, an integrated database and a well-developed capital market to boost the AI industry. The Chinese startup has plans to build global centers for R&D, smart cars, chips and education in the city.
"Shanghai has served an important role in building the country's AI ecosystem since it expressed its ambition to create an industrial cluster for AI. This places Shanghai in a good position to connect upstream and downstream companies," explained Zhang.
Access to talent
Apart from its rich industrial resources, Shanghai's quest to become the home of leading AI companies is also largely supported by its access to young talent.
"The city boasts having one-third of the domestic AI talent population because of its innovative environment that is appealing to international professionals," said Zhang, who noted that the city is where a number of world-leading universities like Shanghai Jiao Tong University and Fudan University are based.
Government support for talent matters will also prove vital. In Shanghai, there are subsidies for the recruitment of top talent, especially those from abroad, as well as special programs for top AI companies and start-ups that include perks like free rent, subsidies for hiring locals and housing benefits.
Wang Yi, chief executive officer of Liulishuo, the developer of an AI-powered English training app, said that his company is a beneficiary of this support, with the government providing 10 apartments that its senior talents can rent at a favorable rate.
"Shanghai has an international appeal and its inclusive culture and convenient way of life makes it appealing to foreign AI talents," Wang added.
One of the latest developments concerning talent is the formation of an AI-themed academic alliance that will bring together a host of world-class universities like the Massachusetts Institute of Technology and China's Tsinghua University.
"The move is part of the push to close the gap in top-notch AI talent so that the city can achieve AI supremacy," said Zhang of SenseTime. "After all, the core of AI is the people."
Contact the writer at hewei@chinadaily.com.cn