Shipyard inks deal to build luxury ship for Algerie Ferries
By Zheng Caixiong in Guangzhou | China Daily | Updated: 2018-09-25 13:31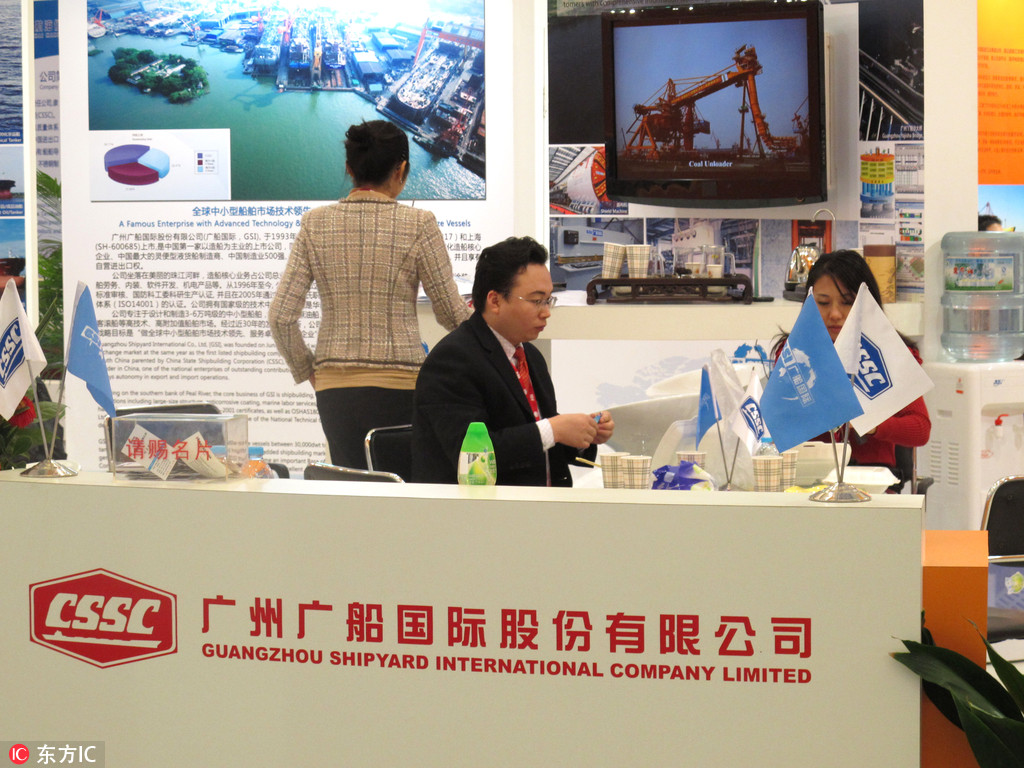 Guangzhou Shipyard International Co Ltd signed a contract with Algeria's state-owned shipping company Algerie Ferries at the weekend to build a luxury roll-on/roll-off passenger ship in Guangdong's provincial capital.
The ship will have a capacity of 1,800 passengers and 600 vehicles. Construction will officially start by the end of November and is expected to wrap up in August 2020, said Chen Ji, president of GSI, a Shanghai Stock Exchange-listed company.
"It is the first ro-ro passenger ship GSI will build for an African company, and has great significance," Chen said.
"It is an important cooperation project between China and Algeria in the development of the ocean economy and shipping industry under the Belt and Road Initiative," Chen said.
The ro-ro passenger ship will operate between harbors in Algeria and those in France and Spain when it is put into service, he said. At 199.9 meters long and 30 meters wide, it will reach a navigational speed of 24 knots, equivalent to about 45 kilometers an hour.
The ship includes two presidential suites, eight VIP suites, four luxury suites, 188 double guestrooms rooms, 254 four-bed rooms and 13 six-bed rooms. It also has four restaurants, three bars, a tea house, two duty-free shops, a swimming pool and other outdoor entertainment venues.
"The excellent performance and comfortable environment of the ro-ro passenger ship will provide strong support for Algerie Ferries to expand in the European tourism market," said Chen.
He said GSI is honored to build the ship for Algeria when the two nations celebrate their 60th anniversary of establishing diplomatic relations this year.
But he did not reveal the price of the ship, saying it is a commercial secret.
GSI will organize a six-month training course for Algerie Ferries' sailors on how to operate the ro-ro passenger ship before it is delivered.
Zhou Xuhui, vice-president of GSI, said his company won the contract by offering the highest price, beating major international shipyards from Spain, Portugal and South Korea earlier this year. He refuted rumors that GSI won the contract with a lower price and an offer of financial aid to African countries.
"GSI won the contract because of our new technologies, high product quality and good service," Zhou said.
Negotiations are also well under way between GSI and Algerie Ferries for more new ships in the years to come, Zhou said.
Ahcene Grairia, general manager of Algerie Ferries, said the project will advance cooperation between Algerie Ferries and GSI in the coming years.
Ahcene Boukhelfa, Algerian ambassador to China, said the two countries trust each other deeply and have close and sincere diplomatic relations. He said construction of the ro-ro passenger ship will help to promote good bilateral relations and cooperation.
"It [the shipbuilding agreement] will become a model project for Sino-Algerian cooperation," he said.
GSI, a major mainland shipbuilder, has now won 13 contracts to build ro-ro passengers ships for foreign companies. All 13 are expected to be completed by 2022.