Winners of reform and opening-up competition
chinadaily.com.cn | Updated: 2018-09-26 15:35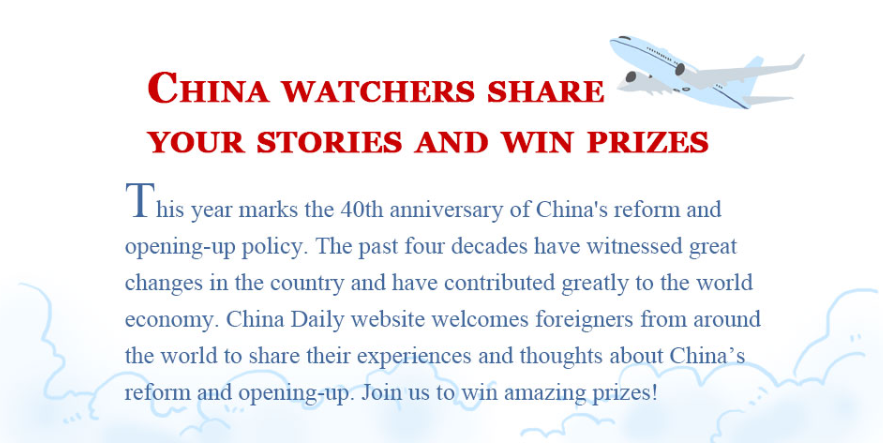 Dear participates:
We would like to express sincere thanks to everyone who joined us with their great articles and wonderful pictures, from which we selected best 40 stories publishing on China Daily Website. To be honest, it's really difficult for us to select the winners because every submission is unique. Some articles reflect China's immense transformations from the authors' personal experiences and memories, some are great opinions which comment on China's achievements over decades, and some have triggered flashbacks of the old days... These articles helped us to know more about the importance and meanings of China's reform and opening-up which changed everyone in the world's second-largest economy, and on the other hand, it's perhaps a way to understanding and discovering more about China through our selected stories.
To ensure the final decision was fair, we invited eight editors, including international staff members, in China Daily Website to vote for the first, second and third prizes. Based on the content, writing skills, photos and other considerations, here are the final winners:
First prize (5,000 yuan)
Thirty years' watching the changing face of Beijing
http://www.chinadaily.com.cn/a/201804/24/WS5ade8d33a3105cdcf651a1f8_1.html
Second prize (3,000 yuan each)
Tap the mind to grasp the enormity of change in China
http://www.chinadaily.com.cn/a/201808/08/WS5b6a9af1a310add14f384a9a.html
Witnessing dramatic changes in Beijing over the past 38 years
http://www.chinadaily.com.cn/a/201805/21/WS5b023e73a3103f6866ee9a06.html
Third prize (2,000 yuan each)
The fruit of China's reform and opening-up
http://www.chinadaily.com.cn/a/201808/08/WS5b6ab10fa310add14f384acd.html
Reform and opening-up: China's contributions to global poverty reduction
http://www.chinadaily.com.cn/a/201806/06/WS5b174bf8a31001b82571e716.html
Black cat, white cat...
http://www.chinadaily.com.cn/a/201808/14/WS5b728ae4a310add14f385b4a.html
The 34 finalists (1,000 yuan each)
https://www.chinadaily.com.cn/opinion/opinion_special/reformandopening40th
Thanks again for your submissions and participation. If you have any questions, please contact us: comment@chinadaily.com.cn