Incident raises concerns among Chinese companies listed in US
By Fan Feifei | China Daily | Updated: 2018-09-28 09:57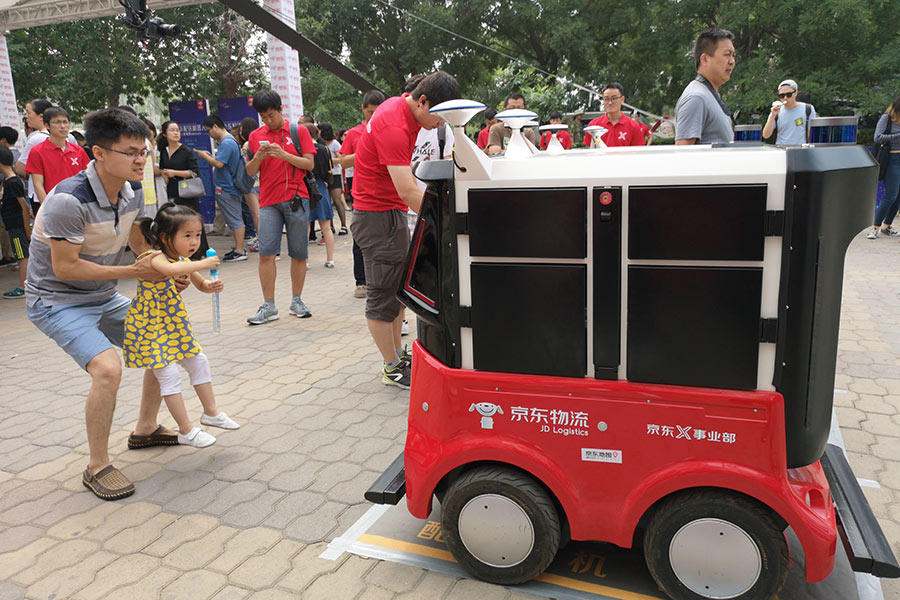 The arrest and release in the United States of Liu Qiangdong, the founder and CEO of Chinese e-commerce giant JD, will have an impact on his company and raise concerns among Chinese firms listed in the US, according to industry insiders.
"If the US law firms verify that JD failed to disclose information pertinent to Liu's arrest, the online retailer will be punished by the US Securities and Exchange Commission. If Liu, as the actual controller of JD, was judged to be guilty, the daily operation of JD would be severely affected," said Shen Meng, director of boutique investment bank Chanson& Co.
Liu owns 15.5 percent of JD's stock and controls nearly 80 percent of the company's voting rights. Shen said such a corporate governance structure will have an impact on the whole company if negative news involved its top executives.
"Liu's arrest set off alarm bells among Chinese companies listed in the US," said Shen, adding that senior management staff should speak and act cautiously.
JD was listed in the US in 2014 with a dual-class structure, which is popular in the US among billionaire tech company founders who want to sell shares without relinquishing control. But without checks and balances, management abuses and unwise decisions are possible.
More than two-thirds of Chinese companies listed in New York use dual-class shares, including Baidu and JD, according to the Financial Times.
"Liu Qiangdong has absolute control over the board of directors, but Lei Jun, who founded Chinese phone maker Xiaomi Corp, controls no more than 60 percent of voting rights, and his company went public in Hong Kong in July with a dual-class share structure," said Jin Xiangyi, an analyst from Huachuang Securities.
However, Jin said in the long run, the impact on JD would be limited as its monthly active users and trading volume are witnessing steady growth, and there is no problem with the overall business performance.
JD said on its corporate blog on Sept 6 that Liu had returned to work in Beijing, and that he continued to lead the company and there was no interruption to JD's day-to-day business operations. It also said Liu had cooperated with Minneapolis law enforcement and was willing to cooperate further if requested.
The company said the situation in Minnesota did not have and is not expected to have any impact on its day-to-day operations.
"We are aware that a few class action law firms have publicly announced a desire to represent shareholders. We are not aware of any lawsuits being filed against the company and, if filed, we will contest the allegations vigorously," the company said.
Liu was arrested in Minneapolis, Minnesota in the US, on suspicion of criminal sexual conduct on Aug 31 and later released without charges or bail. Liu returned to China on Sept 3, where he attended a signing ceremony with Chinese textiles group Shandong Ruyi. JD said in a statement on social media site Sina Weibo on Sept 2 that Liu was falsely accused and police found no misconduct. A Minneapolis police report said Liu's arrest was over a felony rape accusation, but gave no details.
Three US law firms - Rosen Law Firm, Schall Law Firm and Pomerantz LLP - announced on Sept 5 they are investigating whether JD made false or misleading statements in the case of Liu or failed to disclose information relevant to investors.
The Minneapolis Police Department turned over the findings of its initial investigation into the matter to local prosecutors on Sept 20. The prosecutors will review the evidence and decide whether to bring charges against Liu, said County Attorney Mike Freeman.
JD reported net income of 122.3 billion yuan ($17.8 billion) in the second quarter of the year, an increase of 31.2 percent year-on-year. Its net profits dropped to 478.1 million yuan, down 51.04 percent compared with same period last year.