UN and Chinese role
By Zamir Ahmed Awan | chinadaily.com.cn | Updated: 2018-10-08 11:27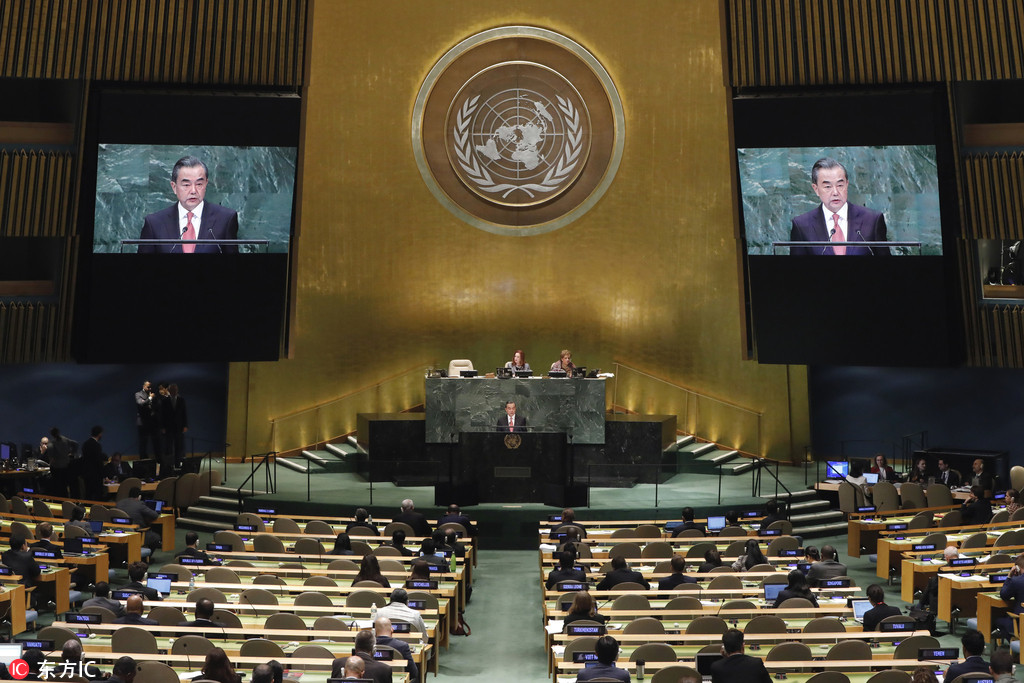 United Nation was founded on October 24, 1945, just after the World War II, in place of League of Nations. Its headquarter is at New York. The United Nations is an intergovernmental organization tasked to promote international co-operation and to create and maintain international order. The charter of UN was well drafted and comprehensive. Its charter was formulated on justice and equality. It was based on consensus and hard work of real-genius people.
China is one of the permanent members of Security Council with veto powers like US, Russia, UK and France. China has become second-largest economy and a global power on geo-political stage of the world. China knows its international responsibilities well, and understands its potential well. China is playing its due role in international affairs successfully. The most recent is resolution of tension between North Korea and US. China is playing important role on Syrian issue. China is trying its best to resolve Afghan problems.
Chinese State Councilor and Foreign Minister Wang Yi spoke at the 73rd Session of UN General assembly. He said "The world is changing. As we celebrate mankind's proud achievements and progress in an ever-changing world, we must never lose sight of the challenges and difficulties we face, and must remain vigilant. What we see today is that international rules and multilateral mechanisms are under attack, and the international landscape is filled with uncertainties and destabilizing factors."
"Should we stay committed to multilateralism or let unilateralism have its way? Should we seek to uphold the architecture of the world order or allow it to be eroded upon and collapse? These are questions of critical importance bearing on the future of all countries and the destiny of mankind, questions that all countries must carefully reflect on and seek answers to."
"China's answer is clear-cut. All along, China has upheld the international order and pursued multilateralism. Though once kept out of the UN for 22 years, China has never wavered in its conviction to multilateralism and to the purposes and principles of the UN Charter. China stayed true to its commitment throughout the negotiation process on its return to the GATT and then accession to the WTO, negotiations that lasted 15 long years and were concluded at a certain price. China fulfilled its promise and integrated itself into the world economic system. After the international financial crisis broke out, China chose not to stand idly by but to work together with other countries to tide over rough times. For years running, China has contributed to over 30 percent of global growth. It has played its part in helping restore global recovery."
China's stance is clear and widely supported by developing nations. In fact China under its mega initiative of BRI is assisting developing countries to overcome their economic crisis and promote "peace, stability and prosperity". China is emerging as voice of developing world. It is well understood, the number of Asian and African developing countries are much more than developed world. As per population, most populous continents are Asia and Africa. Also in natural resources, Asia and Africa are rich. China is extending all possible support to bring political stability and economic growth of these nations.
Wang further said "Multilateralism requires a strong United Nations. China supports Secretary-General Antonio Guterres in his endeavor to advance reform of the UN system in the three critical areas of peace and security, economic development and internal management. Such reform should be led by member states. It should be designed to prioritize concerns of developing countries, make the UN more efficient and enhance oversight and accountability. Crucial to the UN's proper functioning is stable and predictable funding. China will continue to fulfill its due financial obligations, and China calls upon other member states to pay their membership contributions and peacekeeping assessments on time and in full."
Current status of UN is not so satisfactory and helpless to resolve many existing issue, which are rather complex in nature and few countries became so strong that they keep UN aside and take unilateral actions. Reforms in UN are inevitable and for any reforms majority of its member should support. China enjoys a popular support and may lead reforms. All developing counties must stand behind China for introduction of reforms. China has very good experience of reforms inside China and knows very well the complexities of reforms. Based on success of Chinese reforms, we trust China to lead such reforms and hope new reforms may strengthen UN and fulfill its objectives.
Foreign Minister Wang Yi reaffirmed his commitment to the international community and said "China is the largest developing country in the world. To strengthen cooperation and solidarity with other developing countries has been and will continue to be the staunch strategic priority for China's diplomacy. This is determined by what defines China as a country and by the system and values China upholds. No matter how much China has grown in strength, and however the international landscape may change, this strategic priority of China will remain unchanged."
The author is a sinologist and non-resident fellow at the Center for China and Globalization, National University of Sciences and Technology in Islamabad, Pakistan.