CNOOC lifts natural gas supplies
By Zheng Xin | China Daily | Updated: 2018-10-13 10:10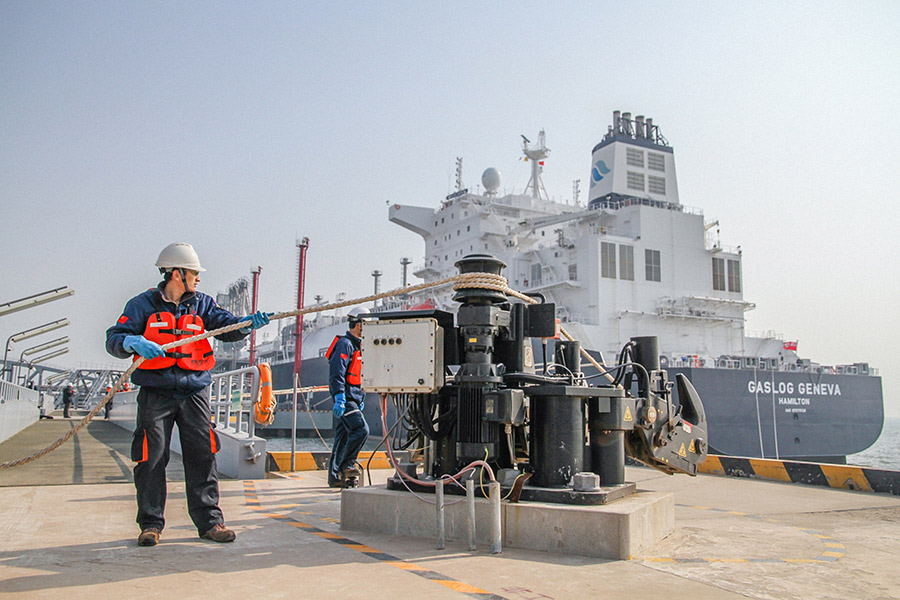 Company beefs up facilities to ensure adequate stocks for northern regions this winter
China National Offshore Oil Corp (CNOOC) said on Friday that it would bolster its liquefied natural gas storage facilities to ensure adequate supplies of the clean fuel to northern parts of the country this winter.
The company enlarged the capacity of its current LNG terminal in Tianjin with the addition of a new 160,000-cubic-meter-storage capacity LNG tank.
The tank can supply natural gas for the 15 million Tianjin residents for 45 days and help ensure sufficient gas supply in the northern parts of the country, said Wang Xiaogang, managing director of the Tianjin LNG project.
CNOOC, which built the country's first LNG terminal in 2006, currently operates nine LNG terminals nationwide, among which only the Tianjin terminal is located in the north and is already operating at full capacity.
The ninth LNG terminal in Shenzhen entered operation in early August, with a receiving capacity of 4 million metric tons per year.
The company has stepped up construction of its LNG infrastructure facilities in recent years while diversifying its overseas LNG sources to ensure sufficient natural gas to meet the nation's increasing demand.
According to CNOOC, natural gas supplied to the northern parts of the country will reach 6.1 billion cu m, 63.5 percent up compared with the same period last year.
It also vowed to use trucks to ship LNG from its receiving terminals in southern China to ease gas shortages in the north, if necessary, against the backdrop of the central government's efforts to minimize pollution and encourage higher gas usage to replace coal for heating in winter.
According to Na Min, a senior analyst for oil and gas at Bloomberg New Energy Finance, as China pursues its environmental goals, the momentum of more natural gas imports is expected to continue during the upcoming heating season and the country's oil and gas majors will apply all measures possible to ensure a relatively stable supply.
"The national oil majors will need to increase alternative supplies, namely pipeline imports and LNG imports from other countries," said Na. "Australia, Southeast Asia and Qatar will likely be the preferred choices."
China's gas consumption grew 15 percent in the first half of 2018 from a year earlier, which led to a 50 percent surge in LNG imports, pushing them to a historic high of 24 million tons in the first half of 2018.
Approaching the winter peak season, the China gas market is still tight, she added.
According to Fatih Birol, executive director of the International Energy Agency, China is expected to surpass Japan by December to become the world's biggest natural gas importer, with the gas import quantity gap set to widen further.