Music label marks 120th milestone in imperial style
By Chen Nan | China Daily | Updated: 2018-10-15 07:05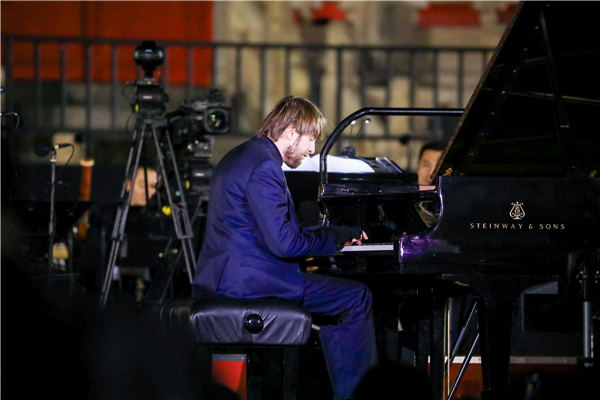 Audiences might still remember the impressive opera production of Giacomo Puccini's Turandot-conducted under the baton of Zubin Mehta and directed by Zhang Yimou-that was performed at Beijing's historical Imperial Ancestral Temple, which is located just outside the Forbidden City, in September 1998.
That same venue-a UNESCO World Heritage Site-was once again awash with melody on Wednesday, when Universal Music Group's Deutsche Grammophon, the world's oldest classical music label, launched its 120th-anniversary celebrations by hosting a gala concert there. Musicians from around the world shared the stage, performing for an audience of over 1,200.
Under the baton of maestro Yu Long, the Shanghai Symphony Orchestra opened the concert with a special arrangement of Chinese composer Liu Tianhua's work, Enchanted Night. Then, the orchestra performed German composer Carl Orff's Carmina Burana accompanied by Russian soprano Aida Garifullina, British tenor, Toby Spence, and French baritone, Ludovic Tezier, as well as the Shanghai Spring Children's Choir.
Afterward, French pianist, Helene Grimaud, took the stage for Ravel's Piano Concerto in G major before Norwegian violinist, Mari Samuelsen, took the solo lead in November, a piece from Max Richter's Memoryhouse, a seminal work of contemporary neoclassical composition from 2002.
"The gala concert was unforgettable," says Clemens Trautmann, president of Deutsche Grammophon. "The concert's historic nature was enhanced by its iconic setting-in front of the Imperial Ancestral Temple and the walls of the Forbidden City. Those exquisite buildings echoed to the magnificent sounds of the Shanghai Symphony Orchestra, Wiener Singakademie and an international cast of soloists under the direction of maestro Yu, the first Chinese conductor ever to perform there."
Russian pianist Daniil Trifonov performed Rachmaninov's Second Piano Concerto. The 27-year-old virtuoso pianist, a leading member of Deutsche Grammophon's younger generation of artists, was accompanied by Yu and the Shanghai Symphony Orchestra, which was their first collaboration.
"We had a mutual musical language, which made our cooperation successful," says Trifonov. "I was very excited, even when I did rehearsal with Yu and the Orchestra."
"I visited Forbidden City as a tourist when I performed in Beijing a couple of years ago, but I have never performed at such a historic site before," he recalls. "The performance cannot be compared to any that I have done before, which was quite amazing."
Trifonov, who began playing piano at 5 years old, studied under Tatiana Zelikman at Moscow's famous Gnessin School of Music.
In February 2013, he made his debut at Carnegie Hall in a concert recorded by Deutsche Grammophon for an album that was released later that year. In January, Trifonov was awarded the 2018 Grammy Award for Best Classical Instrumental Solo for his album, Transcendental-Complete Liszt Etudes.
In June, Yu, arguably China's most well-known conductor on the international scene, and the Shanghai Symphony Orchestra also signed with Deutsche Grammophon, becoming the Berlin-based label's first Chinese conductor and orchestra. Their first recording with the famous yellow label will be released in 2019 to mark the 140th anniversary of the Shanghai Symphony Orchestra, the oldest symphony orchestra in China, whose history dates back to 1879 when it was known as the Shanghai Public Band.
Deutsche Grammophon's Imperial Ancestral Temple concert marked the beginning of a series of international programs, including the release of a collection of newly digitized rare archive recordings (The Shellac Project) and new albums of high-profile performances.
The record label also introduced China to its project, Yellow Lounge-which aims to introduce clubbers to live classical music-with a performance at Beijing's Mao Livehouse featuring British-Irish classical violinist, Daniel Hope, Chinese clarinetist, Wang Tao, and the Zurich Chamber Orchestra back in September. The project was born in 2001 in Berlin's techno clubs, and since then, Yellow Lounge has organized over 130 club nights, each attracting up to 1,000 guests and a massive following through both traditional channels and social media.