Gansu's Gannan: Harmony in paradise
By Hujjatullah Zia | chinadaily.com.cn | Updated: 2018-10-16 08:34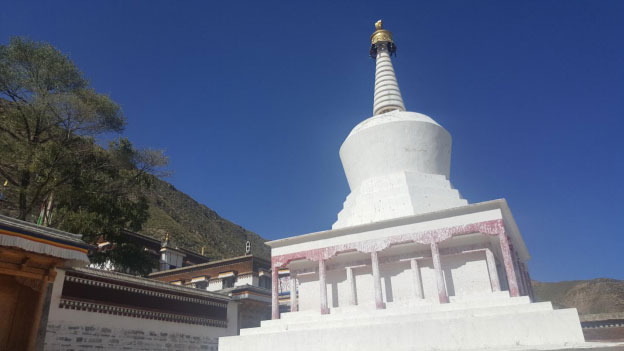 Reputed as "The Earthly Pure Land, The Outdoor Paradise", Gannan Tibetan autonomous prefecture, in the southeast of Gansu province, enjoys a rich culture. Gannan has its say in ethnic culture and historical relics and plays a key role in religious harmony between individuals.
Gannan is home to 24 ethnic groups, including Tibetan, Han and Hui, as Tibetan ranks first in terms of population accounting for 54.2 percent.
In addition to other historical and cultural sites, the famed Labrang Monastery – one of the six great monasteries of the Gelug Sect of Tibetan Buddhism and a religious and cultural center of the Amdo Tibetan Area – is also located in Gannan.
Gannan officials said that "there are 190 monasteries and temples, including 123 Tibetan Buddhist monasteries and 3 Han Buddhist temples, as well as 3 churches and 61 mosques" – all located in the neighborhood of one another reflecting religious tolerance and harmony among the followers of different religions.
The media delegation also visited Labrang Monastery in Xiahe County. A monk named Tongnyi briefed the journalists in the monastery. Pointing to the wall paintings, he attributed them to 280 years ago. He stressed moral values, "truth" and "happiness" and said the main reason behind the Buddhist school of thought was to seek the truth and polish one's soul from evil.
Gannan is also a significant passageway of the ancient Silk Road and the center of Amdo Tibetan culture, which has witnessed the integration of grassland and farming cultures. Similarly, it is rich in mineral resources, and the gold production ranks first in Gansu province. Gannan is home to 293 species of wild animals such as giant panda, golden monkey and snow leopard, and 643 species of Chinese and Tibetan medicine plants and 360 species of wild flowers and plants.
Being the main production area and distribution center of livestock products in China, Gannan had 79,000 tons of meat products, 84,000 tons of milk products and more than 2,000 tons of wool products last year. According to local officials, the added value of animal husbandry was 2.17 billion yuan, an increase of 20.1 percent over 2014.
A large number of people have been lifted out of poverty since Gannan officials, with the support of Communist Party of China (CPC) Central Committee and the State Council, made concerted efforts to eradicate poverty. For example, the foreign media delegation visited Gaxiu village, which is home to 1,854 people. In this village, local government has relocated the residents to new houses and supported them to live a happy and prosperous life. We visited the home of a Tibetan man Gongbaojia, who was smiling with contentment and his eyes sparkled as he wrapped himself with thick local Tibetan-styled clothes willing to talk about his new home. Before being relocated to the new home – which cost 120,000 yuan with 80,000 yuan free support from the government – he was a farmer and could earn 10,000 yuan annually. But last year, he earned 43,000 yuan and this year he has earned 56,000 yuan so far. This is only one example out of many in Gaxiu village, Gannan prefecture.