Norway helping China shine on snowy course
By SUN XIAOCHEN | China Daily | Updated: 2018-10-16 09:23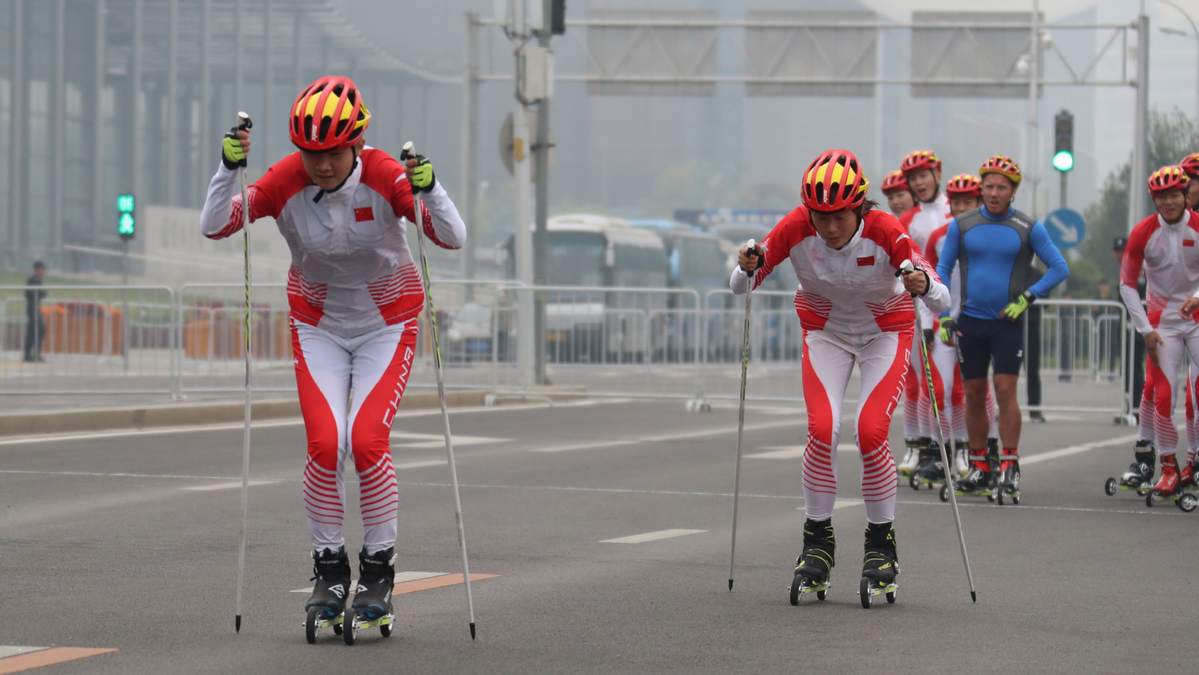 Scandinavian experts assist in building x-country skiing culture
The kingdom of cross-country skiing is lending a helping hand to China as the host of the 2022 Winter Olympics aspires to join the world's best on snow.
Even without snow, the action of winter sports breathed thrills into Beijing's Olympic Park on Monday morning for a roller ski race witnessed by Norway's King Harald V and Queen Sonja, accompanied by Gou Zhongwen, minister of the General Administration of Sport of China.
The event punctuated an exchange agreement signed between the two countries last year to help China develop winter sports-particularly cross-country skiing-in the buildup to the Beijing 2022 Winter Olympics.
The visit is the royal couple's first to China since the two countries normalized diplomatic relations in April 2017.
"Today was a very special occasion for us to learn from the Norwegian skiers in front of such important guests in such an iconic location," said Wang Qiang, a member of China's national cross-country team.
"The opportunity to have Norwegian coaches help us and to train overseas is really an advantage for us to improve quickly, given that we are lagging far behind in this sport compared to the world's best," added Wang, who finished 59th in the men's 50km classical at the 2018 Pyeongchang Winter Games.
Monday's event involved Chinese national team athletes, Beijing students and some former Norwegian Olympians in mixed roller skiing team relays against the backdrop of the landmark Bird's Nest and Water Cube.
Norway's Foreign Minister Ine Eriksen Soreide said it underlined the increasing exchange of knowledge and expertise in sports development between the two nations, which also includes Norwegian table tennis players training in China.
Norway, long a global power in snow sports, counted seven gold medals in cross-country skiing in its record total of 39 medals in Pyeongchang.
Roller skiing, a dry-land training method for cross-country skiers in which athletes use wheeled skis on tarmac, was introduced to China last year as a tool to introduce beginners to the sport and help the nation's elite skiers maintain their form in summer.
Ragnar Andresen, a multiple World Cup roller skiing champion, has spent about 130 days in China since late 2017 to help develop a roller skiing curriculum for schools while guiding some national youth team athletes with support from Norwegian ski equipment manufacturers.
Andresen said China's ambition to catch up with the world's best is encouraging but will require time and long-term commitment.
"Cross-country ski is our national sport; we were born with skis on our feet," he said. "Already China has learned a lot, and the progress is better than I expected at the beginning.
"But the most important thing is to get kids involved and to keep the program going beyond the 2022 Olympics. It is even more important than achieving good results at the Games."
As part of the China-Norway cooperation, China's national cross-country team is training in the Scandinavian country under the tutelage of a Norwegian coaching team that includes Bernhard Ronning, a ski waxing specialist.
Ronning, who was part of China's Pyeongchang Olympics delegation, said technical expertise in wax application, ski maintenance and equipment testing is still largely missing from China's young skiing culture but will be improved with help from the Norwegians.
Soreide said Norway welcomes China's efforts to join the world's elite in skiing.
"We believe the fun should be shared internationally. The 1994 Winter Olympics (in Lillehammer) inspired many young Norwegians to become athletes. The Beijing Games in 2022 will do exactly the same-just on a much larger scale," she said.