Erdos attributes success to great era
By Zhu Wenqian in Beijing and Yuan Hui in Hohhot | China Daily | Updated: 2018-10-18 09:52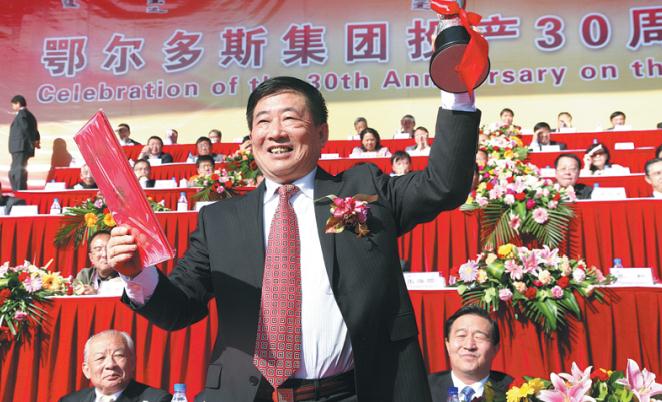 Growth of 'cashmere king' is interwoven with country's reform and opening-up
Editor's Note: This year marks the 40th anniversary of China's reform and opening-up. China Daily interviewed top executives of well-known multinational companies for their views on the country's socioeconomic development.
Please use three words to describe China's changes in the past 40 years.
Thriving, opportunities and hope.
What have been the biggest achievements in China since the introduction of the reform and opening-up policy 40 years ago?
When reform and opening-up started 40 years ago, we could see the gap between China and developed countries, and this encouraged us to drive forward and catch up. Within only 40 years, we have become the second-largest economy in the world.
How has your company benefited from the country's reform and opening-up policy?
The growth of Erdos is interwoven with the reform and opening-up of China. If there was no reform and opening-up, there wouldn't be the Erdos you see today.
When the company was founded in 1979, our cashmere sweater factory didn't have enough initial capital and couldn't buy the most advanced imported equipment. We tried to raise more funds by compensation trade. This was an advanced financing model at the time.
In terms of management, operations and marketing, we have leveraged our growth in the market economy, rather than depending on the planned economy model, with support and guidance from the country's macroeconomic policies.
Later, we listed on the Shanghai Stock Exchange, and Erdos has since become the largest cashmere maker worldwide. We now produce about one-third of the world's cashmere.
The birth, development and expansion of Erdos should all be attributed to this great era. Our future growth will continue to resonate with the development of the era.
Has competition intensified between your company and other companies?
Competitors and partners coexist, and competitions and cooperation are also integrated. It's essential to enhance the competitiveness and profitability of the industry, and all enterprises can benefit from that, ultimately.
In the late 1980s, with a large amount of cashmere raw material orders coming from abroad, some raw material suppliers provided shoddy goods, and the domestic market was in a bad way.
Facing this situation, Erdos and more than 10 other enterprises founded a cashmere makers' alliance in the Inner Mongolia autonomous region. We implemented a unified policy and coordinated the control system, but operated and were financed independently. By 1994, the China cashmere market started to recover, signifying that competitors were willing to cooperate to ensure mutual benefits.
How do you view China's role in the world today?
Today, Erdos is the top cashmere brand in China and a leading cashmere maker worldwide. But, I always remind myself that Erdos is still a young enterprise with less than 40 years of history, and we still have a long way to go.
Compared with established companies in Western markets, we have many shortcomings. We can solve some of the problems on our own, while some others will require local government support. Similarly, our country is still in the developing stages. Enterprises and countries are connected in this respect-we still have a long way to go.
Could China's experiences and practices be used to solve global problems?
In the past 40 years, our experiences have reflected the development of our country. Since the birth of Erdos, two qualities have always accompanied us: persistence and diligence. When the country started its reform and opening-up, we had a weak foundation and we had to make more efforts than others to stand out.
Soon, our annual capacity increased from 300,000 pieces of clothing to 1 million. We have persisted in making cashmere for decades, and we aim to become the top cashmere maker in the world. Facing complicated internal and external environments, we have always put quality first, refrained from vicious competition and price wars, and proved ourselves via quality.
The two qualities, in my opinion, are universally applicable truths, and they are also spiritual cores of our country's rapid development.
What is the most unforgettable experience you have had?
I could talk about my unforgettable experiences for days. Every day and night working at Erdos fills me with more passion and dreams.
If I have to pick one, it was the moment that the company got the title of "cashmere king". Maybe the new staff and the millennial generation don't care very much about this honor, but for me and the earliest generation of cashmere industry workers, the honor is significant.
We started from nothing. In the very beginning, we were involved in the most basic and bottom-level raw materials trade with very low profits. We have grown from the ground up, starting out as a small factory that sold raw materials, and transformed into Erdos Group.
We have established a complete supply chain, self-innovated techniques and in-house designed styles. We have provided multiple domestic and international standards to the cashmere industry, and we have become a national brand in China.
Apart from economic development, what progress in other fields have you witnessed in China in the past 40 years?
Along with economic growth, all aspects of our society are improving. In terms of production, we have turned away from the extensive economic growth model based on resource exploitation, and shifted toward a new industry model that pays attention to environmental protection and energy saving.
As a leading local enterprise in Inner Mongolia, Erdos has developed a lot of homegrown techniques and equipment. These can help to effectively reduce environmental pollution and eventually drive the entire industry to go green.
Economic growth has resulted in consumption upgrade, and consumers are able to buy higher-quality modern products. This has forced enterprises to further upgrade and transform. Fueled by this trend, many of our products have developed from their basic origins to become hallmarks of industry excellence.
Reform and opening-up have also brought numerous opportunities for entrepreneurship, helping to create more convenient lifestyles for consumers. For example, the emergence of the express delivery industry has brought unprecedented transformation across the business ecosystem and the social structure.
The education and cultural sectors have grown significantly, and people's self-confidence has raised remarkably. In my opinion, the change in the past 40 years is far greater than the development in the past millennium, and its impact on future generations is believed to be greater than those in the past millennium.
CV
Name: Wang Linxiang
Age: 66
Nationality: China
Career:
1991-present: Chairman and CEO of Erdos Group
1983-91: General manager of then Ikhezuu League Cashmere Products Factory
1970-83: Worked at then Ikhezuu League Cashmere Products Factory
Education: Associate degree at a junior college
Family: Married