Key forum urges building shared future for mankind
By Wang Kaihao | China Daily | Updated: 2018-10-19 08:26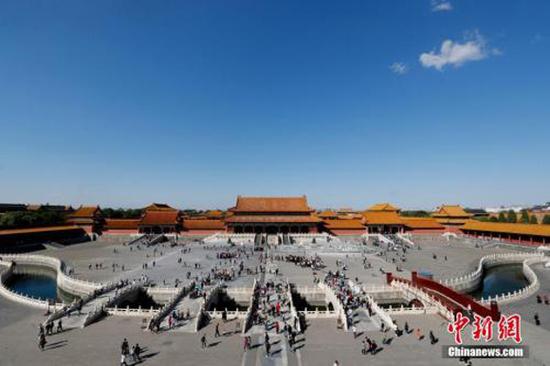 Speakers highlight exhibitions from ancient civilizations in Palace Museum
The trend of calling for a shared future for mankind is irreversible in cultural circles. It was proved so at the ongoing fifth annual conference of the Taihu World Cultural Forum in Beijing.
Speakers highlighted exhibitions from the world's ancient civilizations - including India, Afghanistan and Greece - in the Palace Museum in Beijing.
Shan Jixiang, director of the museum, knows mutual learning and cross-border communication is a foundation to better promote Chinese culture on the global stage, which is contrary to the old name of the museum - the Forbidden City.
"Our exhibition hall needs to be opened for the world's most brilliant cultures," he said at the meeting. "That will help more cultures better understand China and vice versa."
Over the past six years since Shan stepped into his current job, 135 exhibitions from the Palace Museum have gone beyond the red walls of this former imperial palace of China, with dozens of exhibitions taking place abroad.
A digital display of the cultural relics in the museum went on a worldwide tour earlier this year to seven cities: Tokyo, Brussels, Seoul, Bangkok, Sydney, Singapore and Cotonou in Benin. Education programs for children also sailed to countries like Australia, Malta and Thailand.
The museum receives trainees from 69 foreign countries on the conservation of cultural relics, and it also invites scholars from Italy to handle the challenging restoration of murals, and French and Swiss professionals to join restoration work of its collection of antique clocks.
"We work in the Forbidden City," he said. "And it's a Forbidden City for the whole world."
Such sentiments are echoed by Wu Weishan, chief artist of the forum and director of the National Art Museum of China.
"Cultures created by different peoples have their unique value," he said. "We have to respect each other to better display our own glamour."
A famous artist in his own right, Wu has produced full-body sculptures of both Leonardo Da Vinci and Chinese painter Qi Baishi.
Wu's recent project with the Taihu Forum is to create a series of sculptures on "smiles".
"Smiling is the best facial expression of mankind," he explained. "Thanks to this friendly gesture, we can sail from culture to culture."
Scott Beaumont, vice-president at Google, responsible for sales and operations in Greater China and Korea, shared the Google Arts & Culture project at the plenary meeting, which creates new approaches to promoting Chinese culture.
He said 29 Chinese museums, including the Palace Museum and the National Art Museum of China, have become partners. Digital exhibition in high definition pictures have benefited not only the emperors' collections of olden times, but also works of modern masters like Qi and Xu Beihong. In a museum in Shanghai, a new technology was used to project a Chinese zodiac in shadow play for children to have more resonance with traditional culture.
"Globalization has urged us to care more about cultural diversity than at any previous time," said Chogjin, president of the International Council for Philosophy and Humanistic Studies and a member of the Chinese Academy of Social Sciences.
"Diversity safeguards various wisdoms of mankind, but the world also needs more consensus to become united. It is up to us whether the future will be harmonious or full of conflict."