VIPKid inks exclusive online partnership with SSAT
By Zhu Lingqing | chinadaily.com.cn | Updated: 2018-10-22 16:07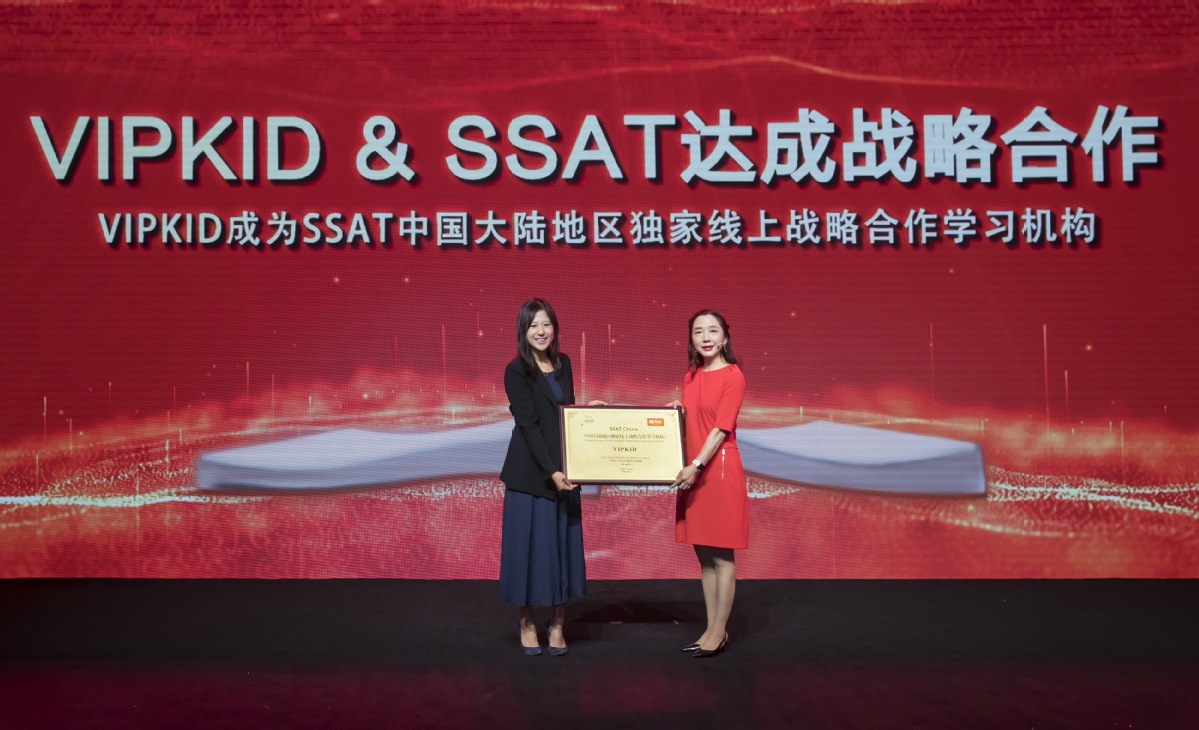 Chinese online education platform VIPKid announced on Monday it has inked a strategic partnership with the Secondary School Admission Test, a standardized admissions test widely used by private schools in North America, becoming the exclusive online partner of the SSAT on the Chinese mainland.
Through the partnership, VIPKid will provide exclusive SSAT examination slots for its users and launch a Chinese-language registration portal for the SSAT on its official website, according to the company.
In addition, it will continue to upgrade the evaluation system of its existing courses with the help of the SSAT's powerful education experts bank and develop a series of quality education courses suitable for Chinese students by adopting educational concepts and practices from the SSAT school alliance.
"Since it was founded in 2013, VIPKid has been looking for more comprehensive, objective and authoritative feedback to externalize the achievements of our quality education," Mi Wenjuan, founder and CEO of VIPKid, said during a press conference on Monday.
The SSAT, used to measure basic verbal, math, and reading skills students need for successful performance in independent schools, has been providing quality education assessment services for more than 1,200 high schools around the world since it was created in 1957.
With the SSAT's education resources and VIPKid's strengths in developing teaching materials, VIPKid will further improve the closed loop of "teaching, studying, evaluating, testing and practicing" and provide a set of standardized evaluation programs for online quality education, Mi said.
Liu Jinghua, chief testing and research officer at the Enrollment Management Association, developer and administer of the SSAT, said during the conference the new generation of Chinese families has strong demand for international quality education.
"The performance of VIPKid shows us the prospects of quality education in China. And the SSAT and VIPKid will work together to provide more quality education content for Chinese children and cultivate more global talents," Liu said.
The partnership between VIPKid and SSAT is part of the Beijing-based startup's global partnerships program. The company said it is expected to team with 20 top educational institutions in the world to develop teaching content for Chinese primary and secondary school students and improve the level of the world's online education.
"VIPKid hopes to use more authoritative international resources to create quality education content with both international vision and local characteristics for Chinese children. Only by breaking cultural barriers under national boundaries can children have a global awareness and vision, as well as strong confidence and responsibility for their own culture," said Li Ying, vice-president of VIPKid's Education Product Center.
As an online education platform providing children with one-on-one online English courses, VIPKid said it currently has more than 60,000 foreign teachers in its network, enabling them to teach 500,000 students across China.
The 5-year-old startup has raised more than $800 million so far, and is valued at over 20 billion yuan.
China's online education segment's sales revenue was 281 billion yuan ($33.4 billion) last year and is expected to exceed 348 billion this year, according to consultancy iiMedia Research Group.