Belt and Road opens path for development, not debt
By Buddhi Prasad Sharma | chinadaily.com.cn | Updated: 2018-10-23 11:03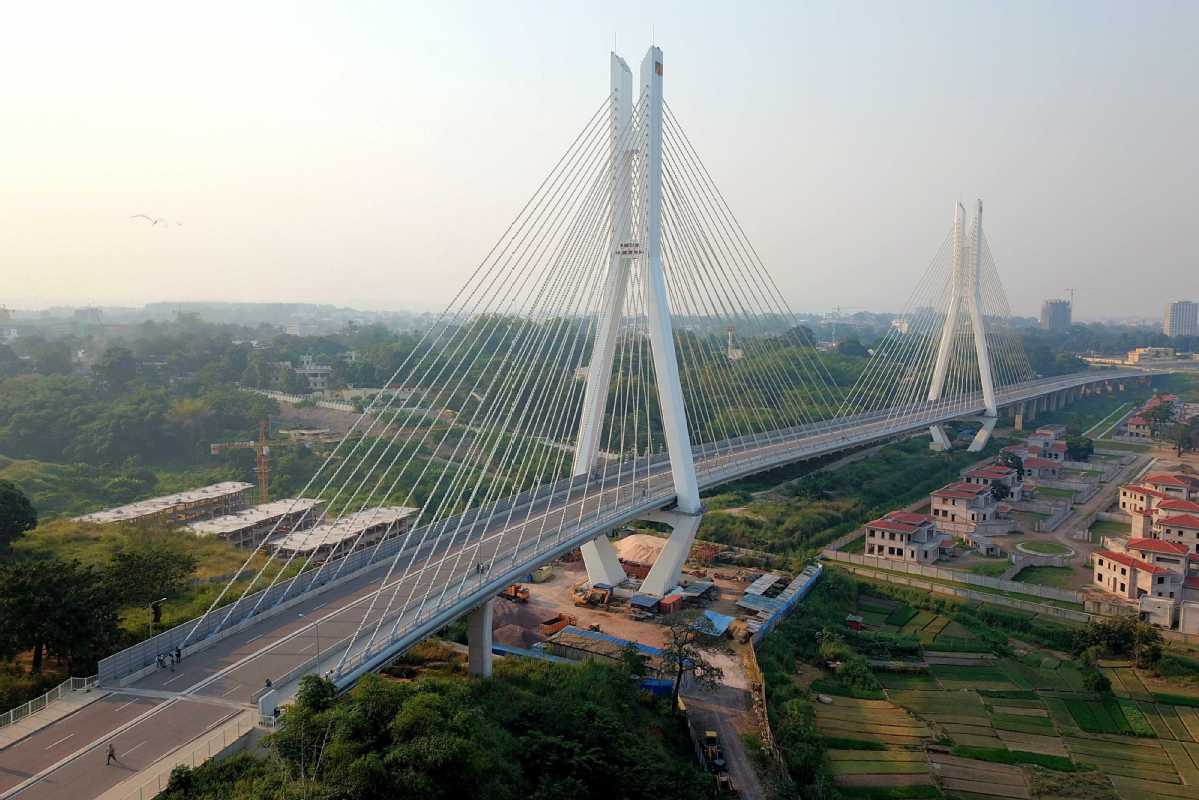 While many countries around the world, especially developing nations, consider the Belt and Road Initiative to be based on mutual trust and understanding, some sections of Western media and scholars came up with the term "debt trap" to criticize and protest Belt and Road-related programs. The initiative marked its five years recently and within this short period it has succeed to gain support of almost all countries of this planet and is trying to provide alternative to create a new just and balance world. Strong perspective from developing world makes it clear that Western propaganda should not hamper the Belt and Road spirit, and needs to do more to enhance multiple and inclusive cooperation against growing populism and protectionism.
In the first week of this month, a US think tank Centre for a New American Security published a report titled "Power Play: Addressing China's Belt and Road Initiative". There have been hot debates in Western countries on issues raised by this report. This report portrayed the Belt and Road project negatively and concluded that the Belt and Road has serious economic and geo-political consequences for developing and under-developed countries, which would ultimately compel them to tilt toward Chinese interests. According to the report, the Trump administration has been systematically and with a well-devised strategy working to contain and control China's standing in the world. It called the Belt and Road a threat to US hegemony and supremacy and also so-called American principle of political liberal order. The speech of US Vice-President Mike Pence at the Hudson Institute on October 4 relentlessly criticized the Belt and Road and voiced American interest to curtail it indirectly.
It is not hard to apprehend the conclusion of American establishment about China-led Belt and Road. According to the establishment, China wants to achieve political, economic and security goals using the initiative. It sent a message to the world that China is creating a "debt trap" in the developing world to make their economy dependent on China. The US has not any provided any proven cases or evidence to back its accusation. It is easy to identify the real American interest. The US doesn't want to let go its existing dominant place and hegemony in the world. The US establishment doesn't want to accept the changing global scenario with the dawn of the 21st century and particularly after the 2008 economic crisis. It seems it is itself unaware about the changing political circumstance in terms of political ideology and flow in own domestic sphere with the ascendency of Donald Trump in the White House. In this context, there is no rationality and pragmatic basis to opine that China want to advances its strategic interests.
Debt issue in the financial sector is not an unknown case. We can see the problem in every domestic banking system, World Bank, International Monetary Fund and Asian Development Bank. Issue is whether the receiver is serious or not to take loan and use it properly in the targeted projects. Another thing is that if any international credit and financial problem occur, the institution and host country could resolve it through discussion and seriousness to sort out the problem and head toward dynamic and vibrant economic and commercial flow. Many developing countries are trying to attract huge amount of foreign capital in various form to develop their infrastructure development. For it, they have to mobilize massive amount of domestic and foreign capital. In this scenario, this is very common to feel burden of debt to any host countries. Important thing is whether their internal mechanisms are able to manage, handle and run the projects systematically and transparently or not. So it is absurd to blame other countries on owns failure to manage the infrastructure-projects implementation process. It is wrong to say only China-led project create debt problem and not Western countries-led projects.
Economists say that foreign debt brought by Chinese projects to the host country in comparison to their total debt is at low level. We can take the example of Pakistan, Sri Lanka, Myanmar and many other Belt and Road countries. Chinese Foreign Ministry spokesman Lu Kang told reporters on October 15 that the debt triggered by the China-Pakistan Economic Corridor is a small proportion of the total debt of Pakistan, and is thus not the reason of the economic and financial difficulties in Pakistan. Actually, according to the data of Belt and Road implementation projects, most of the Belt and Road projects are still not big. They are generating huge job opportunities and contributing on economic growth of the host countries. It is said that in the last five years, Belt and Road-related projects have generated more than 200,000 jobs in the many countries.
Since the reform and opening-up of the Chinese economy in 1978, China definitely gained historical achievement in many fronts, but never tried to influence or interfere in other's internal matter. Peaceful rise and development have been the main foundation of Chinese development model. This is also real answer to those who see the initiative as a new Marshal Plan to push Chinese interests. The data provided by State Council Information Office on August 27 showed that China has signed 118 agreements on cooperation under the Belt and Road with 103 countries and international organizations. It is also clear that the spirit and norms of the Belt and Road is widely accepted within short period of time and the pace is increasing day by day to grasp the opportunities and promote peace, harmony and development.
Chinese President Xi Jinping clearly said that the initiative is led by China but for the rest of the world. He further said that this is not a "Chinese club". Saudi Arabia and Japan are also discussing plans to join the Belt and Road. This shows that China seek cooperation rather than competition in the global level. Mutual trust and win-win cooperation are major basis of the initiative. No doubt problems, challenges and difficulties would occur in course of projects implementation, truth is the Belt and Road countries have capacities and strength to address these issues collectively and move forward to achieve domestic and global common goals. Broad discussion and cooperation would resolve the issues and ultimately uplift arenas of inclusive global economic governance.
Buddhi Prasad Sharma is a PhD candidate at Communication University of China. He is also the President of Himalaya Dialogue and Leadership Foundation (HDLF).
The opinions expressed here are those of the writer and do not represent the views of China Daily and China Daily website.