Cultural event leads Egyptians into Chinese life
China Daily | Updated: 2018-10-25 09:47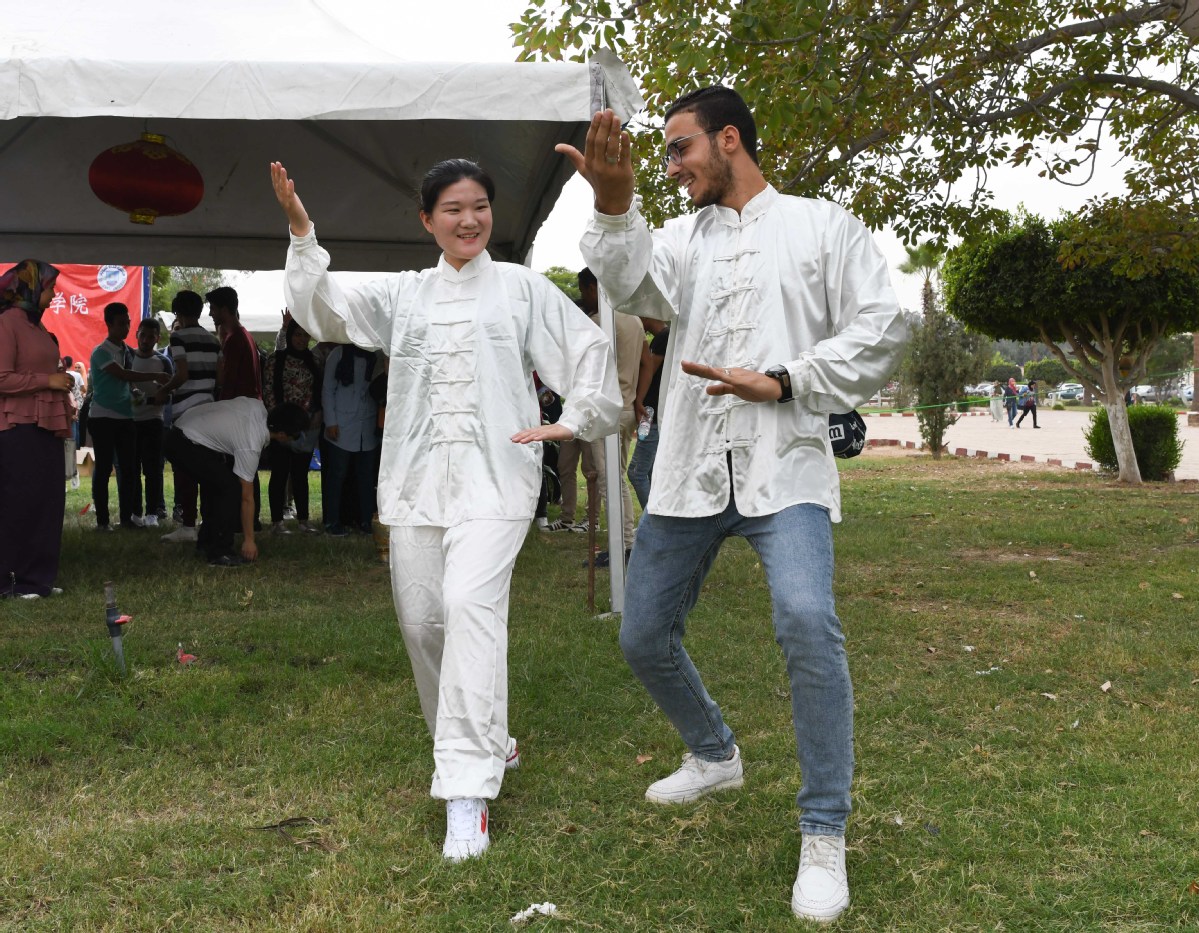 ISMAILIA, Egypt - "Chinese events help Egyptian students learn more about cultural integration across different countries," said Ghada Ragab, a 18-year-old student learning Chinese in Suez Canal University in Ismailia province.
The second edition of the Chinese Culture Day held by the Confucius Institute in Suez Canal University helps the students learn more about Chinese daily life, other than focusing merely on language, Ragab said, describing it as a model of introducing Chinese tradition, heritage and art.
Her classmate Sarah Saeed shared the same view while watching paintings being done by Egyptian students of the Chinese philosopher Confucius, who impacts her life significantly.
"My readings about Confucius philosophy, which calls for values of love and respect for others, are the main factor for encouraging me to study Chinese language," Saeed said.
She dreams of establishing a publishing house for translating Chinese literature which could help Egyptian and Arab readers recognize the "great Chinese values and traditions" which, in many ways, are similar to those of the Middle East.
At the Culture Day, all the students were busy tasting Chinese tea and food, using red strings to make symbols for luck and happiness, and watching kung fu demonstrations, among other activities.
"From Chinese events, I learned that the old civilization should be promoted via preservation of the heritage," said Aya Gamal, a student in her final academic year.
She explained that students who are learning Chinese should not only study the language in words, but also use it for understanding the culture and make efforts to present it to the world.
Miao Chen, a 24-year-old teacher at the Confucius Institute, was helping students make paper fans.
"The paper fans with Chinese paintings such as birds and scenery full of Chinese elements attract many students," Miao said.
He pointed out that such activities could inspire the interests of learning Chinese language, and help teachers win their students' attentions on Chinese culture.
While attending the event, more and more students are encouraged to study Chinese language through not just traditional methods, he said.
"Both Chinese and Egyptian cultures are old, but the long distance between the two countries once hindered us to study the Chinese culture," said Hassan Ragab, the director of Confucius Institute in the Suez Canal University.
The Cultural Day, held from Tuesday to Thursday, also included cinema and theater shows, and the Egyptian students will perform an old Chinese drama on stage.
Hassan Ragab said that the students at the institute believe learning Chinese language is a gateway to good job opportunities as Chinese businesses are thriving in the Middle East and Africa.
Egyptian students are eager to learn about the Chinese culture and language as they see China as a model for developing countries, he said.
Xinhua