'Snack' packages help seniors pay power bills
By Gang Wei in Nanjing | China Daily | Updated: 2018-10-26 08:24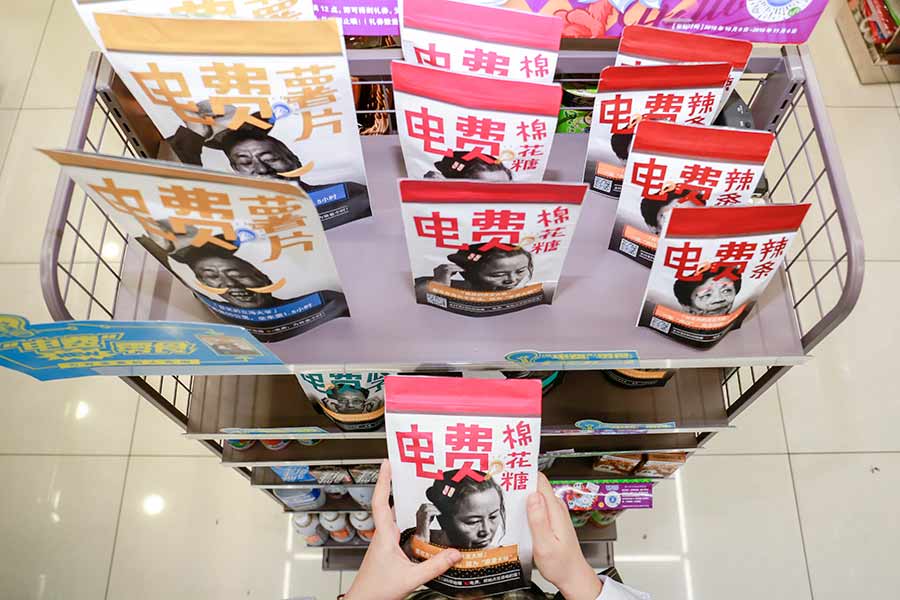 A product that allows buyers to pay electricity fees for seniors living in China's remote areas has sold very well among residents of Nanjing, Jiangsu province.
The package, which resembles a snack and is sold at 10 Lawson convenience stores in Nanjing, has photos and brief introductions of the seniors. It also has a QR code for the buyers to pay the fees.
They will pay at least 2 to 3 yuan ($0.29 to $0.43) toward the seniors' bills when they scan the code. Each package, with no real food inside, contains a piece of paper with a message.
The message, written by an elderly person, includes feelings about life and other things they want to tell the public.
More than 120 packages were sold on the first day at a convenience store in Central Emporium of the city's downtown Xinjiekou area, and 72 people paid fees.
Mao Jiashu, a college student in Nanjing, had the idea of selling the fee packages when she visited the Inner Mongolia autonomous region earlier this year.
"I noticed it was complicated for some seniors to pay their electricity bills, because they didn't know how to pay online. Sometimes the electricity was cut off because they could not walk the long distance to pay in time. Sometimes they simply didn't have enough money," she said. "As a college student who knows how to combine package design with online payment, I decided to do something to help the seniors and increase people's awareness of them." Mao and her friends contacted the convenience store management and secured their support. She put the photos of the seniors living in the Inner Mongolia autonomous region and other remote areas on the packages to draw attention.
"I was worried that people might ignore the product," Mao said. "But it sold out the first day. I think what I did was meaningful, and I will continue to help those seniors who have trouble paying their bills." Many people were touched when they opened the packages and read the messages. A video from inside the convenience store showed a girl hugging her mother after she opened a package.
The message she got read: "If you have someone by your side at this moment, please give him or her a hug for me. I no longer have a chance to hug."
Another woman read the message in front of a camera: "The company you work for will survive if you collapse, but your family won't."
Zhao Le, a resident who paid 20 yuan for one senior's electrical fees, said the message made her feel warm.
"They don't simply ask you for a favor. They want to pay you back by sharing their life experience with you."
Sui Zhenshan, general manager of Lawson's Nanjing branch, said that the company did not expect that the product would be so popular.
"We'll count the total sales and release it to the public soon," he said. "We'll continue to support this form of public welfare at our stores."
Guo Jun contributed to this story.