L'Oreal pursuing a mission of 'Beauty for All'
By Wang Zhuoqiong | China Daily | Updated: 2018-10-26 10:26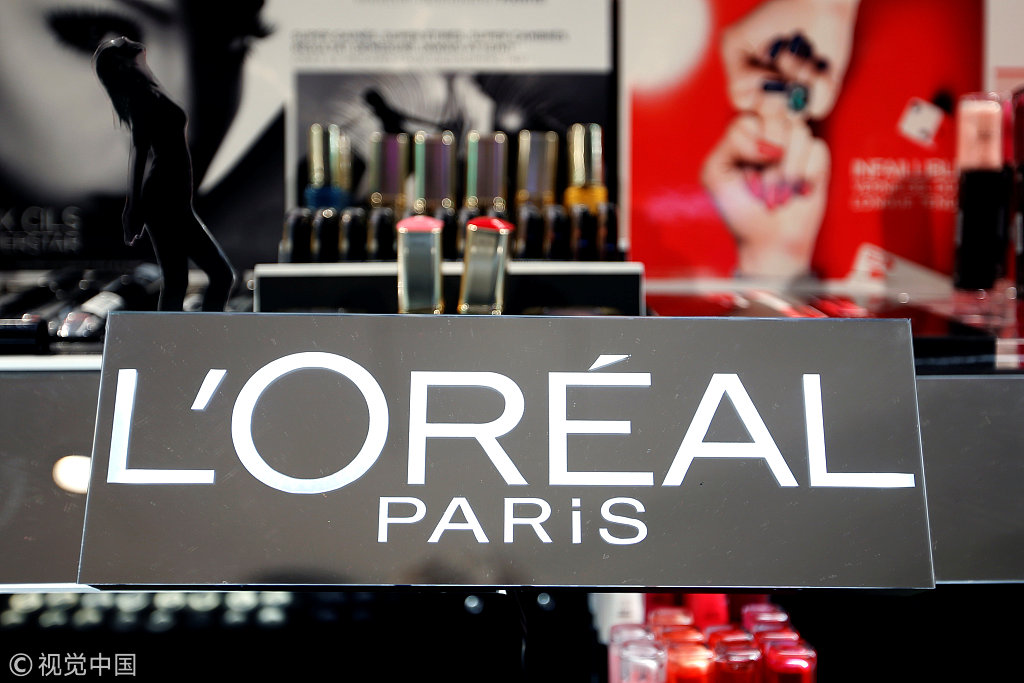 Editor's Note: This year marks the 40th anniversary of China's reform and opening-up. China Daily interviewed top executives of well-known multinational companies for their views on the country's socioeconomic development.
Please use three phrases to describe China's changes in the past 40 years.
Opening-up: Over the past 40 years, the world has witnessed China become a powerful nation. Thanks to reform and opening-up, China achieved huge economic growth and became the second-largest economy in the world, with the largest middle and high-income population.
Consumption diversification: With the rise of the middle and high-income group, consumption in China has become the powerhouse of economic growth. Chinese consumers and their demand have become new engines driving China's economy, and their pursuit of a better life is pushing the consumption upgrading toward a higher-quality, personalized, diversified and globalized future.
Sustainable: "Lucid waters and lush mountains are invaluable assets" - this President Xi Jinping saying summarizes the high strategic level of environmental protection and sustainability targeted in China nowadays. Building an ecologically civilized society has become the new key target of China.
What's the biggest challenge China faces today and how can the country overcome it?
In line with China's vision to build a great nation that is prosperous, strong, democratic, culturally advanced, harmonious and beautiful, one of the prominent challenges is to address the contradiction between unbalanced and inadequate development, and the people's ever-growing need for a better life.
As a consumer goods company, we are riding on the waves of consumption diversification to satisfy consumers' increasingly demanding lifestyles, and we are committed to bringing the most aspirational brands and products, as well as superior innovation to Chinese consumers.
How has your company benefited from the country's reform and opening-up policy?
L'Oreal has benefited significantly from the reform and opening-up policy in many aspects.
Our entry into the Chinese mainland as one of the first French companies in 1997 can be attributed to the favorable Chinese policies designed to attract foreign investment and capital.
With China's reform and opening-up getting bigger and the business environment getting better, L'Oreal has seized this great opportunity to develop itself into the top beauty group in China, with 24 unique and complementary brands, one headquarters, one research and innovation center, two plants, one academy and five representative offices.
The further implementation of favorable policies and the launch of open trade platforms boost our confidence in rooting more deeply and reinforcing our investment in China.
In recent years, the reduction of consumption taxes and importation tariffs of cosmetic products has enabled L'Oreal to increase investment in research, innovation and quality of service, which will ultimately benefit Chinese consumers and boost domestic consumption.
Taking the example of the Pudong Free Trade Zone Non-functional Imported Products Notification Program, on March 9, 2017, L'Oreal gained the very first company account and product notification. This program shortens the market entrance process from three months to five working days, which has enlarged the possibility of global synchronization.
For L'Oreal, it accelerates the speed of bringing new products into the China market. For the beauty industry, it promotes trade facilitation and industrial prosperity. And best of all, for Chinese consumers, it enables them to enjoy the latest innovative products.
Has competition intensified between your company and Chinese companies?
We are happy to witness the evolution of the Chinese market with the growth of both multinational companies and their Chinese counterparts. Although we do not comment on competitors, we do believe as long as competition is healthy and benefits consumers by creating more options, while also driving the vitality of the market, we welcome it.
The world has been changing tremendously fast. Especially in China, the shifts in consumers' demands and expectations for products, services and experiences are faster than ever before. The winner of this era will be the first to successfully meet Chinese consumers' ever-evolving aspirations, or even creating new desires.
L'Oreal has operated on the Chinese mainland for 21 years. Choices from Chinese consumers make us the No 1 beauty group in China. We are confident to offer all Chinese people the best of beauty in terms of quality, efficacy and safety, as well as services and experiences in line with our "Beauty for All" mission.
Apart from economic development, what progresses in other fields has L'Oreal witnessed in China in the past years?
First, China has been making remarkable progress in driving green and sustainable development, as it shifted its focus of development from speed to quality and sustainability. With our "Sharing Beauty with All" commitment, L'Oreal has always been a keen contributor and reliable partner with China in facilitating the development of ecological civilization.
Second, great achievements have been made in improving social wellbeing, especially in poverty alleviation and empowering the underprivileged. As a responsible corporate citizen, we have been pioneering in these areas:
Female empowerment: The L'Oreal Foundation is dedicated to science education with its flagship program "For Women In Science", which is designed to support and recognize accomplished female researchers, to encourage more young women to enter the profession and to assist them once their careers are in progress.
The L'Oreal China Women Empowerment Fund selects and finances projects nationwide that are dedicated to empowering women mainly in the education and sustainability sectors.
Precise poverty alleviation: We are working in partnership with the Women Foundation to support underprivileged women by tutoring them in styling skills via the "Beauty for a Better Life" program.
We collaborated with JD to support disabled people to achieve self-fulfillment by providing them with job opportunities in e-commerce, as well as relevant training.
Education: Regarded as the No 1 campus corporate social responsibility campaign in China, our Charity Sales program has operated for 16 consecutive years and benefited over 5,000 students with more than 30 million yuan ($4.32 million) in total donations.
How are you going to better succeed in this market in the future?
For the past 21 years, L'Oreal has always been tied with China to pursue the mission of "Beauty for All". To further succeed in this new golden era, our secrets are:
Consumer centricity: We are riding on the waves of consumption diversification to satisfy their increasingly demanding lifestyles. For example, in 2017, our 22 aspirational brands served more than 100 million consumers with at least one newly launched product per day on average. This is just the beginning - there are still over 500 million potential consumers for us to conquer.
The winning strategy of 5-Power Model: powerful brands/products, superior innovation, new marketing, new retail and social value.
A great China team and amazing Chinese professionals with dedication, collaboration, entrepreneurship and a fighting spirit.
L'Oreal is a leader with the spirit of challenger, a multinational with the spirit of startup. We are always ready for upcoming challenges, and will bravely embrace booming opportunities and keep leading the market in the future.