Indonesia hunts for victims, wreckage
China Daily | Updated: 2018-10-31 10:22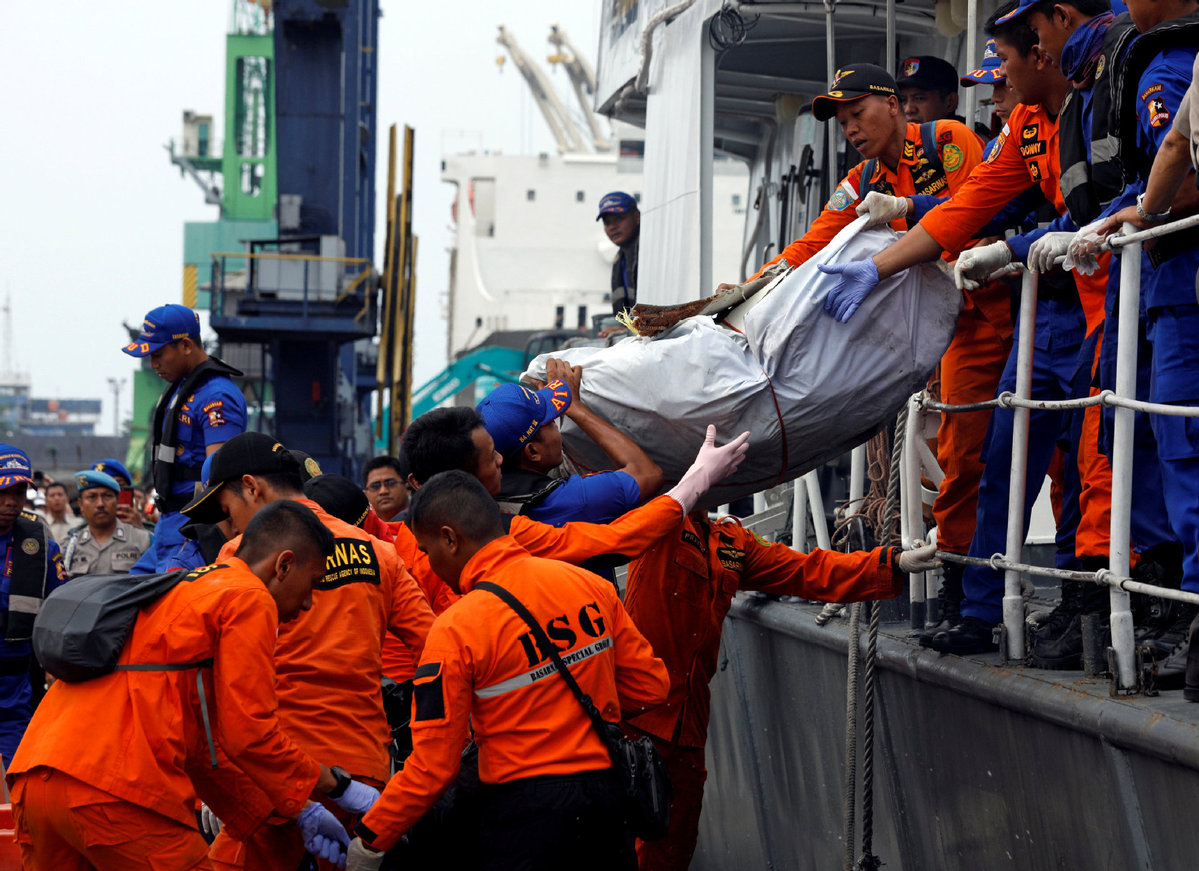 Xi sends note of condolence as Lion CEO admits plane had 'issue'
Chinese President Xi Jinping on Tuesday sent condolences to his Indonesian counterpart Joko Widodo over a plane crash that has likely killed all 189 people on board.
In his message, Xi said he was deeply saddened to learn of the Lion Air crash, and on behalf of the Chinese government and people, as well as in his own name, he extended sincere condolences to the victims and sympathies to their families.
A day after flight 610 crashed into the sea, questions are being raised over what caused the new Boeing jet to come down minutes after takeoff.
Divers and rescue teams were working on Tuesday to retrieve remains of passengers from the water, as investigators examine fragments of debris scattered over a large expanse of water.
Body parts have been recovered from the crash site, about 15 kilometers off the coast. Authorities said search and rescue teams are now focusing on several areas where they believe the plane's fuselage is located, saying that is where they expect to find the most victims.
Police said on Monday that 24 body bags had been transferred to a hospital for postmortems. DNA samples have been taken from 132 family members of passengers to help with identification, but the Jakarta police commissioner warned this could be difficult as each body bag could contain the remains of more than one person.
Indonesia's National Transportation Safety Committee said there were 178 adult passengers, one child, two infants, two pilots and six cabin crew on board flight JT 610.
Among them were 20 Indonesian Finance Ministry employees and Andrea Manfredi, an Italian former professional cyclist.
With the now almost certain prospect of all on board having died, the crash is set to rank as the country's second-worst air disaster since a Garuda Indonesia A300 crashed in the city of Medan, killing 214 people in 1997.
The aircraft's fuselage and flight data recorders are yet to be recovered, but they should provide more evidence as to what caused the crash.
Experienced pilots
A statement by the NTSC said the flight's Indian-born Captain Bhavye Suneja reported a flight control problem and requested permission to rise to 1,524 meters from 518 meters two minutes after takeoff at 6:20 am on Monday.
The plane vanished from radar at 6:32 am after the captain asked for permission to return to the airport, the statement added.
The Flightradar website tracked the plane and showed it looping south on takeoff and then heading north before its flight path ended abruptly over the Java Sea, not far from the coast. Witnesses said they did not hear an explosion, but saw the Boeing 737 MAX plunge into the sea.
Lion Air, Indonesia's biggest budget airline, announced earlier this year it was buying 50 Boeing 737 MAX 10 jets for $6.24 billion. The plane that crashed only went into service in August.
The pilot and co-pilot had more than 11,000 hours of flying time between them and had recent medical checkups and drug testing, it said.
Lion Air CEO Edward Sirait acknowledged on Monday that the plane had an unspecified technical issue fixed in Bali before it was flown back to Jakarta, calling it "normal procedure", AFP reported.
BBC quoted an analyst from an airline safety and product review site airlineratings.com saying Boeing reportedly suspended release of the 737 MAX just days before its first commercial delivery last year due to an engine issue.
Indonesia's air travel industry is booming, with the number of domestic passengers growing significantly over the past decade, but it has acquired a reputation for poor regulation and its airlines had previously been banned from US and European airspace.
Lion has been involved in a number of incidents including a fatal 2004 crash and a collision between two planes at Jakarta's Soekarno-Hatta airport.
AFP and Reuters contributed to this story.