Thoughtful harmonies
By Chen Nan | China Daily | Updated: 2018-11-01 07:43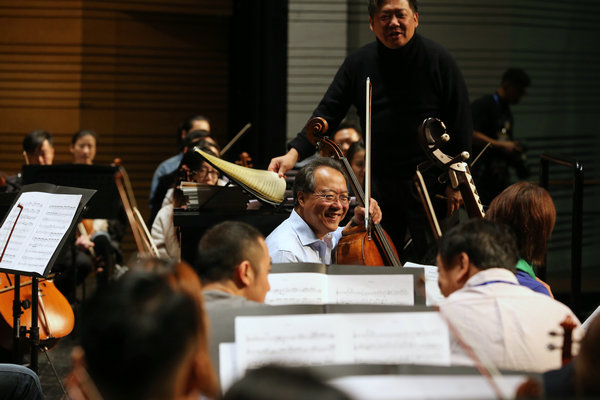 The songs were meant to make listeners think about thinkers.
Chinese-American cellist Yo-Yo Ma, pipa (lute) player Wu Man, sheng (Chinese flute) player Wu Tong and Silk Road Ensemble musicians joined the Hangzhou Philharmonic Orchestra to stage a performance under the baton of Chinese conductor Yu Long on Friday to conclude the 14-day Beijing International Music Festival.
The concert featured composer Zhao Lin's A Happy Excursion, a double concerto for pipa, cello and orchestra that premiered with the same lineup in Zhejiang province's capital, Hangzhou, on Oct 24.
The three-movement piece is inspired by Taoist philosopher Chuang Tzu's famous essay of the same title.
It reflects on ancient Chinese intellectuals' spiritual lives and connects them with the contemporary world.
The first movement begins with vibrant timbres and rhythms. Energetic harmonies and contrasts of the cello, pipa and orchestra depict ancient China.
Stringed instruments alone accompany the cello and pipa in the second movement, which is more peaceful and portrays spiritual experiences as interpreted through Chinese poetry, calligraphy and painting.
The third movement represents the present. The tempo picks up again, and the music becomes more creative and expressive to convey the idea of the search for carefreeness and idealism.
The Beijing International Music Festival commissioned A Happy Excursion to celebrate its 21st anniversary. Yu founded the annual festival in 1998.
"This is an important work by Zhao Lin that follows the spiritual worlds of intellectuals from ancient to contemporary China," Ma says in Mandarin.
The 63-year-old has recorded over 100 albums, 18 of which have won Grammy Awards.
"Nowadays, we're very busy and hardly think," he says.
"With his music, we can connect the past with the present day, which enables us to slow down and find inspiration."
Related Stories