Young competitors strike the right note at gala event
By Chen Nan | China Daily | Updated: 2018-11-01 07:53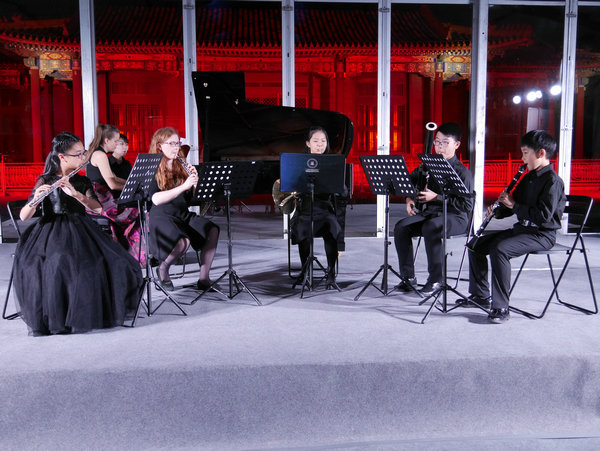 A gala concert presented by 21 young musicians from both China and Germany closed the third China Youth Music Competition. The musical extravaganza was held in the Pudu Temple in Beijing, a protected Ming Dynasty (1368-1644) cultural relic site, on Oct 27.
Audiences enjoyed 12 repertories, including Johann Sebastian Bach's Prelude and Fugue in G minor played by 19-year-old pianist Viviana-Zarah Baudis, and Willson Osborne's Rhapsody For Bassoon played by 15-year-old Yang Ye.
The China Youth Music Competition, launched in 2015, is based on the German Music Council's renowned Jugend Musiziert, the best-known music competition for young performers in Germany, which started in 1963. The first Chinese competition took place in 2016 in Beijing and Shanghai, attracting more than 600 applicants from across China.
According to Zhang Yong, the founder of the competition, over 2,600 applicants from eight provinces across China joined in the third installment of this annual event, double the number of applicants from last year. The third China Youth Music Competition kicked off on Sept 1 this year and, during the past two months, young people from China and Germany have held concerts, had workshops and enjoyed master classes in the two countries.
"The competition encourages children to play instruments with other musicians. There is fun in cooperating with others, and technique is not the only standard here, but the understanding of the music as well," says Zhang, who studied pipa (a four-stringed Chinese plucked instrument) for three years before learning the oboe. He came to Beijing in 1986 to study at the affiliated middle school of the Central Conservatory of Music.
In 2014, Zhang met Benedikt Holtbernd, the artistic manager of the nonprofit arm of the German Music Council in Munich, where the Jugend Musiziert is headquartered.
Sharing similar views about music and music competitions, Zhang and Holtbernd decided to bring the format of the Jugend Musiziert to China.
In the third year, German soccer club Bayern Munich launched its collaboration with the China Youth Music Competition.
Young musicians from China and Germany gathered at the museum of FC Bayern Munich at the Allianz Arena on Sept 11 to give a concert as part of the third China Youth Music Competition. The concert included performances of Grand Duo Concertant Op. 85, for Flute or Violin and Guitar by Mauro Giuliani; Carl Maria von Weber's Clarinet Concerto No. 1 in F-minor, Op. 73; the Chinese folk song Jasmine Flower; and the club anthem Star of the South.
"Football and classical music share lots of similarities. Besides solid techniques, both football and music need passion from the players," explains Rouven Kasper, FC Bayern Munich China's managing director in Beijing, adding that both the China Youth Music Competition and FC Bayern Munich agree that sports and music education play an important role in youth development.