Bus crash fuels safety fears as passengers urged to follow the rules
By TAN YINGZI | chinadaily.com.cn | Updated: 2018-11-04 18:03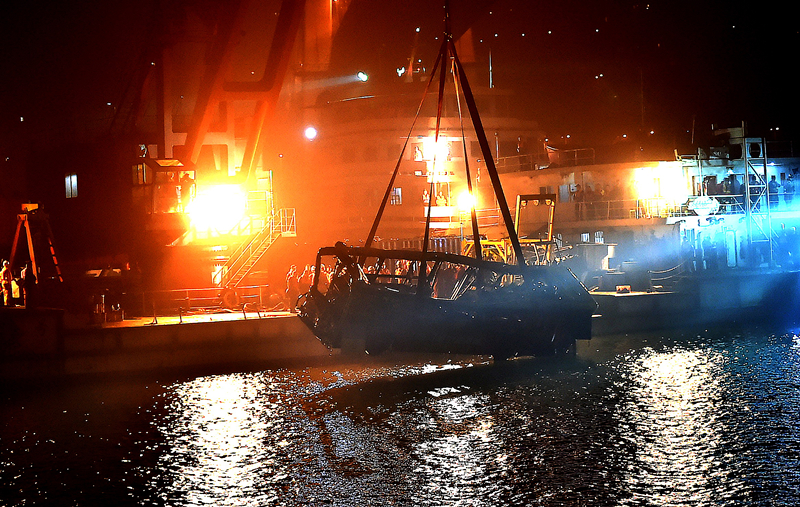 Netizens and media commentators have called for improved safety measures on public transport, as well as greater awareness of the rules among passengers, after a fatal bus crash in southwestern China's Chongqing that happened because of a fight between a passenger and the driver.
Thirteen people were killed and two more remain missing after a bus smashed through the guardrail of a bridge in the city's Wanzhou district and plunged into the Yangtze River on Oct 28.
Footage from the vehicle's data recorder released Friday shows a female passenger — identified by authorities as Liu, 48 — arguing with the driver, surnamed Ran, at the time of the accident.
Liu had missed her stop and asked Ran to pull over, according to police. When he refused, she began to hit him with her cellphone, causing Ran to lose control of the vehicle. The bus crossed into wrong lane before colliding with an oncoming vehicle and hitting the guardrail.
The authorities estimate 15 people were on board at the time.
Many were outraged after seeing the footage, taking to social media to call for more protection for bus drivers and better behavior from passengers.
Although signs and audio announcements warn passengers not to distract bus drivers, particularly when the vehicle is moving, not everyone follows the rule. Before the Chongqing tragedy, similar cases had come to light, including some in which passengers had grabbed the wheel.
While Liu has been the target of much of the anger online, Ran has also been criticized for not stopping the vehicle and calling police, as drivers are instructed to do in such situations. Instead, he is seen fighting back.
Others, however, have chosen to focus on ways to prevent future tragedies. Some suggested passengers should be more proactive and intervene when they see dangerous behavior, while some said the penalties for offenders should be toughened.
Many netizens have called for safety partitions to be installed to keep bus passengers separated from the driver's cabin.
Some Chinese cities began to take action over the weekend. The public transport authority in Nanjing, capital of Jiangsu province, said safety partitions will be installed on nearly 8,000 buses by the end of 2019. Its drivers will also be given training in how to deal with conflicts.
A court in Shenyang, capital of Liaoning province, recently gave prison sentences to three people who endangered public safety by distracting bus drivers, Xinhua News Agency reported Sunday.
"These measures are necessary, but they are not enough," Xinhua said a commentary. "Public security is closely connected with social morality. The public should strictly follow the law, improve self-discipline, and be calmer and more rational."
People's Daily also published a commentary in which it said China may need a revolution in social civilization to keep up with the fast economic growth. It cited recent reports of passengers on high-speed trains occupying other people's seats and refusing to move despite warnings from security workers, angry scenes at airports caused by flights delays, and attacks on hospital doctors over medical disputes.
The piece added that China has achieved great progress in material well-being in the past four decades, but there is still much to do to improve social etiquette and ethical standards.
"We need to build rule of law and emphasize the need to abide by the rules," it said.