President Xi's CIIE keynote speech highly encouraging for intl community
By Alex Chan | chinadaily.com.cn | Updated: 2018-11-06 11:25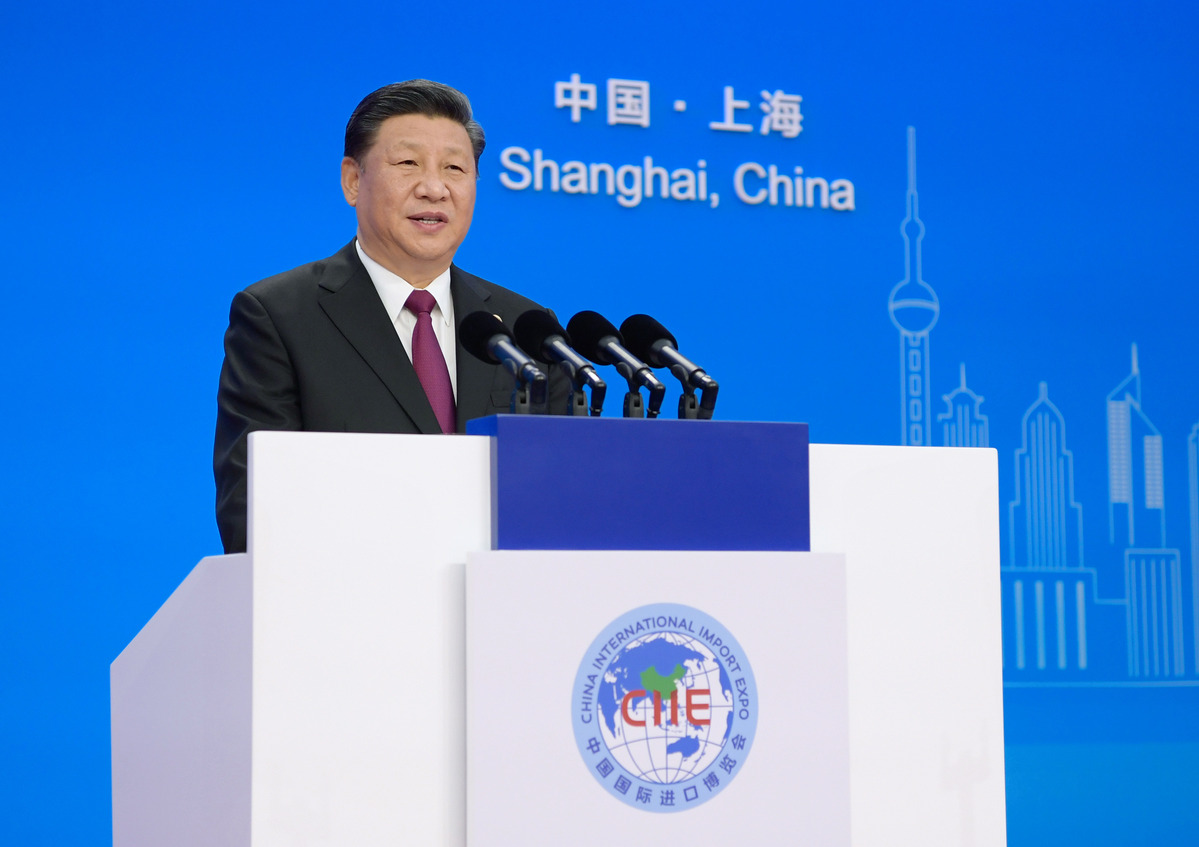 On Monday, the First China International Import-Export Expo (CIIE) was inaugurated in Shanghai in the presence of 18 countries' leaders and the participation of 172 countries and regions, as well as more than 3,600 enterprises from all around the world, of which 200 are on the Fortune Global 500 list. Held by the Chinese Ministry of Commerce and Shanghai Municipal People's Government in partnership with the World Trade Organization, the United Nations Conference on Trade and Development, and United Nations Industrial Development Organization, the ongoing expo is a unique initiative marking China's evolving high-level opening up, as well as the country's efforts in further opening its market to the rest of the world.
This is well reflected in President Xi Jinping's inspiring, open and inclusive speech, where he conveys China's vision for economic globalization by stressing two main points: Supporting opening-up and implementing measures to achieve this goal on a global basis, as well as reflecting on the bright prospects of the country's development. Forty years ago Chinese leaders made the enlightening decision to carry out opening up and reform, which has brought outstanding economic, social and cultural progress paving the way for continuous growth. As China enters a new era of a shared future and common prosperity, the nation has demonstrated to be not only a global leader, but an inclusive leader, capable of promoting economic globalization with practical actions.
Given that economic globalization is an irreversible trend that provides a strong drive for global economic development, President Xi urges all countries to stay committed to opening-up while opposing to protectionism and unilateralism, so that innovation and development of shared benefits become the founding bases for common prosperity. Words are not enough, and practical measures should be taken to achieve the aforementioned goals. China has, as a result, taken drastic pragmatic steps to open its door even wider, through accomplishments, such as expanding imports but at the same time further improving market access.
Improving market access means that the Chinese government has so far taken practical actions, such as simplifying the negative list of foreign investment, reducing investment limits and lifting the level of free investment. But it also signifies expanding opening up in the financial sector and service sector, as well as in agriculture, manufacturing, telecommunications, culture, medical treatment and education. Such opening processes can be implemented when the country fosters friendly business environments and explores the building of free trade ports, as well as engaging in bilateral and multilateral forms of cooperation dialogue.
President Xi stressed the imperative need to boost opening up everywhere in the world. On the Chinese economy, President Xi reiterated to guests from around the world that China's growth remains stable with favorable conditions for long-term development. "The Chinese economy is a sea, not a pond. Storms can overturn a pond, but never a sea", President Xi said very humbly while echoing China's economic potential. He also firmly believes that cities, such as Shanghai, play pivotal roles. In fact, the China (Shanghai) Pilot Free Trade Zone will embrace further trade liberalizations, so that Shanghai becomes a successful role model to be replicated in other parts of the country. In Shanghai, the government will likewise launch a science and technology innovation board at the Shanghai Stock Exchange, further support Shanghai in its efforts to become an international financial center and provide assistance for building a comprehensive national strategy for the Yangtze River Delta region.
President Xi's keynote speech is highly encouraging for the international community, as he reaffirmed the commitment of the second largest economy to the principles of global economic liberalization for win-win cooperation. China's position always has been very clear and consistent since opening-up and reform, which is embracing the fruits of globalization while cooperating with countries, regions, international organizations and the private sector to jointly solve any form of challenges through mutual dialogue and understanding. The First CIIE has been receiving high international visibility and will certainly become an important future international platform for global trade and economic cooperation, while making an enormous contribution to advance the Belt and Road Initiative, as well as strengthening social and cultural people-to-people ties.
The author is a graduate of China Studies and International Relations at Peking University and the London School of Economics. Currently, he is working in the fields of development and public policy.