US must pursue amiable talks, not intimidation, to restore ties
By Zhao Huanxin | chinadaily.com.cn | Updated: 2018-11-07 14:02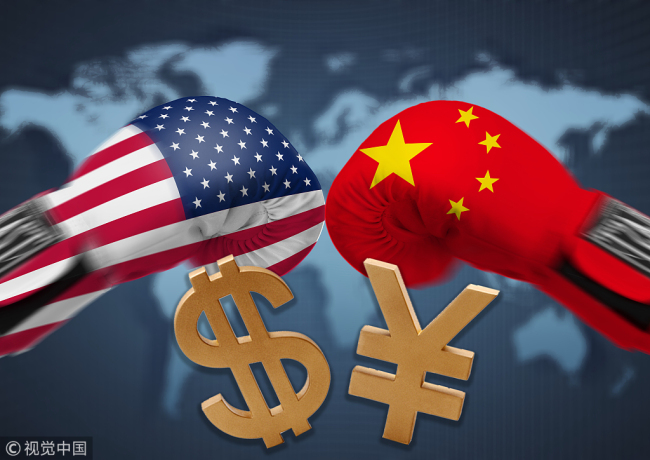 Earlier last week and before his telephone conversation with President Xi Jinping, US President Donald Trump said he thought there would be "a great deal" with China on trade but warned that Washington would impose billions of dollars' worth of new tariffs if a deal did not materialize.
A day after Thursday's Xi-Trump phone conversation, White House economic adviser Larry Kudlow said a meeting between Trump and Xi, as the leaders agreed over the phone, was sure to be held and would include trade talks. But he also said Trump "could pull the trigger" on additional tariffs on Chinese imports, depending on how the talks go.
A sort of intimidation appears to building up in Washington weeks before the scheduled Trump-Xi meeting on the sidelines of the upcoming G20 summit in Argentina. Whether this is brinkmanship or part of Trump's "art of the deal", it seems to lack sincerity which will not help resolve bilateral trade and other conflicts.
It's true that every now and then the US administration has issued such remarks ostensibly "to try to intimidate" China.
"If the US truly wants to resolve the economic and trade issues with China, … it should adopt a serious attitude and have equal-footed talks with us in good faith," instead of trying to intimidate the country, "because no intimidation will work on us," Foreign Ministry spokesman Lu Kang said at a briefing on Oct 30.
After the planned Xi-Trump meeting was announced, the world's share markets soared on Friday, a reflection that expectation is high that the world's top two economies are eager to mend their broken fences and streamlined their trade relations.
In contrast to the mood in the US, Vice-President Wang Qishan said at a forum in Singapore on Tuesday that China is ready for talks with the US to resolve the trade conflicts. The remark echoed what Xi told Trump during the phone call. Xi also urged the two sides' economic teams to expand contacts and increase consultations to reach an agreement which is acceptable for both sides.
It is thus extremely clear that China wants a deal that is good for both sides, not at the expense of its trading partner. Xi, in fact, expounded China's views on the win-win nature of trade in his latest speech at the first China International Import Expo in Shanghai on Monday.
In a world of deepening economic globalization, practices of the 'law of the jungle' and 'winner-takes-all' only represent a dead end. Inclusive growth for all is surely the right way forward, Xi said.
In addition to the mutually-beneficial nature of bilateral trade relations, China and the US have a common ground that has been increasingly highlighted by senior officials and China experts: mutual desire to harness and avoid conflict.
During a debate on China organized by the Brookings Institution in Washington last week, Susan A. Thornton, former acting assistant secretary of state for East Asian and Pacific Affairs, said the conflicts between China and the US are manageable and they have many interests in common. "Maybe the most fundamental interest we have in common is the mutual desire to avoid conflict," said Thornton, now a senior fellow at Paul Tsai China Center of the Yale Law School.
Which in a way was echoed by Wang on Tuesday: "The world today faces many major problems that require close cooperation between China and the United States. It is our firm belief that China and the US will both gain from cooperation and lose from confrontation."
Also speaking at the Singapore forum, former US secretary of state Henry Kissinger said he was "fairly optimistic" the US and China could avoid a wider conflict that would devastate the current world order.
And Dennis Wilder, managing director for the Initiative for US-China Dialogue on Global Issues at Georgetown University, said in an interview with China Daily that a presidential meeting is often called an "action-forcing event", meaning that both governments have a lot of work to do in the next few weeks to ensure the Xi-Trump meeting proceeds smoothly.
Intimidation should not be part of the work, either before or after the meeting.