Khan's visit an important step forward in China-Pakistan relations
By Asif Amin & Farrukh Choudhary | chinadaily.com.cn | Updated: 2018-11-07 08:25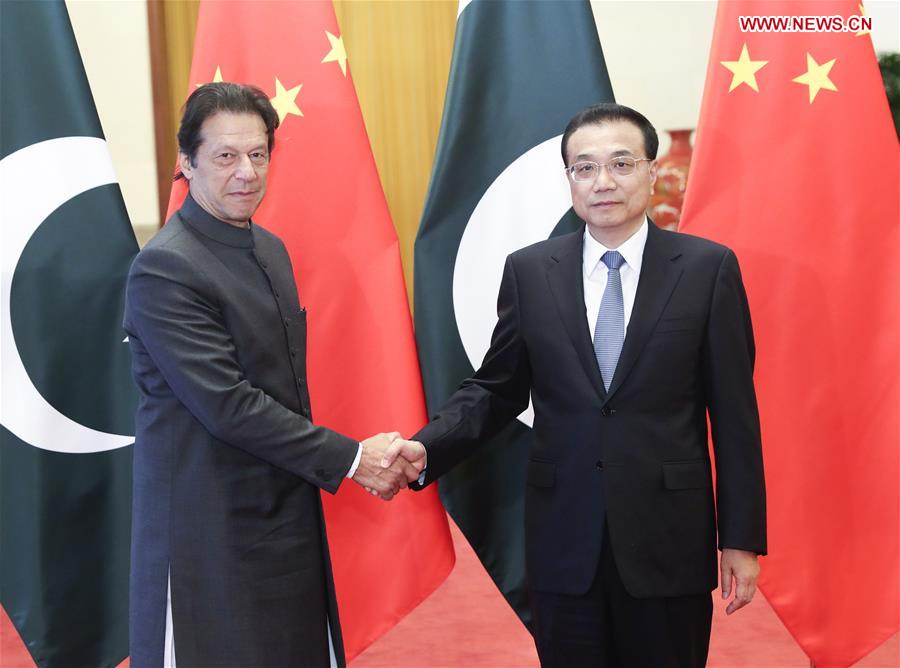 Pakistan's Prime Minister Imran Khan recently completed an historic four-day state visit to China where he, alongside his counterpart Premier Li Keqiang, oversaw the signing of 15 memoranda of understanding in different fields. This was Khan's second state visit to any country since the formation of the new government.
After the visit, both countries issued a joint statement announcing the visit a success and a step forward in moving bilateral relations toward a new era of cooperation. The PM visited during a time when Pakistan is facing an imbalance between import payments and is seeking a bailout package from Beijing.
During the visit, the Chinese leadership made assurances to Khan they would assist with the current fiscal deficit. China has also agreed to increase imports from Pakistan from the existing level of $1.2 billion to $2.2 billion by the end of 2018-19 and to $3.2 billion by the end of the next fiscal year, underscoring the depth of cooperation between the two nations. This can be considered a huge success for Pakistan amidst the current fiscal deficit and current account deficit. In his meeting with Khan, President Xi Jinping reiterated Pakistan is always a "diplomatic priority" for China, he said this was the beginning of a new era of "stronger" and "deeper" relations between both countries.
The importance of this visit can also be understood through the lens of the current situation, where there is skepticism in some parts of international society about China's alleged "debt trap diplomacy". During the China International Import Expo in Shanghai, Pakistan's finance minister, in an interview with China Global Television Network, stated it was wrong to blame CPEC for Pakistan's debt problem. Pakistan does have a debt problem, he said, but "Pakistan does not have a China debt problem."

The current government has inherited a very difficult economic situation and Khan has expressed his intention to seek assistance from friendly countries in order to negotiate a reasonable package to redress the current trade imbalance, rather than seeking International Monetary Fund loans which would place strict terms and conditions on Pakistan's policymaking. Beijing has been one of the closest allies to Islamabad, and has helped Pakistan through difficult times. Both sides believe their relations have experienced the test of time, despite changes in the geopolitical situation in the region. Their ties have gotten stronger and are constantly moving forward.
Khan was accompanied by Foreign Minister Shah Mehmood Qureshi, Finance Minister Assad Umer, commerce and trade advisor Abdul Razzak Dawood and Minister of Railways Sheikh Rasheed Ahmad. At the end of the trip, both countries issued a joint statement with the details of the tour. For Pakistan, the tour has been a huge success; Pakistan was looking for an immediate bailout package from Beijing in order to provide breathing space for its economy. Saudi Arabia has already helped Pakistan with $6 billion to stabilize its looming debt crisis, which has helped alleviate immediate concerns. Pakistan's Foreign Minister Shah Mehmood Qureshi termed the visit "productive and successful".
According to Qureshi, four major areas were discussed during bilateral meetings with their Chinese counterparts. As China and Pakistan enjoy deep strategic relations, an emphasis was made on accelerating multi-dimensional economic footprints. Specifically, the Pakistani government seeks China's assistance in focusing more on the second phase of the China-Pakistan Economic Corridor which aims to build special economic zones that directly benefit the population by alleviating poverty in Pakistan and China.
Pakistan is looking forward to China's assistance in the agricultural sector especially, in order to adopt more advanced scientific methods for efficiency, and both countries agreed to the transfer of technology in this field. During Imran Khan's address to students in China's Liberty School, he emphasized he is here to learn from China's experience to curb the challenges of corruption, poverty and urbanization. Khan's current goal with China is to reiterate bilateral relations, and Islamabad is keen to enhance the scope of cooperation and pave the way for fresh investments under CPEC.
At the same time, China has made assurances it will assist Pakistan in coping with the challenges it currently faces. Hence, this tour is also important as a way to discuss and cope with the security, geo-strategic and geopolitical challenges that China and Pakistan are facing in the region. China is also keen to be a peace-broker in Afghanistan, and both sides have agreed to hold a trilateral meeting in Kabul to find a way forward building a lasting peace in Afghanistan.
In conclusion, cooperation between Beijing and Islamabad is likely to increase under the umbrella of CPEC, which forms part of Xi's Belt and Road Initiative. The times require a maximization in relations, leading to an outcome that directly benefits the masses on both sides. Pakistan needs China's direct assistance in order to lift its population out of poverty, and as Khan said: "Pakistan wants to learn from China's experience." The success of CPEC can be an example for the international society to join in the vision of the Belt and Road that is destined to create a "community of shared interests".
Asif Amin is a doctoral candidate at the School of International and Public Affairs at Jilin University in Changchun, China. Farrukh Chaudhary is a graduate of the University of Birmingham in the UK.
The opinions expressed here are those of the writer and do not represent the views of China Daily and China Daily website.