From just discounts to real shopping experience
chinadaily.com.cn | Updated: 2018-11-10 10:07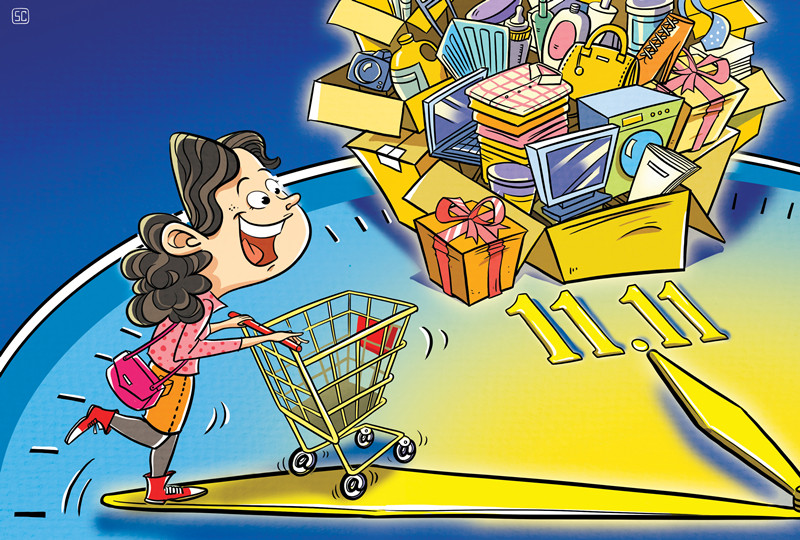 Editor's note: This year marked the 10th anniversary of Singles' Day (Nov 11), when people can avail of the special discounts offered by online shopping platforms. What was new this year? And what are the prospects of China's e-commerce? Two experts share their views on the issue with China Daily's Yao Yuxin. Excerpts follow:
Technology improves social efficiency
Started during the infancy of e-commerce business in China, Singles' Day has played a significant role in promoting online shopping. But Singles' Day has become more like an online carnival today, which doesn't influence online shopping as in the past, because consumers nowadays buy anything online whenever they want. However, one thing is different: e-commerce has already covered many rural areas, which can play a vital role in promoting the integrative development of urban and rural areas.
And e-commerce giants such as Alibaba and JD have extended their Singles' Day celebrations to nearly a month rather than just one day. Driven by e-commerce, the economy's improved efficiency makes it possible for consumers to get goods for lower prices on almost any day, not just on Singles' Day. The e-commerce has given a shot of technology in the arm of the real economy.
Different from making bargains the most important selling point in the past, Singles' Day now also showcases e-commerce companies' improvements in areas such as innovation and logistics – for example, convincing consumers that parcels wouldn't be stacked up in warehouses but would be sent by express delivery smoothly.
Alibaba included its offline businesses into Singles' Day this year, initiating a "new retail" trend of connecting online and offline sales. By sharing big data on supply and demand, it aims to help make all businesses, not just e-commerce, more efficient.
Besides, technological advances have also helped online retailers to more easily contact and engage with consumers over a longer period of time, as short videos and live streaming are widely used in the retail sector today.
E-commerce companies are paying more attention to rural areas. As the market in big cities is reaching saturation point, the new exploration will create more opportunities for online retailers to attract more consumers and earn more profits, which would narrow the gap between cities and the countryside, and help eradicate poverty by creating jobs and opening new sales channels.
So rather than keeping an eye on e-commerce gross merchandise value on Singles' Day, people should notice that the technology has already helped to boost both online and offline sales throughout the year, both in the cities and the countryside, even in China and the rest of the world, which is improving social efficiency.
Zhang Ying, associate dean of Guanghua School of Management, Peking University