Homework is high-tech, with caveats
By ZOU SHUO | China Daily | Updated: 2018-11-14 07:44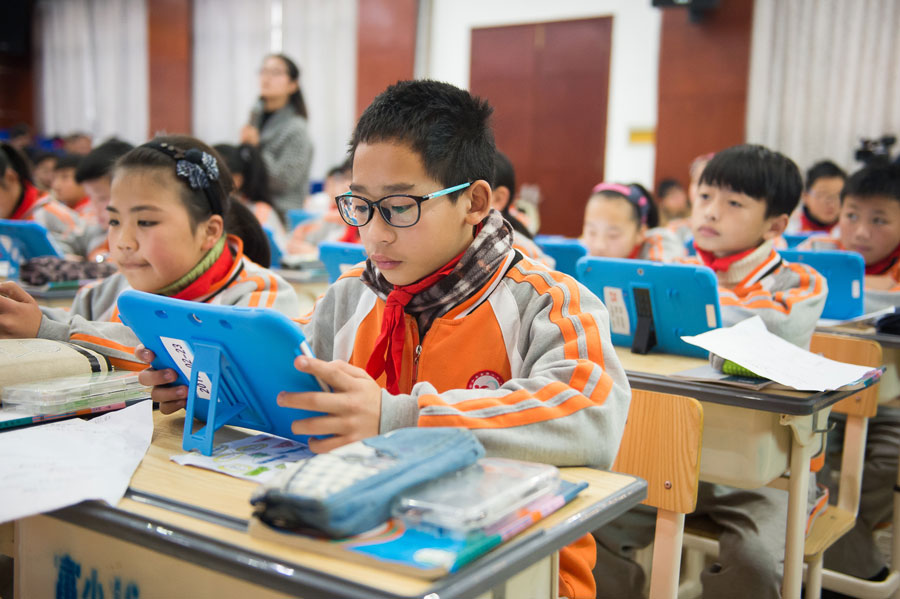 Drawbacks include worries about phone addiction, children's eyesight
On a recent Thursday evening, Zhang Yu, a fifth-grade student in Tianjin, braced himself for math assignments.
He had to use his mother's cell phone to do the assignment, because the three geometry problems concerning parallel lines were handwritten by his teacher on a piece of paper, then photographed and posted to a parent-teacher group on WeChat.
Xing Huan, Zhang's mother, is not a fan.
"One time, both my husband and I had to work overtime and couldn't get back home on time. I had to entrust a friend to go to my home and show my son his homework," she said.
"He is just 11 years old, and I do not want to buy him a cellphone. But it has become inevitable now," she said. "I also worry that my son's eyesight will be damaged from staring at the phone for too long."
The Ministry of Education and seven other departments issued a guideline in August to protect students' eyesight by curtailing the use of electronic devices to assign homework. Teachers should assign homework on paper only and limit the time they use electronic devices to teach, the guideline said.
But many schools, including Zhang's, rely heavily on WeChat and other mobile phone apps to give assignments. It poses a challenge to the country in furthering its goal of protecting children's eyesight, and it feeds parents' worries about their children becoming addicted to cellphones and the internet.
Apart from WeChat, teachers also assign homework that must be done through a particular mobile phone app. Tan Yi, a math teacher at Tianjin Nankai High School, said the school has used 17zuoye (Finishing Homework Together), which was developed by Shanghai-based education company 17Edtech for more than three years.
The app brings teachers, students and their parents together to communicate about students' homework, he said, adding that it allows students to present work on the platform and parents can see their children's progress. Teachers can mark the homework and interact immediately with their students.
The use of apps has been found to create problems. Recent media reports said that some homework apps have been found to include video games, and even inappropriate content. Parents also worry that continuous use of electronic devices will affect students' eyesight and make their children become clumsy at writing Chinese characters.
But education experts do not think simply banning the use of homework apps is the best way to guard students' eyesight.
Xiong Bingqi, deputy director of the 21st Century Education Research Institute, said it's impossible to ban the use of electronic devices and homework apps in the era of the internet.
The important thing for schools and parents is to offer guidance on the use of apps, so that students can develop good user habits, he said.
For years, many primary and middle schools have limited or banned the use of laptops and handsets in the classroom, so when these students entered college their passion for the internet was set free and many became electronically enslaved, unable to control the time they spent on their electronic devices, he said.
"What schools and parents should do is to help students cultivate good habits," he said.
Chu Zhaohui, a senior researcher at the National Institute of Education Sciences, said that it's fine for schools to use apps for schoolwork, but overdependence is not good for students.
"It must be ensured that, apart from apps, students can also complete their homework the usual way," he said, "so that students who can't afford iPads, computers or smartphones can also do their work."
If some schoolwork doesn't require the use of study apps, schools and teachers must be prevented from making a profit from sales of the apps, because they are not supposed to receive any benefits from the companies that sell them, he said.
"We don't want to ban online education models, but they must be used carefully. Modern technologies are good, but they are supposed to serve as textbooks, not steal the show."