Air show highlights Zhuhai's potential for innovation
By Hao Nan | China Daily | Updated: 2018-11-14 10:29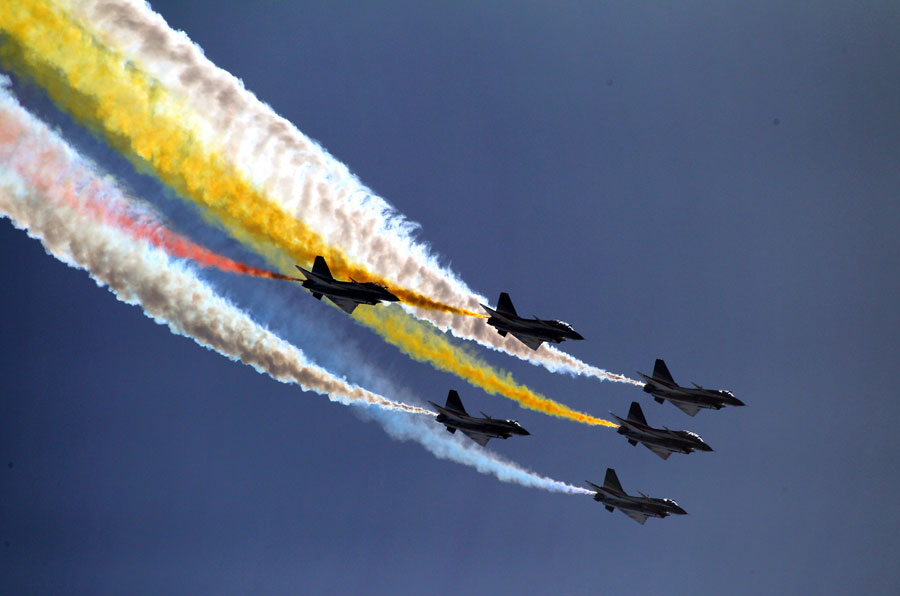 At the recent China International Aviation and Aerospace Exhibition, a lineup of state-of-the-art products independently developed by Zhuhai companies was shown to the assembled visitors from around the world, ranging from satellites to large aircraft and unmanned surface vehicles.
These high-tech products served as evidence of Zhuhai's efforts in implementing its innovation-driven strategy and also highlighted the city's strengths and potential in growing into a crucial innovation hub in the Guangdong-Hong Kong-Macao Greater Bay Area, local officials said.
About 20 Zhuhai companies took part in the event, also known as Airshow China, held from Nov 6-11 in Zhuhai, Guangdong province, where they exhibited their major innovations and latest achievements across such fields as integrated circuit design, aircraft maintenance and general-purpose airplanes and unmanned aerial vehicles.
One of them, China Aviation Industry General Aircraft, an arm of Aviation Industry Corp of China, displayed 18 real airplanes and aircraft models. Leading the pack was the independently Chinese-developed large amphibious aircraft, the AG600, codenamed Kunlong, which successfully finished water take-off and landing in October.
Other Zhuhai companies in attendance included Orbita Aerospace Science and Technology, which showcased its major achievements in the aviation and aerospace industries, such as models of the Zhuhai-1 satellite constellation and its intelligent face recognition products; unmanned surface vessel developer Oceanalpha, which gave the public its first look at China's first unmanned missile boat, Liaowangzhe-2; and Naruida Technology, which exhibited one of the world's most advanced weather radar systems.
This year, the air show helped Zhuhai Aviation Industry Park introduce a batch of UAV projects.
At an unmanned aerial vehicle creative development seminar held on Nov 6, the agreements of a dozen projects located in Zhuhai, including a smart police equipment lab and Harwar drones, were signed, with combined investment reaching 4.93 billion yuan ($709.1 million).
Ten of the projects will be part of the aviation industry park in Jinwan district to further enhance its strength and competitiveness in this field.
Zhuhai now boasts strong competitive edges in the field of UAV development in terms of talent, policy and industry chain, said Kong Lingdong, deputy mayor of Zhuhai.
The city has so far attracted more than 30 UAV companies and is at the frontier of plant protection drones in China. It can also be self sufficient in terms of motor, blade and airframe production, and is home to a group of high-quality UAV flight controllers.
The city's next move is to further promote the industrialization of technological innovations in the UAV sector and boost the integration between the sector's superior resources and strategic emerging industries, Kong said.
Zhuhai in recent years has actively deepened civil-military integration and focused on the construction of an innovation demonstration zone, centering on intelligent manufacturing and the research and development of equipment for aviation and aerospace, offshore engineering and transportation, he added.
Deng Jiangnian, deputy head of the International Economics Institute at Guangdong Academy of Social Sciences, said that Zhuhai is transforming into a transportation hub after the completion of the Hong Kong-Zhuhai-Macao Bridge and will embrace a new round of industrial restructuring with capital, technologies, resources and talented people from Hong Kong and Macao rushing into it.
By 2020, the city is expected to become a pioneer of scientific innovation and reform, and to form clusters of international cutting-edge technologies and high-quality human resources, according to local government.