8.8 billion yuan investment deals signed at 1st China-CEEC SME Cooperation Forum
By Chen Yu | chinadaily.com.cn | Updated: 2018-11-14 13:15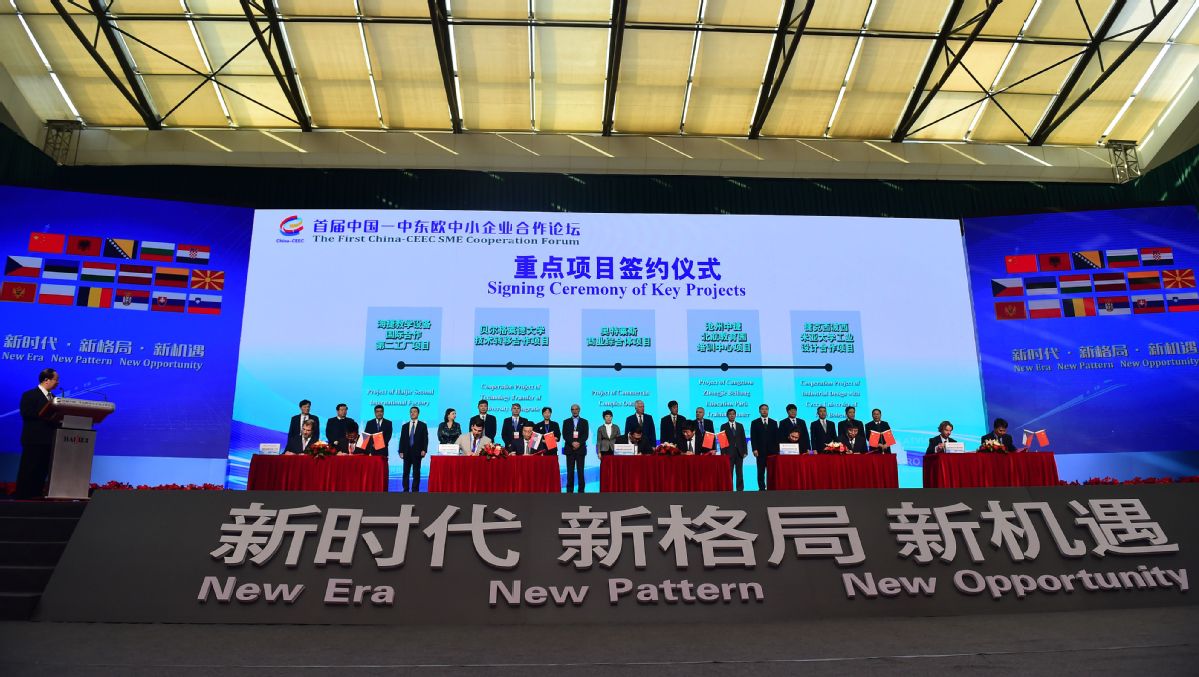 Sixteen investment deals totaling 8.8 billion yuan were signed Monday at the first China-Central-Eastern-European Small-and-Medium-Enterprises Forum in Cangzhou, North China's Hebei province.
Themed "New Era, New Pattern, New Opportunity", the forum provided an opportunity for over 50 SMEs from central Eastern Europe and nearly 200 Chinese SMEs to exchange industry insights and form partnerships. The forum's signing ceremony witnessed the inking of 16 contracts for project contracts, including the Slovakia VRM flight simulator project, Czech EAA sewage plant project, and a second factory for Haijie teaching equipment.
During the event, Dusan Bella, Slovakia's ambassador to China, told China Daily website that transportation is one of the key areas of China and Slovakia's cooperation.
"We are working together to build a more efficient and reliable way to transfer goods between China and Europe," he said.
Another expectation he has for future Sino-Europe cooperation is to see more European companies present on China's e-commerce markets.
Lukas Opatrny, head of the Economic Section of the Czech Embassy in China, listed transportation as one of the key industries for China and the Czech Republic's cooperation. He also mentioned that companies from the two sides are working together in high-end machinery and environmental technologies and the aviation industry.
Opatrny said he is confident about relations between China and his country, referring to the Czech president's recent visit to China, which was his fourth in four years. He spoke about his expectations on the forum and relations between China and the Czech Republic.
"I know it takes time but I am ready to work with my Chinese partners towards a relationship that benefits both sides," Opatrny said.
He also said he expects the China-CEEC SME Cooperation Zone to provide necessary information and support in other forms to European companies looking to find their places in the Chinese market.
The China-CEEC SME Cooperation Zone was previously known as the Sino-Czech-Slovak Friendship Farm, a state-owned farm established in 1956 to celebrate the friendship between China and what was then Czechoslovakia. It has grown into a platform dedicated to forging closer ties in areas such as aviation, agricultural technologies and high-end manufacturing between China and central Eastern Europe.