UN envoy for Syria to give final push for constitutional committee
Xinhua | Updated: 2018-11-20 14:25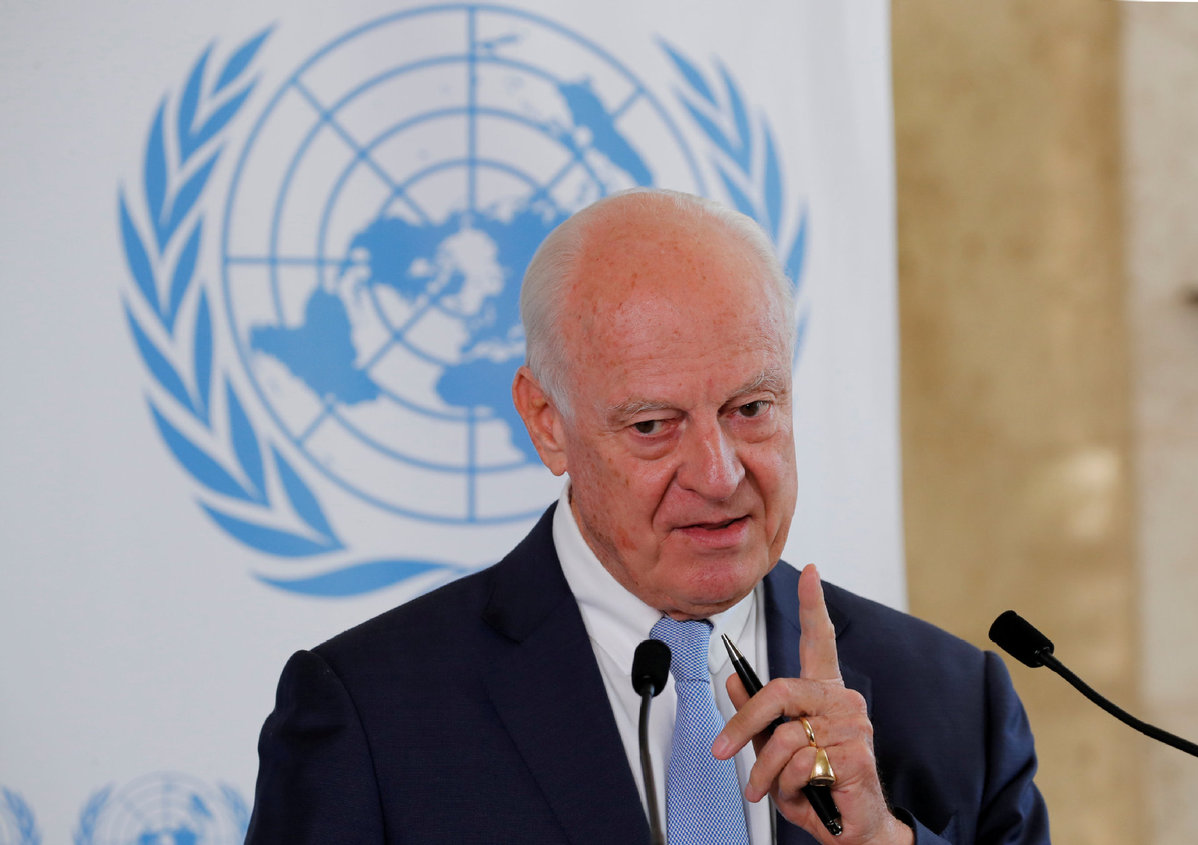 UNITED NATIONS - UN Special Envoy for Syria Staffan de Mistura said Monday that he would give a final try to help establish a Syrian constitutional committee before he steps down.
The aim remains for the UN to issue invitations by mid-December and convene a first meeting of the constitutional committee before Dec 31, de Mistura told the UN Security Council.
He noted that the timetable is in line with a call of the leaders of Russia, Turkey, France and Germany at their summit in Istanbul last month.
The UN envoy was supposed to step down by the end of November. But he has decided to stay for another month and make a final push for the constitutional committee, which is tasked to craft a constitution for postwar Syria.
"The UN remains ready for the establishment of the constitutional committee. It is prepared to do its part and I personally will spare no effort until the final day of my tenure to work toward this aim," he told the Security Council via video teleconference from Geneva.
But de Mistura did not rule out the possibility of failure. "In such an unfortunate case, I will certainly be ready to explain to the council why."
At his final briefing to the Security Council in December, he will explain "where we are at the constitutional committee and leave a clean and clear ground to my successor," he said.
UN Secretary-General Antonio Guterres has appointed Norwegian diplomat Geir Pedersen to succeed de Mistura, who is to step down for personal reasons.
In his briefing to the Security Council last month, de Mistura said Damascus did not think the United Nations has a role to play in the formation of the constitutional committee despite the previous agreement in January's intra-Syrian talks in Sochi.
He said the Syrian authorities did not accept a role for the United Nations in identifying or selecting the Middle Third list, the list of civil society representatives to the committee.
Under the Sochi agreement, the constitutional committee is to be composed of representatives of the Syrian government, the opposition and civil society representatives -- each with 50 members.
Russia, Iran and Turkey, the three countries that brokered the Sochi agreement, will meet in Astana, Kazakhstan, on Nov 28-29 at a senior level, said de Mistura. He will be watching this meeting closely to see whether the three countries -- the guarantors of the Astana process, a parallel avenue to the UN-led Geneva process for Syria -- will be able to implement the outcome of the Sochi meeting.
"We are in the last days of the attempts to implement the constitutional committee," he told the Security Council. The coming weeks are therefore crucial, he said.