In digital era, courier firms seek global logistics footprint
By Fan Feifei | China Daily | Updated: 2018-11-22 10:59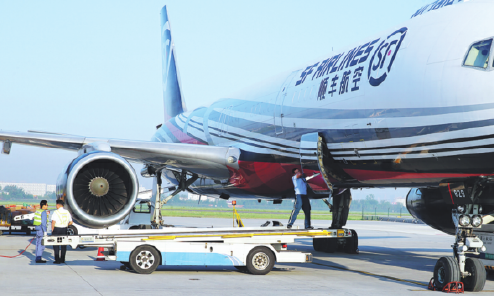 To meet the country's booming e-commerce demand, Chinese courier companies are ramping up efforts to develop their global delivery networks, establish overseas logistics centers and launch international air freight services to help overseas buyers receive products faster.
YTO Express Group Co is joining hands with Cainiao Network, Alibaba Group Holding Ltd's logistics arm, and China National Aviation Corp to build a new logistics center at the Hong Kong International Airport. The new venture is expected to enhance its global logistics capabilities.
The center will cover an estimated gross floor area of 380,000 square meters. It is expected to handle tens of millions of cross-border e-commerce parcels a year upon opening in 2023.
Last year, Shanghai-based YTO Express acquired a 61.75 percent stake in Hong Kong-listed On Time Logistics Holdings Ltd, which handles air freight forwarding business in Asia, Europe and North America.
YTO Express' international network now covers four continents, serving 50 countries and regions. It has more than 60 directly operated international delivery facilities and over 1,000 overseas agents.
Yu Weijiao, chairman of YTO Express, said Chinese couriers are thriving and the world needs Chinese services. In the future, more international flight routes will be launched to Russia, Malaysia, the Philippines and Japan to offer quicker airline delivery services.
According to the State Post Bureau of China, the number of overseas express deliveries, which include packages to Hong Kong, Macao and Taiwan, reached 830 million in 2017, up almost 34 percent year-on-year, higher than the growth rate of the overall express delivery industry.
Another Chinese delivery giant SF Holding Co Ltd is also accelerating its global expansion. It has announced a joint venture with logistics giant UPS to provide international delivery services from China to the United States, and eventually to global markets.
"China is leading the world in terms of e-commerce market size, growth, penetration and mobile business usage," said Alan Wong, SF Group's vice-president.
So far, the company's own delivery network reaches 53 countries and regions, with its small parcel delivery services covering 225 countries and regions.
JD Logistics, the logistics arm of Chinese e-commerce giant JD, has invested heavily in establishing overseas warehouses and a delivery network. It has established more than 110 overseas warehouses in the past three years.
JD Logistics said it plans to build a transregional aviation logistics network, operate more than 20 self-run overseas warehouses and include more than 100 economies involved in the Belt and Road Initiative, with its business-to-business or B2B logistics network covering more than 300 cities, all within the next five years.
"In the future, we will export technology and solutions to more countries," said Wang Zhenhui, CEO of JD Logistics.
JD launched its Indonesia business in 2015. So far, it has established four warehouses in the country, with its delivery service covering seven islands, 483 cities and 6,500 counties, with 85 percent of the orders delivered in just one day.
"We will step up efforts to export our supply chain services to the global market over the next 10 years," said Liu Qiangdong, chairman and CEO of JD, in an internal letter.
"In the past two years, we have begun our expansion in Southeast Asia, and will continue to expand our presence in Europe and the United States in cooperation with US tech giant Google," Liu said.
In June, JD and Google announced the latter will invest $550 million in cash in the Chinese e-commerce company. The partners will work together on a range of strategic initiatives, including the joint development of retail solutions in a number of regions around the world, including Europe, Southeast Asia and the US.
"Chinese delivery companies' international push is still at an early stage. There are more opportunities to be tapped and the industry will become more regulated in the future," said Yun Mian, vice-chairman of the China Society of Logistics.
Liu Dacheng, deputy director of the Internet Industry Research Institute of Tsinghua University, said leading Chinese courier companies already have a global vision, but they still face many challenges, as transportation and labor costs are relatively high in overseas markets.