Xi's speech at APEC injects optimism into world economy
By Buddhi Prasad Sharma | chinadaily.com.cn | Updated: 2018-11-23 10:28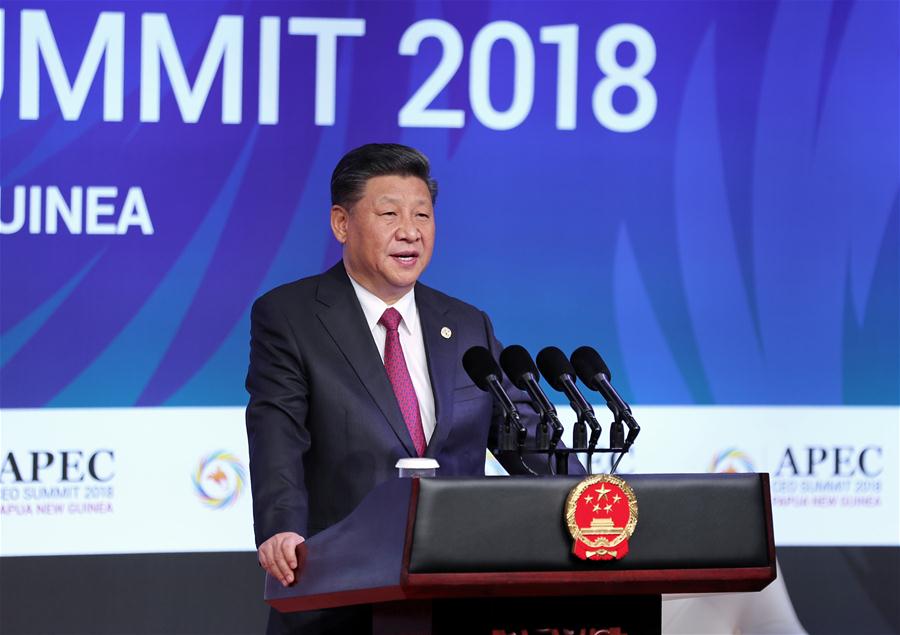 The world scenario is changing fast. Challenges of populism and protectionism are threatening the pace of globalization and world peace. At this historical juncture, President Xi Jinping proposed a sign of hope and optimism to the world community to work together, to resolve the problems and achieve the goal of inclusive global governance in his speech while attending the Asia-Pacific Economic Cooperation (APEC) summit in Port, Moresby, Papua New Guinea, on November 17.
Xi insisted that the international community should maintain the world economy in right direction and work out an efficient global governance system. This is a critical time for the world economic system. After proposing the Belt and Road Initiative (BRI) five years ago, China has been focusing to harness global cooperation acknowledging that some factors could try to disrupt global harmony, pace and development. Now the world is inter-connected and inter-dependent than any period of the history.
Amid US President Donald Trump's efforts to back from existing international system focusing on the non-pragmatic slogan of "Make America Great Again" , China, as a responsible partner of the world community, is trying hard to resolve present dilemma, mitigate economic tensions and play a role to build more comprehensive partnership in all spheres of global interest.
Asia-Pacific is the most dynamic and promising economic hub of the world. Geographical location of it also shows the importance of its pertinent role globally. At the crucial meeting of APEC, Xi announced a five-pronged proposal on world economic development and global governance. In his first proposal he urged to build a free trade area of the Asia-Pacific (FTAAP) to "make economic globalization more open, inclusive, balanced and beneficial to all, and expand converging interests and share opportunities through opening-up and cooperation". In his second proposal he focused on development to deliver more benefits to the peoples. His statement clarified that the economies should strengthen cooperation and help developing countries eliminate poverty so that people in all countries will live better lives. Third proposal of him emphasize the significance of inclusiveness and more interactions among world community.
Issues of new innovation are highlighted in his fourth proposal. Definitely, 21st century is the century of new innovation and creation in the multiple areas. No developmental goal could be achieved without tangible innovations. Fair competition on innovations ultimately supports the positive progress on the world. In this front, Xi focus on the economies to boost innovation and market vitality, steer the new scientific revolution and industrial transformation in the right direction, foster an enabling environment for international cooperation that could deliver the fruits of innovation to more countries and peoples.
Finally in his fifth proposal, he importantly urged world community to take rules-based approach to improve global governance. In this sense it is not hard to understand on his indication on requirement of advancing the reform of the global governance system on the principle of conducting consultation and collaboration for shared benefits. There are also genuine demands of the world community to make the reform process based on equality, openness, transparency and inclusiveness.
This year marks the 40th anniversary of the reform of opening-up, which began in 1978. Chinese people took historical journey and worked hard to reach at the present stage. Compared to 1978, China's import and export of goods have grown by 198 times and those of services by over 147 times. China has attracted more than US$2 trillion in foreign investment. It has become the world's biggest trader of goods, the biggest tourism market and a major trading partner with over 130 countries. In the word of Xi, due to the people-centered development philosophy, between 1978 and 2017, China raised its per-capita disposable income by 22.8 times, lifted 740 million people out of poverty and doubled the number of jobs created.
Issue of Belt and Road Initiative (BRI) is also importantly highlighted in his speech. To reduce misunderstanding and some Western propaganda against BRI, he clarified about BRI describing it an open platform for cooperation, which guided by the principle of consultation and collaboration for shared benefits. Till this date, according to available date, China has signed BRI cooperation documents with over 140 countries and international organizations, and a large number of cooperation projects have been launched under this initiative.
Xi's speech arise some hopes at a time of pessimism in the global economic front. Trumpism could derail the existing cooperation route and create dilemma, confrontation and clashes in many areas. As Xi said, harnessing cooperation and interactions, we could resolve the pressing challenges of present era and open the door of prosperity and opportunities based on mutual trust and win-win cooperation.
Buddhi Prasad Sharma is a PhD candidate at Communication University of China.