A novel approach to humanity
By Yang Yang/Mei Jia | China Daily | Updated: 2018-11-25 11:00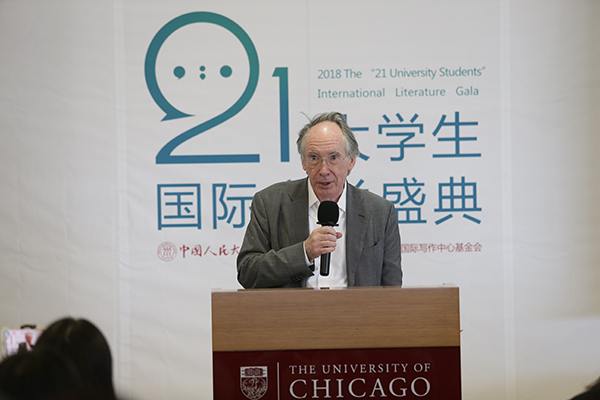 On a recent visit to China, British writer Ian McEwan discussed the plot of his new book and its approach to the moral dilemmas we face with the rise of artificial intelligence, Yang Yang reports.
In late October, British writer Ian McEwan and his wife, Annalena McA-fee, arrived in Beijing. Although the 70-year-old newspaper lover has read a lot about the ancient capital, it was his first visit.
He came to receive the 2018 Twenty-one University Students' Literary Award, an annual award offered by the School of Liberal Arts of Renmin University of China to honor an internationally influential writer who demonstrates an understanding of humankind's plight and ideals through original writing.
Previous winners are Israeli writer Amos Oz who took the prize in 2016 and Swedish poet Kjell Espmark who got it in 2017.
McEwan won the award for his "humanistic insights", "acute sense of irony and dark humor", and "a unique and cogent contribution to the literary art of storytelling".
As one of the most prominent British writers and a Booker Prize winner in 1998 for his novel, Amsterdam, McEwan has been popular in China for some time, with 17 of his books published in Chinese. They include his debut, First Love, Last Rites, and 2016's Nutshell and My Purple Scented Novel. Many movie adaptations of his books, such as Atonement and On Chesil Beach have also won him a lot of fans.