Joint bank initiative forms guidelines for green finance
By Cecily Liu in Paris | China Daily UK | Updated: 2018-11-27 01:17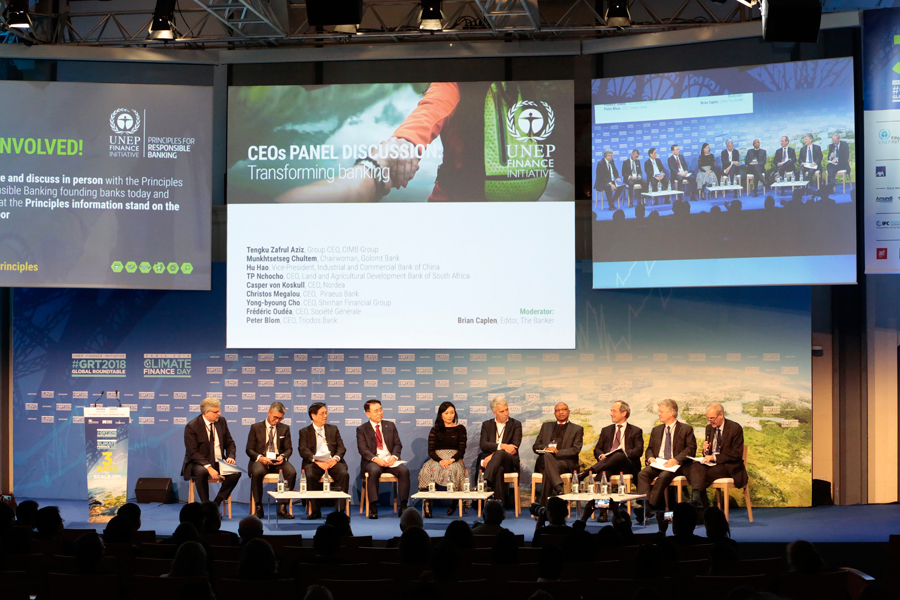 The Industrial and Commercial Bank of China joined hands with the United Nations and 27 other banks from around the world to launch an initiative in Paris on Monday, aimed at addressing climate change concerns.
The initiative, launched just a week before global leaders gather at the Katowice Climate Change Conference to discuss climate mitigation efforts, is the latest milestone in demonstrating China's commitment to green finance.
Known as the Principals for Responsible Banking, or PRB, the initiative is a collection of guidelines ensuring that banks lend, finance, set goals, treat clients and conduct financial reporting in a way that is climate friendly and sustainable.
For example, it encourages banks to increase lending to renewable energy and reduce lending to environmentally polluting projects.
"ICBC has been carrying out both its economic responsibility and its social responsibility. As early as 2008, we adopted the strategy of building a leading green financial institution both in China and the world," said Hu Hao, vice-president of ICBC.
As founding members, ICBC and the other 27 banks drafted the PRI after a yearlong discussion process, and they are now inviting other banks to join. The 28 founding banks come from both developing and developed economies, including the likes of France's BNP Paribas, the Netherlands' ING, South Africa's Standard Bank and the Kenya Commercial Bank.
Satya Tripathi, UN assistant secretary-general, said ICBC's commitments and practices send a signal for other banks to follow, due to its size, reputation and the success it has already achieved in green finance.
"We cannot do it without China. The huge size of China's banking sector and its huge market for green finance means it can play a leadership role in scaling up the world's green finance market," said Tripathi.
Pierre Ducret, president of Institute for Climate Economics, added the significance of ICBC's participation has great importance for the world because it sets an example for how projects should be financed internationally, especially across the Belt and Road countries.
"As Chinese banks play an increasingly important role financing projects globally and especially across the Belt and Road countries, they can set the tone ensuring that projects should be financed sustainably.
"For example, infrastructure and power projects that are environmentally friendly should be given priority over projects that generate short term profit but are less environmentally friendly," said Ducret.
China has become the new leader for investing into renewable energy in recent years, anchoring the clean-energy industries with confidence especially after the US decision to withdraw from the Paris climate agreement.
In 2017, China's total investment in clean-energy projects represented more than $44 billion in investment, a significant growth from 2016's $32 billion. These investments have resulted in technological breakthroughs for a variety of renewable resources, including hydro, wind, solar and bioenergy.
China's commitment to sustainable investments made it a leader in green finance. For instance, in 2016, labelled green bonds issued in China reached a whopping 205.2 billion yuan ($29.6 billion), making China the world's largest issuer of green bonds, which accounted for 40 percent of green bonds issued globally.
Earlier this year, China became the first country to make it compulsory for all listed companies and bond issuers to disclose environmental, social and governance risks associated with their operations by 2020.
Within this landscape, ICBC has also engaged with green finance initiatives proactively. Earlier this year it launched a $1.58 billion green bond on the London Stock Exchange, which marked the biggest green bond on the bourse.
In 2016, ICBC launched, in London,a new methodology in a research paper to help banks assess the credibility of loans they give to companies that are exposed to risks arising from the tighter environmental protection standards around the world.
Hu said the PRB are highly consistent with the development objectives of China and China's banking industry, and will help the banking industry to further support China's green economic transformation and sustainable development.
"The PRB are well-targeted and inclusive, and provide China's commercial banks with a valuable global benchmark. They also provide a practicable guideline for Chinese commercial banks to achieve the UN Sustainable Development Goals and the Paris agreement," said Hu.
"We would like to work closely with global peers in capacity building and personnel training and contribute to the sustainable development of the world economy with our intelligence and strength," he said.