China's construction model must be rethought
By Francois de la Chevalerie & Lu Yue | chinadaily.com.cn | Updated: 2018-11-27 11:32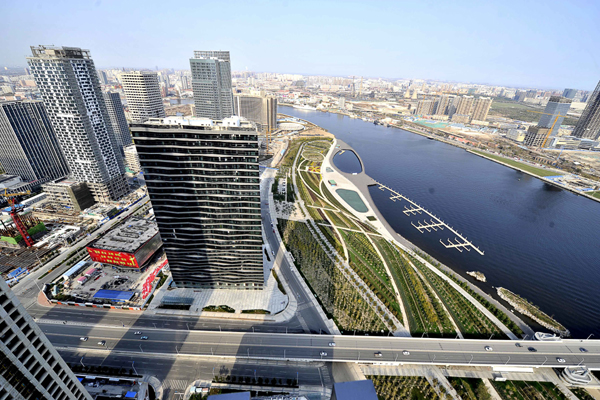 Today, the China construction sector is at a critical juncture: continue building up massively or transform the business model. The situation is tense. Apart from some "megacities", the stock of empty buildings is expanding dramatically. For example in Tianjin's Binhai New district, 25 percent of office properties fail to attract occupants. At the other side of the country in Qingyuan, Guangdong province, 20 percent of housing buildings stand unoccupied. In some cities, deserted neighborhoods are appearing.
For the last three decades, priority was given to mass construction projects — a worthy and laudable goal. Indeed, it was crucial to foster the people daily life by offering comfortable and spacious housing. It was also essential to get business districts off the ground to support the country's development.
With this step completed, the model jammed. First, China's demographic decline has reduced the market scope for housing. Second, fierce competition between districts in the same city leads them to issue building permits without necessarily taking into account the projects next door. Third, some real estate projects were the result of short-term financial considerations that led to excessive construction, sometimes with poor-quality material.
In the end, too much construction kills the construction sector. Given the current slowdown and stock volatility, the construction sector should be rethought based on a two-pronged approach: sustainable building and heritage preservation.
A sustainable building is one that integrates performance with high-quality environmental standards. This is feasible as long as there are operational and mandatory measures at a national level to push it. First, secure the premises through the removal of hazardous materials, mostly asbestos and lead, whose side effects are devastating. As an example, those harmful substances can be found in 40 percent of Beijing buildings.
Then, waste and rainfall recycling. Both could be treated on-site by either generating electricity or producing reusable water. Later on, solar installations and energy reduction on boilers or heaters could create net-zero energy homes. Many other technologies are available. Why not put everything in there? According to the Ministry of Industry and Information Technology of China, potential market value is staggering.
The second priority is heritage preservation. Since the '80s, China cities have been thoroughly redefined, sometimes at the expense of the past. Century-old neighborhoods were destroyed or seriously damaged. In general, private investors underestimate those areas. They feel they are not cost-effective. Thus suitable incentive measures have to be established. First of all, make it clear heritage preservation is a steady and reliable asset. Specialized training might raise general awareness. Second, the enactment of a system of quality labels for the restoration of properties. Third, allocation of tax credits or tax cuts. What is important is to maintain the authenticity of those old neighborhoods. Some districts have been entirely revamped. They sometimes give the impression of amusement parks, lacking cultural and historical roots. There is also an urgent need to bring back social life there with the return of age-old traditional crafts, knowledge from time immemorial. Moreover, the presence of resident populations makes the place more lively and thriving.
At the very end, this major shift could be a happy turning point for China, giving more muscle to the economy and ensuring a better life for people, protecting them while enhancing their cultural consciousness.
Francois de la Chevalerie is a member of the Charles de Gaulle Foundation and Lu Yue is a Ph.D in heritage preservation.