Online medical consultation businesses launched
By Fan Feifei | chinadaily.com.cn | Updated: 2018-11-28 20:57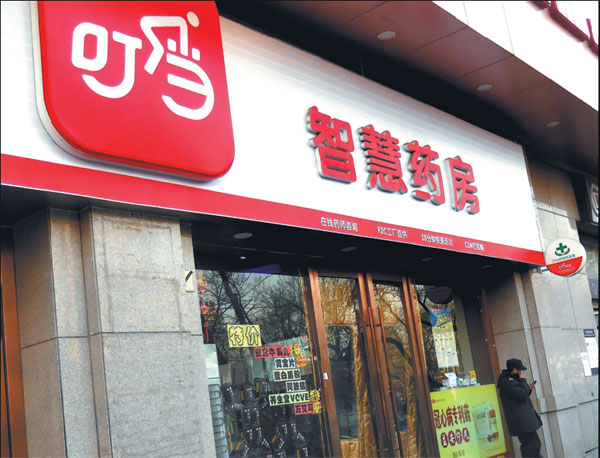 Dingdang Medicine Express (Beijing) Technology Co Ltd, an online drug-selling platform that promises to deliver orders within 28 minutes, launched an online medical consultation and diagnosis business on Thursday, with an aim to open 2,000 offline stores in 300 cities within three years.
The company inked a cooperation deal with Medlinker, an online healthcare startup, which works with more than 500,000 doctors and Shenzhen-based BGI, China's top gene-sequencing provider, as well as Senyint and Yuwell in remote diagnosis and intelligent hardware related to healthcare.
Patients could consult a doctor and buy medicine online, with their orders delivered within 28 minutes. Moreover, nurses could arrive at your home to offer some medical services, such as measuring blood pressure and giving an injection.
In the past three years, Dingdang Medicine Express has made efforts to build an online-to-offline medicine retail new model, and has established its offline drug stores and specialized delivery team to satisfy consumers' demands for over-the-counter (OTC) medicine in 24 hours.
More and more patients in China are now turning to online medical service platforms for solutions to their health-related problems and buy medicine.
According to iiMedia Research, the diversified fields of the mobile medical industry, including online consultations, online sales of medicines and online registrations, have developed rapidly. Services like the doctor-patient social platform, medicine e-commerce and intelligent wearable medical equipment are on the cusp of a boom, according to the research firm.
Industry statistics also showed the online medical consulting market has grown rapidly in China, with more than 1,000 companies formed between 2011 and 2016, and at least 200 billion yuan ($28.7 billion) invested in the industry,
The National Health Commission released regulations in September, saying medical consultants need at least three years of clinical experience in order to provide web services, and only prescriptions for common illnesses and chronic diseases are allowed to be issued online.