Dog rules should be shaped by facts, not fear
By James Skinner | chinadaily.com.cn | Updated: 2018-11-29 09:33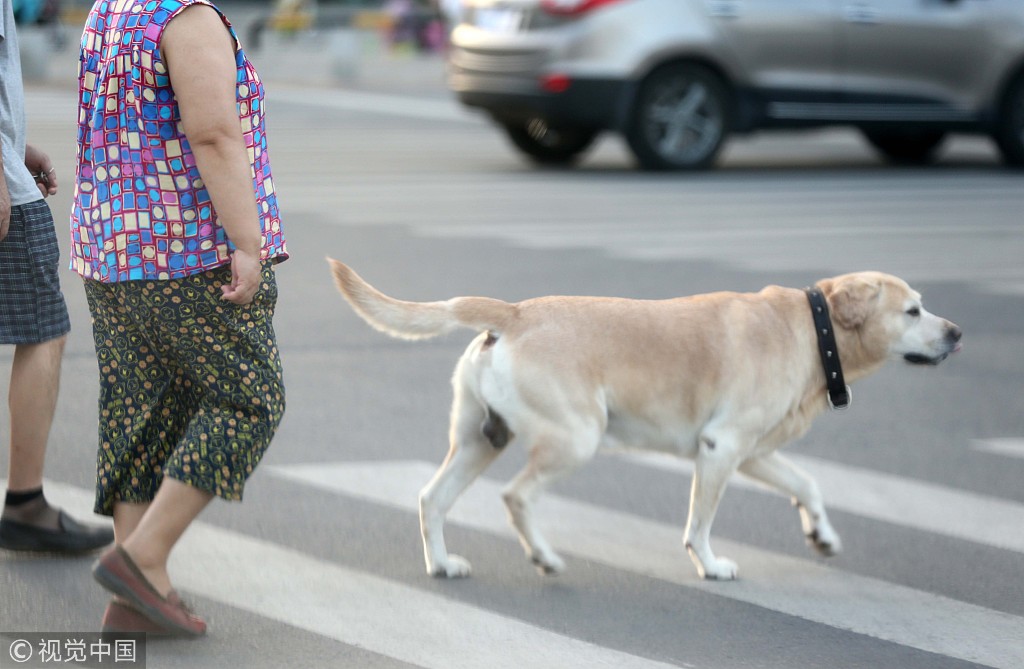 A recent crackdown on dog ownership in the city of Hangzhou, Zhejiang province has ignited a fierce debate about what the rules should be for dog owners across the country, with many criticizing local authorities for alleged cruel treatment of confiscated dogs.
The Hangzhou crackdown appears to have been sparked by a vicious attack on a woman by a male dog owner, after the woman had tried to shoo the man's dog away from her young child.
The strict new policy includes a total ban on dogs being walked from 7 am to 7 pm, a ban on dogs in public areas, including parks, a rule stipulating that dogs must be walked on a leash, and that all dogs must be registered. Worryingly for many dog owners, the new policy includes a list of dog breeds that are now banned.
Videos have since circulated on social media platforms of dogs being confiscated and in some cases brutally killed. For its part, the Hangzhou authorities claim that its officers have not been involved in any cruel treatment.
Several other cities around the country also appear to be toughening their rules with Wenshan in Yunnan province implementing similar walking rules to Hangzhou, and Chengdu, Sichuan province banning the keeping of certain breeds. Beijing and Shanghai have long-established rules, with many areas of both cities applying a strict "one-dog" policy.
Of course, nobody would excuse the violence of the dog owner in Hangzhou. But should dogs have to pay for the sins of their owners?
In my view, they should not.
Most people would probably agree that there is a "dog problem" in China. There are countless numbers of homeless dogs and many owners choose to walk their dogs off the leash. And you don't have to look far in public areas to notice that owners do not always clean up after their pets.
More seriously, China still has a rabies problem with around 2,000 deaths each year –– and dogs are the primary transmitter of the virus, according to the World Health Organization. Many owners vaccinate their pets, but some choose not to –– putting themselves and others at risk.
And some people choose to keep breeds that can be dangerous without expert handling, such as huskies and rottweilers.
But the regulations introduced in Hangzhou and other cities seem unnecessarily arbitrary to me, as well as being unduly influenced by exaggerated fears of dangerous dogs. The new rules focus almost exclusively on managing people who already own dogs, with no allowances made for anyone suddenly finding themselves on the wrong side of the law. Ironically, the rules are likely to increase the risk to public safety as some dog owners may decide to abandon pets they feel they can no longer keep.
Instead it would be better for everyone if rules were refocused on preventing problems occurring in the first place –– treating the causes not the symptoms.
Of course, the safety and happiness of human beings must be priority number one, but surely there are positive ways to regulate dog ownership without resorting to confiscations and restrictions that will make owning one impractical for many.
Firstly, the sale of dogs should be properly regulated, as it already is in many countries. At present it is possible to buy almost any type of dog on Taobao and have it delivered to your door. Allowing unregulated sellers to market dogs online is a recipe for misery. Dog breeding should be a regulated trade, with breeders needing to meet some minimum animal welfare requirements, and yes, certain breeds should simply not be available for sale.
Requiring people to register their dogs is sensible. Procedures for doing so should be easy and simple to follow to ensure maximum compliance. Most people will want to follow the law, but many won't bother if it's complicated or unclear.
Vaccinations should be mandatory, especially for rabies. All veterinary practices should be able to provide some kind of nationally-accepted proof of vaccination.
And it is time to encourage sterilization as a normal part of owning a dog. China has enough homeless dogs and one of the key driving factors is the number of unsterilized abandoned dogs. While it would no doubt take time for sterilization to become widely effective, new owners should be encouraged with incentives –– perhaps registration fees could be waived.
Encouraging owners to clear up after their dogs and to always keep their dogs on a leash is harder, but it can be done. Stiff fines are certainly a fair sanction, and consistently applied would no doubt quickly change behavior.
Of course, there will always be those who choose to ignore regulations.
Confiscations should be an absolute last resort, but sadly may sometimes be necessary. What should happen to dogs in these situations? Well, there are animal shelters in many cities, but there will not always be somewhere for a confiscated dog to go.
If a dog must be destroyed, then this can and should be done humanely.
Stories such as the recent crackdowns have generated unnecessary negative international press coverage at a time when many individuals and groups in China are working hard to improve animal welfare.
But this is a situation where the interests of all parties can be protected –– evidence-based regulations can both protect the public from dangerous animals and stipulate the rights and responsibilities of dog owners, maintaining the ability of individuals to experience the joys of owning a dog.
Sensible regulations are both possible and necessary –– it doesn't need to be like this.
James Skinner is a contributing editor at China Daily with an MA in International Relations. He has a particular interest in British and American politics, as well as global security issues.