G20 presents hope for better tomorrow
By Zamir Ahmed Awan | chinadaily.com.cn | Updated: 2018-11-29 19:09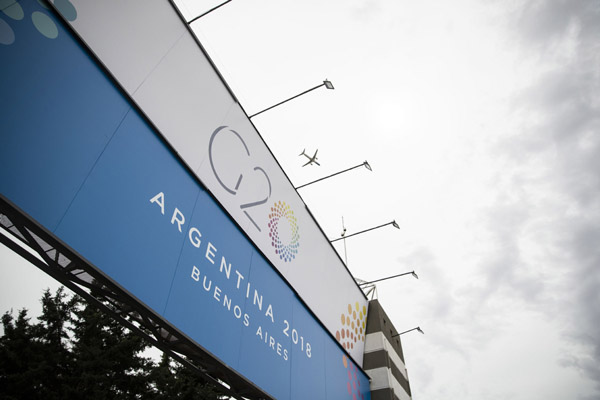 It was the West who once advocated for globalization and open markets. In the beginning, China was reluctant to join the World Trade Organization, as it was afraid its domestic economy might not digest the WTO regime easily. But it finally became a member in 2001. The admission of China to the WTO was preceded by a lengthy process of negotiations, requiring significant changes to the Chinese economy. This signified China's deeper integration into the world economy.
As a matter of fact, the West was eager to capture the huge Chinese market and expected to gain massive profits, as China is the most populous country in the world. But Chinese entrepreneurs caught up very quickly, learned skills and adopted requirements of the WTO regime.
Now, China is a beneficiary of the WTO, and the West feels threatened . It is trying to escape or seek refuge by reverting back to protectionism. This trend was initiated by the United States and followed by its few close allies. But most of the world favors globalization. Developing countries can see a ray of hope through globalization, and a great example of this is China. The West entered China under the umbrella of WTO and globalization to capture the Chinese Market, but as itself became a "market for China".
Since the reforms introduced by Deng Xiaoping in 1978, China has consistently followed a path of opening toward globalization. All leaders after Deng have followed this path and added more value to it. President Xi Jinping is also following this initiative, in a much speedier manner.
The Boao forum at the beginning of the year was the best example of this. Xi announced more opening and more globalization. The APEC forum in Papua New Guinea was another moment where Xi expressed his commitment to opening-up and globalization in his keynote speech.
China has played a major role in globalization and contributes 30 percent to global economic growth. As China has emerged as the second-largest economy, its contribution to developing nations is a tremendous source of hope. Any misadventure, may cause the global economy to suffer. China has played a positive role and will continue to share its global responsibilities in the future.
United Nations Secretary-General Antonio Guterres also called on world leaders to promote fair globalization. "It is imperative we address the root causes [of crises of confidence in globalization and governments] and work together to promote fair globalization," the UN chief told reporters before he departed for the G20 summit in Argentina. The secretary-general said those left behind by globalization are losing trust in governments and institutions and inequality is pervasive and increasing, especially within nations. He also highlighted trade disputes, which he said "are escalating," adding an "undercurrent of geopolitical tensions" is putting pressure on the global economy. "The Sustainable Development Goals are the blueprint for that fair globalization. I hope leaders at the G20 will give it a strong push forward," he said, adding, "But let's not forget equity is not just a matter for this generation. We must think of generations to come."
The message for G20 is very clear, and we believe this time world leaders may build consensus for fair globalization, where underdeveloped and developing nations may feel comfort. G20 may be an opportunity for diluting global confrontation, especially the "Trade-War" phenomenon. Guterres' message was very much appreciated and may have far-reaching impact, emphasizing we are not only concerned with the present generation, but even more conscious for the next ones. It is our obligation to hand over a better world to our children and grandchildren. We must struggle and work hard to ensure our tomorrow will be better than our yesterday.
Zamir Ahmed Awan is a sinologist and a non-resident fellow at the Center for China and Globalization.
The opinions expressed here are those of the writer and do not represent the views of China Daily and China Daily website.