Economic forecasts warn Brexit will make UK poorer
By Jonathan Powell in London | China Daily UK | Updated: 2018-11-29 23:26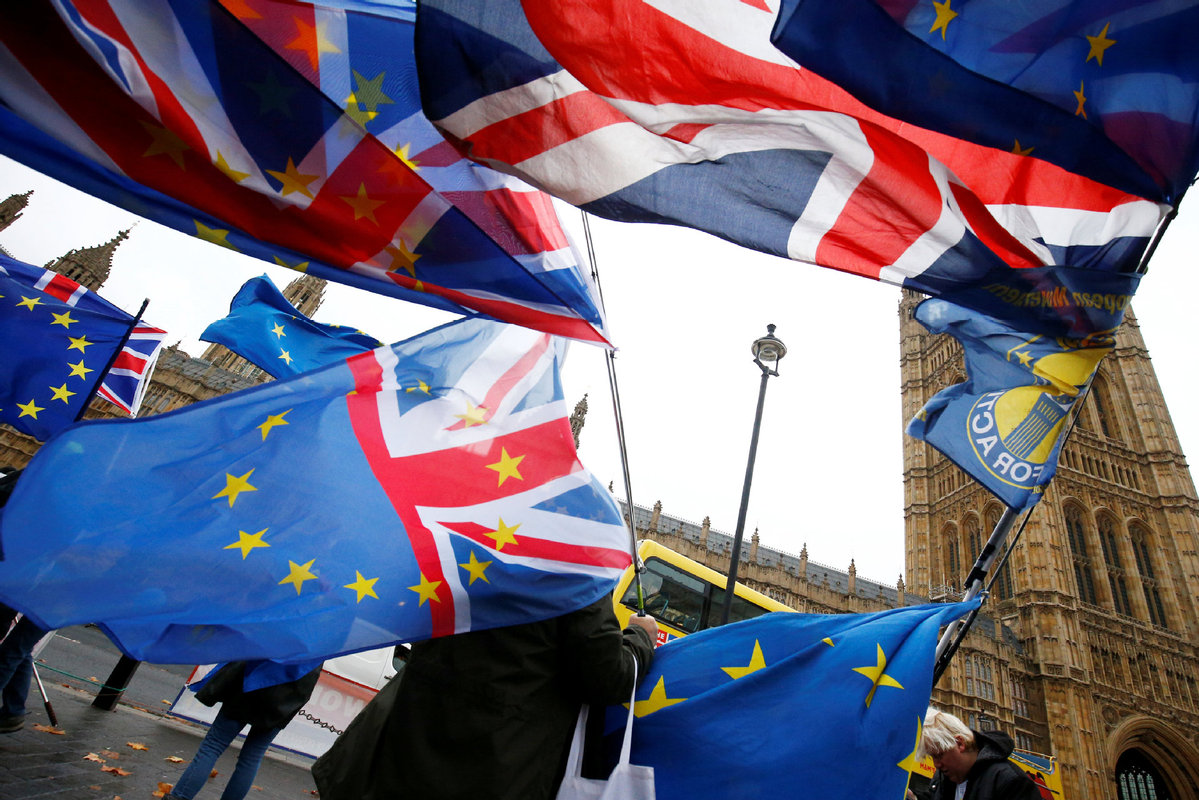 The Labour Party's shadow chancellor John McDonnell has predicted that a second EU referendum is "inevitable" as momentum grows for a so-called people's vote on British Prime Minister Theresa May's Brexit deal.
New government analysis suggests the UK will be poorer economically under any form of Brexit, compared with staying in the EU.
Official figures say the UK economy could be up to 3.9 percent smaller after 15 years under May's Brexit plan, compared with staying in the EU.
But a no-deal Brexit could deliver a 9.3 percent hit, the estimates say.
The estimates do not put a cash figure on the potential impact on the economy, but independent experts have said that 3.9 percent of GDP would equate to about 100 billion pounds ($128 billion) a year by the 2030s.
The Bank of England said on Wednesday that GDP would have been at least 1 percent higher in five years' time if the UK had voted to remain.
Bank of England Governor Mark Carney has said that large parts of the British economy are not ready for a no-deal Brexit.
In the worst scenario, an unlikely "disorderly no-deal" Brexit, the economy would contract by 8 percent, house prices would tumble by 30 percent and interest rates would rise to combat inflation, he said.
"We know from our contacts with business, others know from their contacts, that less than half the businesses in the country have initiated their contingency plans for a no-deal Brexit," Carney told the BBC.
"All the industries, all the infrastructure of the country, are they all ready at this point in time? And, as best as we can tell, the answer is no," Carney said.
After a series of five anticipated 8-hour debates in the House of Commons, set to take place on Tuesday, Wednesday, Thursday, Dec 10 and Dec 11, it's widely expected that MPs will vote down May's Brexit deal on Dec 11, in which case an election remains the Labour Party's preferred option.
In an interview with the BBC, the shadow chancellor McDonnell said forcing an election would be "very difficult".
"We want a deal that will protect jobs and the economy," he said.
"If we can't achieve that - the government can't achieve that - we should have a general election, but that's very difficult to do because of the nature of the legislation that David Cameron brought forward.
"If that's not possible, we'll be calling upon the government then to join us in a public vote. It's difficult to judge each stage, but that's the sequence I think that we'll inevitably go through over this period.
"Our policy is if we can't get a general election, then the other option which we've kept on the table is a people's vote."
Asked if the Leave side could win another referendum, he said: "It might do. It's very difficult to call at the moment."
Meanwhile, the prime minister has accepted the BBC's offer to take part in a TV debate on Brexit on Dec 9, two days before MPs vote on her deal.
Labour leader Jeremy Corbyn has not yet formally agreed, but said through a party spokesman that he would "relish" the opportunity to debate with the prime minister about her "botched Brexit deal and the future of our country".