China at G20: Opportunity to express the benefits of multilateralism
By Janaína Camara da Silveira | chinadaily.com.cn | Updated: 2018-11-30 15:37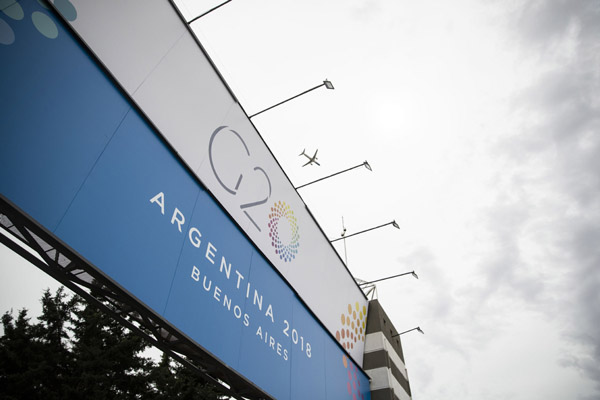 President Xi Jinping arrived in Buenos Aires, capital of Argentina, where he will be attending the 2018 G20 Summit. On his fourth trip to Latin America since 2013, Xi will also visit Panama. It will be the first state visit of a Chinese leader to the country since the establishment of diplomatic ties with China in June last year.
Both state visits are an important moment for China to argue why it considers multilateralism and trade globalization crucial. Last year, trade volume between China and Latin America was $257.8 billion, up 18.8 percent year-on-year, according to Chinese Ministry of Commerce. In the first nine months of 2018 this figure accounted for $228.6 billion. When it comes to investment, the amount is even bigger. Last year, Chinese companies invested $387 billion in Latin America, as per the figures released this Friday by the Chinese government. Only Asia had more investments from Chinese companies in 2017.
The importance of Chinese investments in the region are clearly an indication that the relation among government, companies and businesses - private and public - are more mature, not depending purely on trade. In a part of the world where there are infrastructure to be built and industrial sectors to be reinvigorated, it is essential more sources of funding and investment, not to mention knowledge and technology.
In this sense China is more than welcome and it is not competing with traditional investors. Actually, China is one more actor in a region that lacks roads, railways and telecommunication connections, etc. Improving those logistics and digital systems will help not just the national productivity but also those countries to be more involved on international trade and global value chains. Hence the importance of the Belt and Road Initiative, a Chinese program to help and fund expanding infrastructure in other countries, to really take roots in Latin America.
Chinese companies are not focusing their presence solely on infrastructure or agribusiness, as some might think due to country's own market import needs. Actually the region is attracting services from the new economy, like the digital giants. DiDi already has operations in Brazil and Mexico. Tencent has just bought a stake in Brazilian fintech unicorn Nubank.
In Argentina, G20's host this year, China is present in multiple sectors, like banking. ICBC is a strong force in that local market. Buenos Aires subway system also has Chinese trains. There is much more being built or in the pipeline. And during this visit, Xi is expected to sign up to 40 bilateral agreements with his counterpart, Mauricio Macri, the Argentinian president. It is a commitment to the future.
The relationships among China and Latin America are fruitful and must be perceived by its pragmatic path in order to keep the growth of figures, but also links among institutions. In 2016, for example, Xi has implemented a program to bring 500 Latin American journalists to China in five years. These are initiatives that would help a better understanding of culture and businesses, but also consumer needs and government policies.
As China is stressing daily, multilateralism is a global order that must to be protected. President Xi visit to Latin America will reinforce this message.
Janaína Camara da Silveira holds a Master's in Economy and is an expert on Sino-Brazilian relations working on analysis at Radar China.