Peony Pavilion gets a unique touch at outdoor performance venue
By LIU XIANGRUI | China Daily | Updated: 2018-12-03 08:04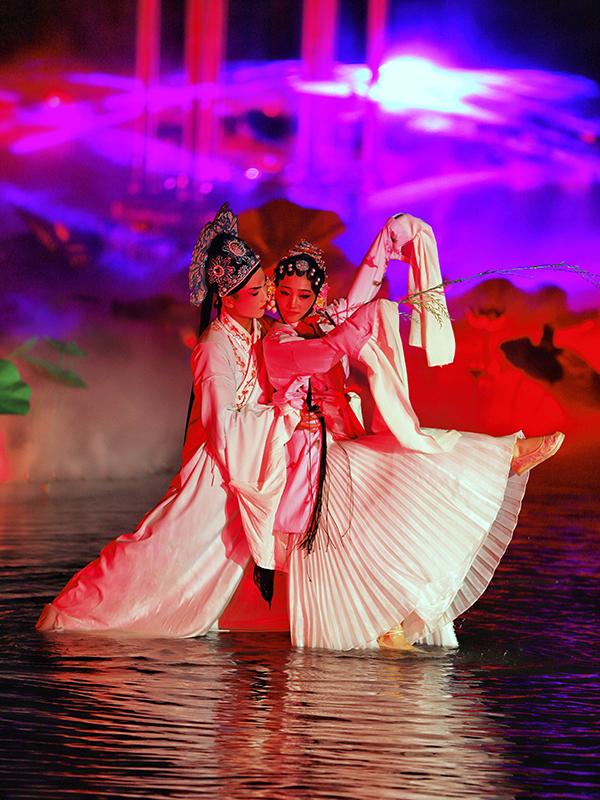 Imagine an entire 15-hectare cultural park as an outdoor site for a performance adapted from The Peony Pavilion, a well known masterpiece by Tang Xianzu, a playwright who lived in mid-16th and early 17th-century China.
For the performance, you need to move around to follow the progress of the show, which is staged in different areas and accompanied by fabulous lighting and water effects.
Tang wrote the play to be staged as a classic Kunqu Opera. Now, after two years of preparation, a large location-based modern interpretation is being staged in Tang's hometown Fuzhou, in East China's Jiangxi province.
Called The Dream of the Peony Pavilion, it is the first large-scale location-based performance adapted from a traditional Chinese play.
The show integrates traditional Chinese theater art, especially its singing and costumes, with modern stage techniques, including a complex sound and light system.
The Peony Pavilion, also called The Return of the Soul at the Peony Pavilion, is a Ming Dynasty (1368-1644) romantic tragi-comedy written in 1598. It depicts a love story between the daughter of a high-ranking official and a young scholar.
In the end, they overcome all difficulties, transcend life and death, and finally get together.
Jointly produced by the Fuzhou Cultural & Tourism Investment Development Co and the Beijing Yangguangxinrui Culture Development Co under the Sun Media Group, the 80-minute show strings three parts of the original story together, with performances staged in three major areas of a cultural park built specifically for the show in Wenchangli, a heritage site in Fuzhou.
Dong Yong, the executive producer of the show, says the show's creative team wanted to "preserve the essence of the opera" while being innovative.
"We attached equal importance to the expressive power of traditional opera and its resonance with the audience," says Dong, who is himself a traditional opera enthusiast.
To allow the audience to appreciate the excerpts from the original opera, some difficult singing lines were adapted.
According to Liu Zhouming, the chief director of the show, cutting-edge stage technology is employed in the show to help improve the presentation of the classic work, including recreating all the pavilions, terraces and towers depicted in Tang's work.
The entire performance site has a lot of electric, lighting, acoustic and mechanical equipment to help achieve the desired stage effects, despite the huge difficulty in maintaining them.
Over 80 percent of the performances are completed on stages placed above water that can also move up and down.