More efforts for balanced, sustainable, inclusive economic growth
By Buddhi Prasad Sharma | chinadaily.com.cn | Updated: 2018-12-04 10:35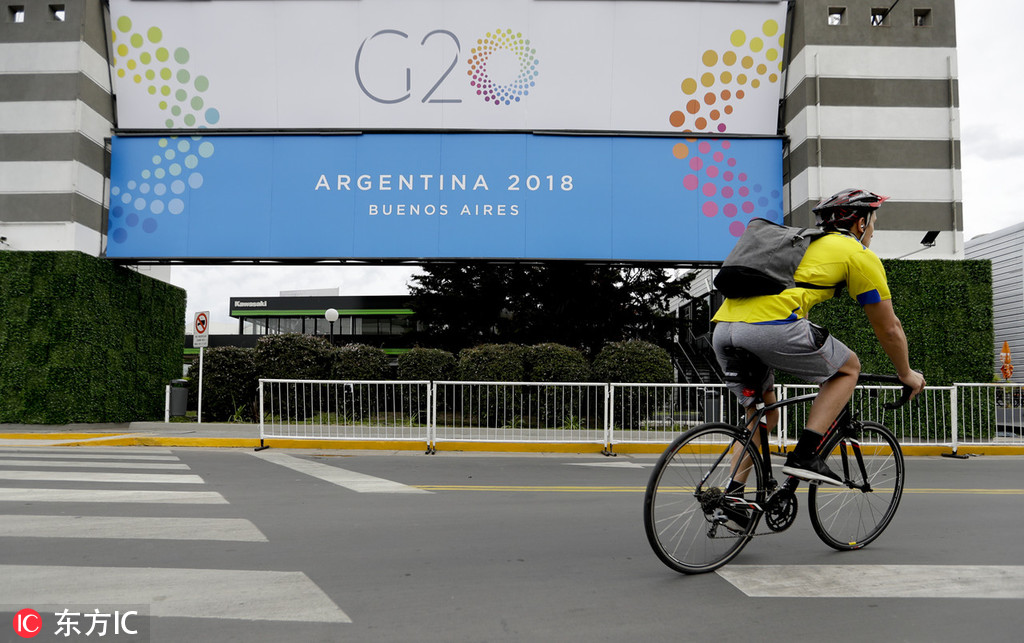 At this critical juncture for world economic governance, major world leaders discussed ways of resolution at the G20 meeting in Buenos Aires, Argentina. At the important first session of the meeting, Chinese President Xi Jinping proposed that world leaders should adhere to opening-up and cooperation while safeguarding the existing multilateral financial system to promote fair and global economic growth. Xi's pragmatic view has given a positive message to the world to take pragmatic action that can improve the world on multiple fronts.
Since the start of reform and opening-up in 1978, China has seen fascinating developments in multiple sectors domestically. According to the United Nations and International Monetary Fund, China has successfully lifted more than 750 million people out of poverty, which never before happened in world economic history. China's role to promote an international trade and a financial system for fair and sustainable growth and development is also gaining great recognition and acknowledgment by the world community. In this current context, where the world economy faces a very critical situation, the Chinese leadership has shown great enthusiasm and efforts to sort out challenges through broad interactions and promoting cooperation based on mutual trust and understanding. Unfortunately, the American administration, led by rightist hard-liner Donald Trump, is trying to obstruct the ongoing flow.
Xi said, "Over the past decade, we have braced difficulties together, navigated the world economy out of recession and brought it back to the track of recovery and growth." This sentence actually gives a direct appeal to the world that we can once again face pertinent challenges and create a tangible environment for future progress. Importantly, Xi has talked about relevant reform of the World Trade System (WTO) according to the changing circumstances of the global economy. In doing so, he also suggested upholding core values and fundamental principles of the WTO, such as openness, inclusiveness and nondiscrimination, and ensuring the development benefits and policy space of developing countries. China always reiterates that WTO reform should be made more acceptable to members and decisions should be taken based on extensive consultations and discussions.
Risks to the global governance system are rapidly accumulating. Though new technologies have made us more connected, the wealth gap keeps widening and social contradictions are growing. The world economic trend is now compelled to make a historical choice. Acknowledging these phenomena, Xi cited an ancient Chinese philosopher's statement that reviewing the past enables us to learn about the law governing the evolution of history: "In mankind's relentless quest for development and progress, the trend toward openness and integration among countries is unstoppable despite ups and downs in the global economy."
Since the dawn of the 21st century, the world has moved into a new era of industrial and technological development. Innovations in the industrial chain, value chain and supply chain sectors have succeeded in promoting the flow of production factors across the world and led several billion people out of poverty and toward prosperity. This is because of the increasingly greater coordination and complementarity among countries to enhance growth on production sectors. Highlighting this scenario, Xi opined, "Countries are increasingly becoming a community with shared interests, shared responsibilities and a shared future. Going forward, win-win cooperation is the only choice for us, be it in good times or bad."
At the meeting, Xi categorically put forward some proposals to world leaders to consider for making the world more safe, stable and progressive. First, he argued for making a commitment to openness and cooperation and upholding the multilateral trading system. Second, he focused on forging a strong partnership and stepping up macro policy coordination. Highlighting the importance of innovation, in his third proposal President Xi suggested making a commitment on innovation to create new momentum for growth. Fourth, in his last proposal, he reiterated making tangible cooperation to build win-win cooperation for promoting inclusive global development.
The world community is genuinely demanding strong commitment from major powers to contribute to sustainable development. In their sideline meeting at the G20 meeting, BRICS leaders have decided to harness cooperation and coordination to create a better environment for global governance.
At this critical juncture for the global economic system, the pragmatic and comprehensive vision and proposals from President Xi have given a positive signal to the world community to harness efforts to address challenges based on multilateralism and deep coordination. Only through great cooperation, understanding and coordination among the world community could we able to resolve the present dilemmas and pave the way for inclusive global governance.
Buddhi Prasad Sharma is a PhD candidate at the Communication University of China. He is also the president of the Himalaya Dialogue and Leadership Foundation (HDLF).