US soy farmers gain hope
By KONG WENZHENG in New York | China Daily USA | Updated: 2018-12-04 22:57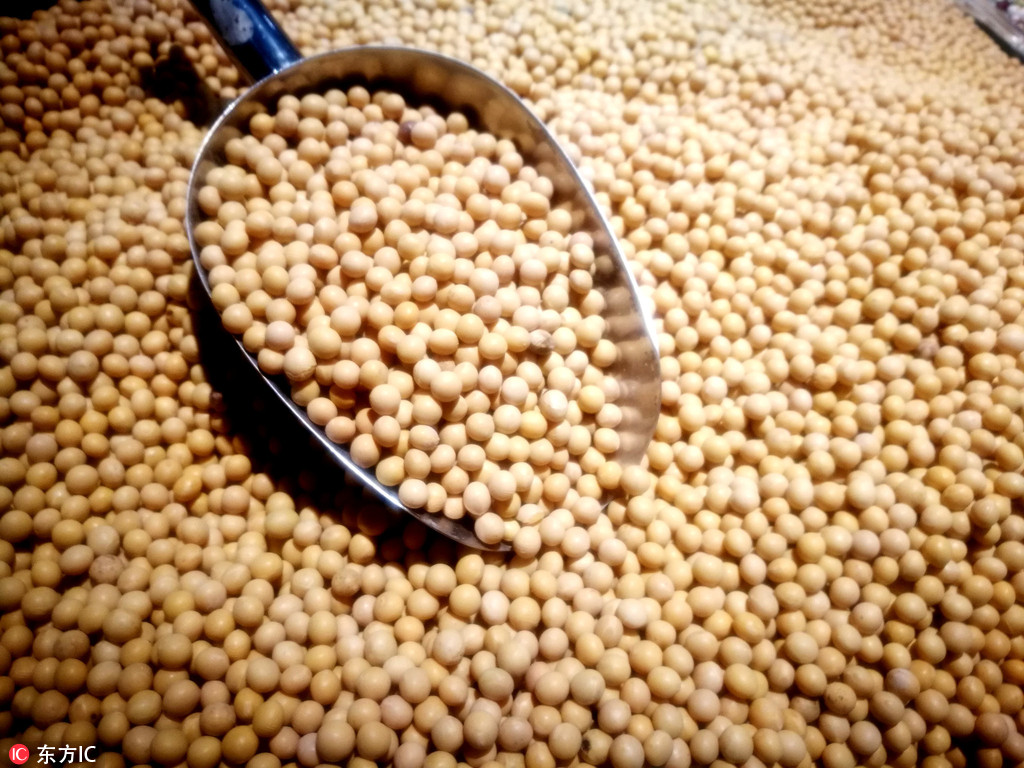 The US soybean industry was pleased to see positive developments in US-China trade relations after the two presidents met over the weekend, according to the industry association.
When trading resumed on Sunday evening, the first day of trading after the meeting that both sides described as "very successful", January futures contracts on soybeans went up 15 cents a bushel, a 1.7 percent increase.
On Monday, the upward trend continued and the futures price went up another 1.1 percent, with US President Donald Trump tweeting that farmers would be "a very big and fast beneficiary of our deal with China".
The American Soybean Association said in a statement issued on Monday that it was "pleased to hear positive reports" coming out of the meeting.
The Chinese side vowed to start purchasing agricultural products from US farmers immediately, according to a White House statement that came out after the meeting.
"This is the first positive news we've seen after months of downturned prices and halted shipments," said John Heisdorffer, president of American Soybean Association.
The US soybean industry suffered from a 25 percent tariff slapped on by Beijing in July in retaliation for US tariffs on Chinese goods, which caused a drop in demand in a year that US farmers produced a large crop in anticipation of strong Chinese demand, according to Jack Scoville, vice-president of the PRICE Futures Group.
However, neither the White House statement nor tweets from Trump specify the products China would increase purchase of, or by what amount they would increase, adding uncertainty to the upward trend seen in the futures market.
"Even though the prices were higher, they were actually kind of at the lower end of the trading range of the day," said Scoville of the Monday price of soy for delivery in January.
"I would expect a choppier situation until we get exactly what their purchase is going to be, then you are going to see the market react a little bit more," he said.
Compared to the $2 per-bushel price drop for US soybeans during the trade dispute, the recent increase was only a slight recovery, Scoville told China Daily.
Hopes are that the temporary agreement between China and US will become a much more permanent one, according to Scoville.
"If this suspension of tariff increases leads to a longer-term agreement, it will be extremely positive for the soy industry," said Heisdorffer.
"Hopefully this will be the start," said Scoville, "and we will continue to see them buy not only soybeans."
"Hopefully the two sides are going to work out these agreements and we will be able to come to an agreement that's equitable for both sides," he added, "because we need that business, and Chinese need the soybeans" as one of the biggest purchasers in the industry.
Contact the writer at nancykong@chinadailyusa.com