Xi's visit to Argentina during the G20: A new world order?
By Juliana González Jáuregui | chinadaily.com.cn | Updated: 2018-12-05 08:15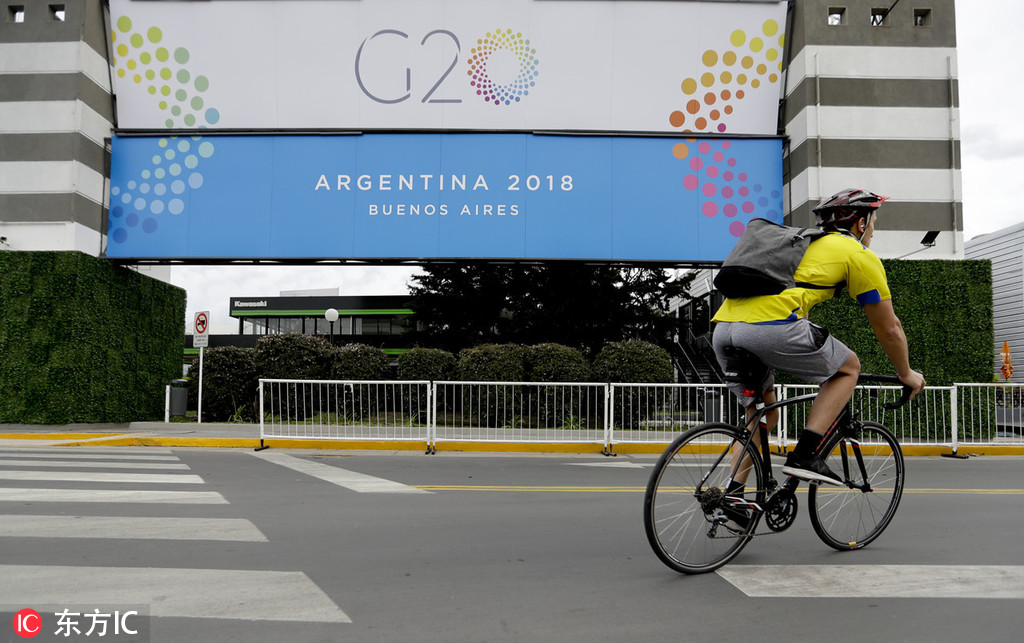 The G20 Summit, held on November 30 and December 1 in Buenos Aires, Argentina, resulted in a joint leaders' declaration focusing on work, development infrastructure, sustainable food and gender equality. The written declaration aside, what were the tangible outcomes? What results can we expect? And what will China's role be?
The meeting served as the backdrop for president Xi Jinping's state visit to Argentina. Since Mauricio Macri became president of Argentina in December 2015, Xi and Macri have already met five times, a record for both countries in that space of time.
Before arriving in Buenos Aires, Xi wrote a statement, outlining his hopes that his visit be an opportunity to build a "new era of partnership" between China and Argentina. He highlighted the economic and cultural factors that unify both peoples, despite being far apart.
The meeting held by Xi and Macri last Sunday December 2, resulted in a comprehensive strategic partnership between two geographically distant, but increasingly cooperative, countries.
On the conclusion of the G20 Summit, Macri held a press conference and was asked about bilateral relations with China. He said that "Argentina does not see China as a threat, but as an opportunity".
Perhaps confirming this, during Sunday's Chinese state visit, Argentina and China signed 30 investment and trade agreements, all included in the new bilateral 2019-2023 Joint Action Plan.
Both countries further committed to increase their joint engagement in agricultural, infrastructural, financial, mining, energy and transportation issues, as well as culture, education, tourism, health, science and technology, corruption, environment, space and sports projects.
With regard Argentina, President Xi has not only expressed China's intentions, but also taken concrete steps over the last three years to help the country maintain its financial stability. The signature of a $9 billion currency swap deal is a clear illustration of Xi's wish to strengthen ties with the Argentina.
Xi also demonstrated China's desire to enhance mutual communication and cooperation with Argentina within the Belt and Road Initiative (BRI). As a starting point, the Argentinean government and the State-owned China Railway Construction signed a $1 billion contract during the G20 Summit to renovate 1,020 kilometers of San Martin railroad, which will reconnect Argentina's Mendoza province in the west to the Rosario shipping hub in the east.
It is thought that many of the 30 new China-Argentina bilateral agreements will similarly work towards strengthening cooperation within the BRI.
Chinese and French commitment to addressing climate change during the G20 Summit, reflected in a joint statement, illustrates China's intentions to show a new form of cooperation and development in the current global context.
It is worth noting that last year's G20 Summit in Hamburg, where the US decided against signing the statement pledging to implement the Paris Climate Accord, was significant. It showed divergent visions of the future.
With Washington on the opposite side, this joint Chinese-French statement was released at a side event during the leaders' summit, and possibly represents a more compelling expression than the summit's final statement.
Both countries declared to hold "a shared understanding of global climate and environmental challenges" and spoke of "their strong support for the Paris Accord as an irreversible process".
Is the world order changing?
At the G20 Summit, president Xi showed himself to be committed to market liberalization and free trade, but also commited to a new way of cooperation and multilateralism, a way that is increasingly acquiring "Chinese characteristics".
The question of whether the west will embrace this, or struggle against it, is yet to be answered.