Kenya should leverage recent developments to bridge trade deficit with China
By ADHERE CAVINCE | China Daily Africa | Updated: 2018-12-06 01:06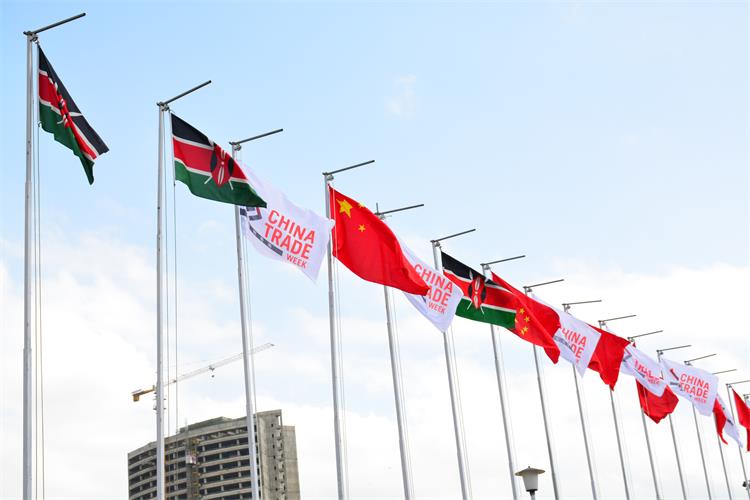 While relations between African countries and China have deepened and broadened on a number of fronts, some observers see China as the chief beneficiary.
Key fodder for that partly arises from the trade imbalance between China and Africa. While Beijing remains Africa's largest source of imports as well as the main export market, trade volumes between the two is heavily steeped in favor of China.
Kenya's Ministry of Foreign Affairs, for instance, reported trade volume between China and Kenya at $4 billion in 2017. However, Nairobi only managed to export $0.5 billion worth of goods to Beijing in the same period; accounting for a paltry 2.5 percent.
Chinese strategists are acutely aware of these concerns, and have in the recent past rolled out a panoply of policy innovations to assuage fears among their African contemporaries.
Key among the initiatives was the inaugural China International Imports Expo held in Shanghai in early November 2018. The event, which was attended by 172 countries, regional and international organizations, was a continuation of China's opening-up narrative; positioning Beijing as the ultimate destination for foreign goods and services.
Leading African economies like Kenya, South Africa and Nigeria exhibited a range of products that had the potential to attract Chinese appetite.
During a review of what transpired in Shanghai, Kenyan exhibitors painted a ready Chinese market, longing for African products.
Secondly, Kenya and China have signed formal Sanitary and Phytosanitary agreements to facilitate entry of agricultural produce into the Chinese market. The list of products now cleared for export to China include legumes, flowers, vegetables, meat, hides, herbs and fruits.
Thirdly, at the 2018 Forum on China Africa Cooperation (FOCAC), President Xi Jinping, the pledged a total of $60 billion to aid rejuvenation of African economies, including $5 billion to support African imports into China.
These initiatives are important and can substantially enhance exports from African countries into China. In addition, if well executed, the developments can buoy job and wealth creation through industrialization.
But they can also prove the proverbial case of a man of modest means who was invited to a rich man's party, to the consternation of his contemporaries. As the date of the party neared, the guest received notice of a dress code that he could not afford. He eventually failed to attend the party.
To effectively take advantage of the opportunity, the country must address a number of issues. The first one concerns product quality. China has opened its trading rooms to all countries around the world. Kenyan products, therefore, compete with products from other places. It will take targeted investments in our production lines to meet and exceed quality thresholds set by China, including sanitation and packaging.
Secondly, there is a huge funding gap for the local enterprises dealing in the potential products. Kenyans exhibitors in Shanghai reported demand for the products, in quantities that they cannot supply at current production rates. To increase production, they require significant capital injection into their businesses. The government could play the role of a guarantor for Kenyan enterprises as they lend from financial institutions.
Thirdly, both Kenya and China should enhance intercultural communication and understanding. It is clear that language barriers still pose huge challenge to smooth interaction among Kenyan and Chinese nationals. Investments in language learning and cultural understanding will significantly enhance ability of Kenyan enterprises to effectively target and penetrate the Chinese market.
Finally, both countries should reduce existing trade tariffs in order to enhance accessibility of both markets. With a population of 1.4 billion people, tapping into the Chinese market is a rational and strategic thing to do.
The writer is a scholar on China-Africa relations.