Former Australian PM addresses China, US ties
By Zhang Ruinan in New York | China Daily | Updated: 2018-12-07 11:00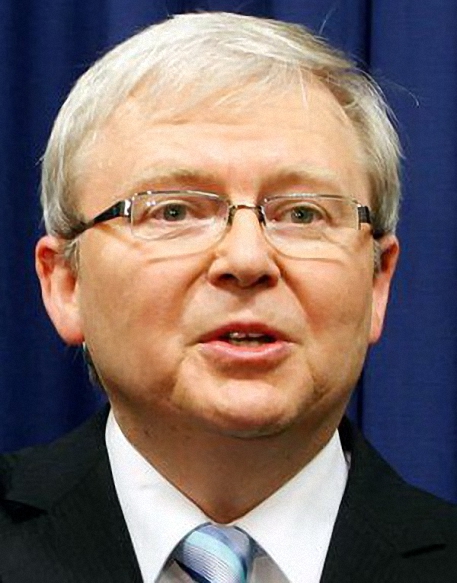 Relations between China and the United States are at a crucial moment, and both sides need to think clearly about one another through the fog of perception and misperception, the former prime minister of Australia and current president of the Asia Society, Kevin Rudd, said on Wednesday.
Rudd added that the meeting of the two nations' leaders on the sidelines of the G20 Leaders' Summit in Argentina bought valuable time for them to resolve their differences.
"Are we now, as Graham Allison warns us, 'destined for war', or is a new strategic equilibrium now possible between the two?" Rudd asked the audience at the Asia Society New York during a discussion.
He said that to answer such genuinely difficult questions, people from the both nations need to "think clearly about our values, our interests and our identity".
Such questions "force us to think through carefully what is essential, what is nonessential, where should there be compromise, and what should remain contestable", he said.
Rudd said the question "must be analyzed and answered soon" because China-US relations are now in "potentially dangerous terrain - some sort of no man's land between one set of strategic assumptions about each other that have stood for several decades, and a brave new world where everything may be up for grabs".
Before talking about the prospects for China-US relations, Rudd said, it's important to look at the state of the relationship at year's end in the aftermath of the summit in Buenos Aires.
The meeting between President Xi Jinping and US President Donald Trump over the weekend "bought valuable, though limited, time for themselves and the world", he said.
The presidents agreed to suspend a planned US hike in tariffs on $200 billion in Chinese goods from 10 percent to 25 percent.
As for China, the Ministry of Commerce said on its website on Wednesday that Beijing will start to quickly implement specific items where there's consensus with Washington and advance trade negotiations within the agreed 90-day timetable.
He said that beyond setting a deadline to resolve those problems, the 90-day pause also would give the two leaders some time to address domestic economic issues.
"By March, Trump will have a fuller idea of the lay of his domestic economic and political landscape. He will then know the extent of any significant softening in the economy already induced by monetary policy tightening by the Fed," said Rudd.
He said he thinks there's a possibility that China will champion global free trade and oppose the global trend toward protectionism that currently threatens the wider global economy with a bold announcement on trade liberalization across the board.
Chinese economic reformers have seen the greater introduction of wholly owned foreign financial institutions into the Chinese domestic market as a new way of grafting these market disciplines onto the Chinese system, Rudd added.
"This year, for example, we have seen a number of foreign investment limitations eased for entry into China's $45 trillion financial services sector," he said.
Rudd said what concerns him most are misunderstandings and misperceptions as issues are debated. "We need to be careful about the manner in which it is conducted in both our countries," he said.