China, DPRK solidifying relations
By MO JINGXI | chinadaily.com.cn | Updated: 2018-12-07 16:49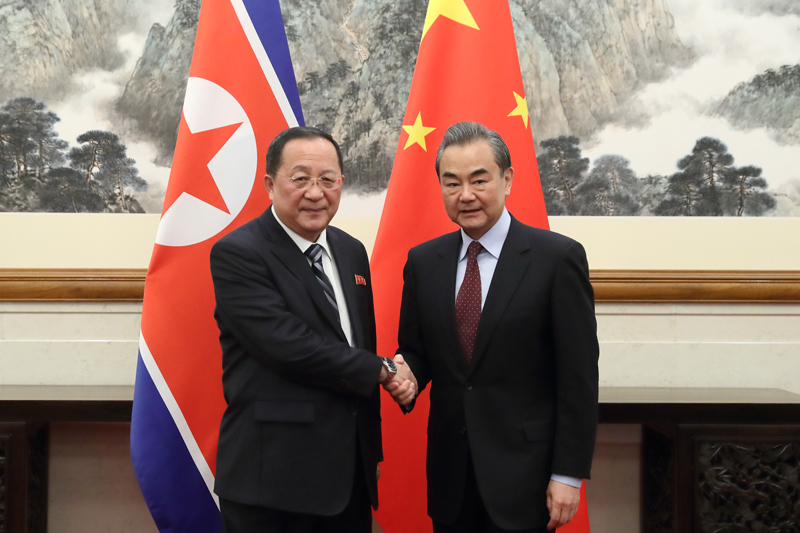 China and the Democratic People's Republic of Korea should keep up high-level exchanges and carry out events marking the 70th anniversary of establishing diplomatic relations between the two countries next year, State Councilor and Foreign Minister Wang Yi said on Friday.
He made the remarks when meeting with DRPK Foreign Minister Ri Yong-ho in Beijing. Ri is paying a three-day visit to China, which started Thursday.
This is the fifth meeting between the two this year.
Wang said 2018 has been an extraordinary year for the China-DPRK relationship.
General Secretary of the Central Committee of the Communist Party of China Xi Jinping and Kim Jong-un, chairman of the Workers' Party of Korea, have held three meetings within this year.
The important consensuses reached between Xi and Kim have pushed bilateral ties forward into a new historical period, Wang said.
With the concerted efforts of China, the DPRK and other related parties, the situation on the Korean Peninsula has eased and the peninsula nuclear issue has been back on track for political resolution, an outcome in line with the common aspiration of many parties including the DPRK, he said.
Wang said it is an unswerving policy of the CPC and the Chinese government to maintain, consolidate and develop good relations with the DPRK and China firmly supports the DPRK in taking a development path that meets its own conditions.
China supports the DPRK's efforts to maintain stability, develop its economy and improve people's livelihoods, he said.
According to Wang, China stands ready to work with the DPRK to promote greater development of bilateral relations according to the consensus of top leaders, as well as the common will of people in both countries.
Both sides should keep high-level exchanges and enhance strategic guidance over bilateral ties, he said.
He also called on both countries to carry out next year's events marking the 70th anniversary of the establishment of diplomatic ties, promote their traditional friendship and strengthen exchanges and cooperation in various fields.
Wang said China hopes the DPRK and the United States can keep up dialogue and solve their own concerns in a balanced way in order to realize the goals set by their joint statement.
China also supports strengthening communication and interaction between the DPRK and the Republic of Korea to promote reconciliation and cooperation, he added.
Ri, for his part, said the DPRK-China relationship has achieved new development this year and the foreign ministries of both sides have made positive progress in implementing the important consensuses reached between top leaders.
The DPRK spoke highly of China's active efforts in promoting the political resolution of the Peninsula nuclear issue in real time according to the situation, and is willing to keep up communication and coordination with China so as to jointly safeguard the stability and development of the peninsula and the whole region, he added.