Chinese embassy in Kenya donates to Mutuini Hope Centre
By Edith Mutethya | chinadaily.com.cn | Updated: 2018-12-09 08:50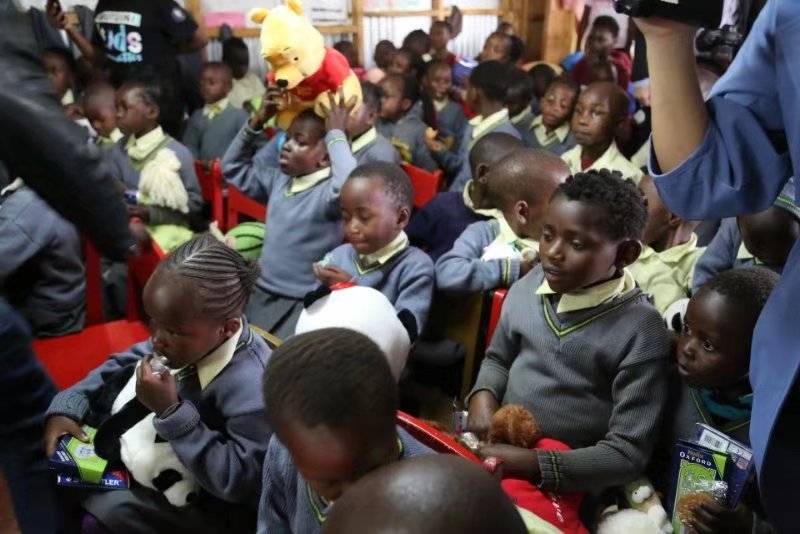 The Chinese Embassy in Kenya on Saturday donated stationery, toys and foodstuffs worth $3,000 to Mutuini Hope Centre, a community based-organization in Nairobi County's Dagoretti constituency.
Charge d'affaires of the Chinese Embassy in Kenya Li Xuhang, said the embassy will continue to support the center in efforts to not only ensure that children access basic education but also enhance the China-Kenya relationship.
Li, who made the comments while handing over the donation in heavy morning rain said:
"The friendship between the Chinese and Kenyan people, our concern and care for the next generation, and the footsteps of the Chinese and Kenyan people to realize our dreams will not be stopped by heavy rain."
Head teacher of the embassy-owned Sunshine School Ma Yibin additionally pledged to approach schools in Hangzhou City, capital of China's Zhejiang province, to finance the medical treatment of one child, Joseph Miruru, who has sustained burn injuries to his head.
The five-year-old Miruru is a pupil at Mutuini Hope Centre. He sustained the injuries in January last year, when his family home caught fire after an unattended burning stove fell over.
The accident saw Miruru admitted to Kenyatta National Hospital (KNH) for one year and four months.
While the hospital waived the $10,000 bill, Joseph's head wound is yet to heal, and he is required to visit a nearby clinic daily for dressing, along with weekly visits to his doctors at KNH.
The doctors plan to undertake a skin graft to heal his injuries.
His single mother, who has three other children, is unable to afford the treatment, so the Mutuini Hope Centre takes care of the cost, which amounts to Ksh2,300 ($23) per week.
Director and founder of Mutuini Hope Centre Mbugua Mwangi said they were grateful for the donation from the embassy, as well as Ma's promise to ensure Miruru receives his treatment.
Mwangi further said the embassy in April supported the center in organizing a marathon, which helped raise additional funds. "We are happy that the embassy has promised to continue supporting us to achieve our dream," he said.
Mwangi said he plans to establish a school system that runs from nursery to college in Mutuini to ensure that all children in the community are educated.
"We have realized that the only way we can help children avoid the problems that their parents are currently going through is to ensure that they stay in school," he said.
The center currently supports 135 children, 81 of whom are educated in the center, which caters for nursery, pre-unit and grade one students.
A further 45 children attend two other primary schools, seven students attend a number of secondary schools, while one student is pursuing her undergraduate degree at Taita Taveta University.
The centre caters for the children's expenses like school fees, books, uniform and feeding program.
Mutuini has a unique problem of child neglect, where children as young as two years old are often left unattended or under the care of older siblings, according to Mwangi.
Drug and alcohol abuse in the area is considered a contributing factor.
A significant number of parents in the area are HIV positive, which further social and family problems. This is what prompted Mwangi to establish the center in 2015.