Electric car startups encouraged to outsource production
By Li Fusheng | China Daily | Updated: 2018-12-10 10:23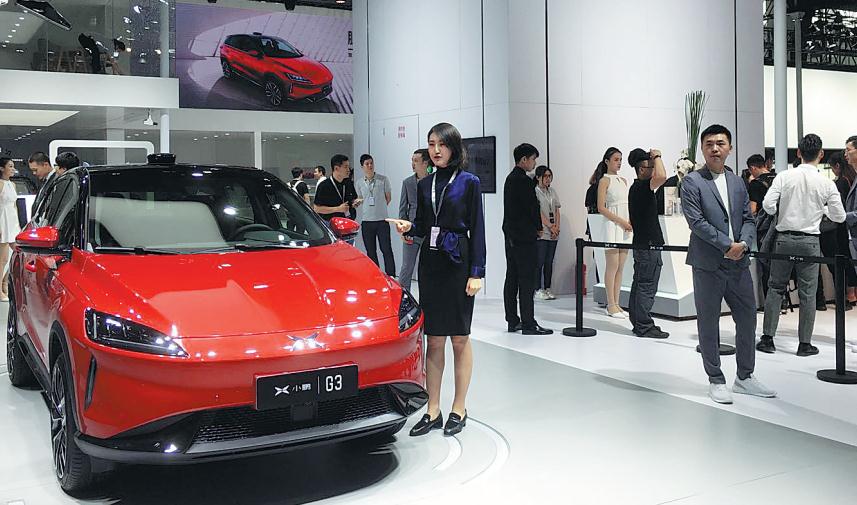 New rule will also help cut overcapacity haunting traditional carmakers
Chinese electric car startups still without manufacturing licenses may now heave a sigh of relief, as the authorities have said for the first time that they'll support the outsourcing of production to those who have the credentials.
In a guideline released on Thursday, the Ministry of Industry and Information Technology said it "encourages cooperation between carmakers in terms of development and production, and allows qualified ones to commission production of vehicles."
The regulation, which is expected to take effect in June 2019, also goes further by allowing car designers to outsource production to car manufacturers, as well.
Analysts said the move will help unleash the potential of Chinese startups, which would have been otherwise hindered, as they are finding it harder to obtain a production license of their own.
China has handed out licenses to 15 startups since the first was given in 2016, and around 200 are waiting in line, according to Cailian Press, a news outlet in the country.
The harsh realities have forced many startups to turn to traditional carmakers, but the partnerships are perceived as makeshift solutions before they receive their own licences.
Nio has asked JAC Motors to produce its ES8 SUVs, and Haima is a partner of Xpeng, which is to launch its first model next week. Others are paying billions of yuan to buy a license from traditional carmakers.
Some analysts suggest that the authorities' official nod to such cooperation means it is not a necessity to apply for their own license, and do not have to even build their own plants.
They say the move is also a sign that the government is shifting its stimulus from financial incentives to measures that facilitate the supply side. China has been financing the industry since 2009 and billions of yuan have since been spent. It is cutting the amount of subsidies and plans to withdraw them completely by the end of 2020.
International brands' accelerated efforts to localize in China may be another reason for the government's decision, in hopes that local startups will help drive the country's lead in the new energy vehicle sector.
China has been the world's largest new energy vehicle market since 2015. In the first 10 months of this year, 860,000 such vehicles were sold, and the China Association of Automobile Manufacturers expects sales to hit a million in 2018.
"But we do not have star models and high-end brands competitive at the global level," Xu Chaoqian, an official at the Ministry of Science and Technology, said at a forum on automotive industry development earlier this year in Tianjin.
As international brands such as Tesla are starting to pour in, local brands will face grave challenges if they cannot offer competitive vehicles.
"I have a sense that the challenge will be really big," Xu said.
Tesla said in October that it is speeding up efforts to bring portions of Model 3 production to China in 2019, a schedule for Chinese startups Byton to launch their models, as well.
Previously, Tesla estimated it would take two years for the Shanghai plant to start production when it signed the deal in July with the Shanghai government.
Cui Dongshu, secretary-general of the China Passenger Car Association, said with the new regulation in place, startups will be able to speed up the rollout of their products, as most of them are relatively weak in production. He said the move will benefit traditional carmakers, as well.
"It prompts them to upgrade and allows them to make a better use of their production capacity."
Overcapacity has been a persistent problem for China's automotive industry. Statistics show that by the end of 2017, car manufacturing plants, including those under construction, had a combined capacity of 64 million cars, while car sales in the same year stood at 28 million units.
Analysts say the new move will be helpful, especially with the automotive market seeing downward trends. Statistics show that car sales in the first 10 months dipped 0.1 percent, and a fall is expected for the whole year.
China is tightening its management of car manufacturing license holders. Earlier this year, the Ministry of Industry and Information Technology published a list of 27 automakers that hadn't produced new energy cars for a year or more.
It included both State-owned license holders including Brilliance Auto and joint ventures, such as Changan PSA. It means those carmakers will have to pass the ministry's inspection if they want to resume production at a later date, and if they fail, their licenses will be rescinded.