Aston Martin gearing up for enhanced China sales
By Li Fusheng | China Daily | Updated: 2018-12-10 10:25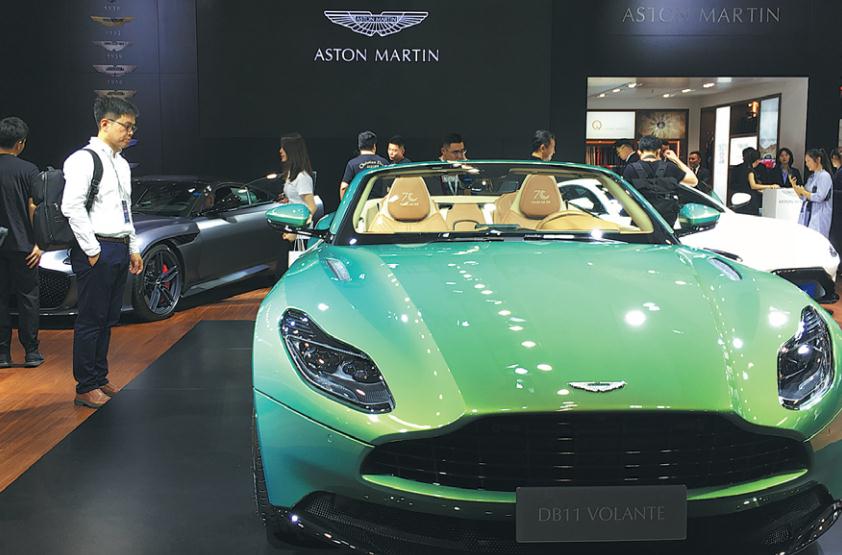 Iconic British sports car maker Aston Martin is gearing up its presence in China, which became its fastest growing market last year.
"China is an absolutely critical market for us, and we are really excited about recent development of our business in China," said Michael Kerr, the company's vicepresident.
Last year, Aston Martin's China sales surged almost 90 percent from 2016, and that momentum has shown no signs of abating despite the slowdown many carmakers have seen in the country.
Sales in the country from January to September already exceeded the number of total deliveries last year, said Michael Mingshan Peng, president of Aston Martin China. The carmaker does not release specific sales numbers by country.
Future demand is expected to be enhanced by the brand's seven-cars-in-seven-years plan unveiled in 2016. The introduction of its first SUV, the DBX, in 2019 will allow its sales in China to approach closer to those in the top markets of the United Kingdom and the United States.
Aston Martin is therefore expanding its dealership network in China. Kerr said it will have built around 20 stores, including those in Wuhan and Nanjing, by the end of this year.
Aston Martin entered China in 2011. Peng said the first five years laid a foundation for its development in China, and the second five years, which started from 2016, will see the carmaker open a new chapter of development.
"This is the mission and vision for my team, our China team, to be No 1 (globally). It is not necessarily about our absolute sales volume in one, two or three years; it is about the quality of our growth," Peng said.
In the past two years, Aston Martin China has been doubling its efforts to gain a firmer foothold in the country.
For example, it has helped to bring the British brand closer to Chinese customers by introducing local taglines for its models.
Further new efforts are happening this year. In October, Aston Martin set up a design studio in Shanghai.
A partnership with Tongji University, it is the company's first design studio outside of the United Kingdom.
The carmaker said it expects the collaboration will allow it to have a deeper understanding of trends in the country, ensuring it is focused on the needs of the Chinese customers.
Also in October, Aston Martin opened its first global brand center in China.
Located in Shanghai, the center showcases all aspects of the company's products, experiences and brand collaborations.
The moves are part of the company's five-year trade and investment program in the country, which was announced during British Prime Minister Theresa May's visit to China in January.
"These investments reflect our confidence in the Aston Martin brand and the attractiveness of the Chinese market," said Andy Palmer, the company's president and CEO.