Yangpu: A transformation to emulate
By Wang Ying in Shanghai | China Daily | Updated: 2018-12-10 10:59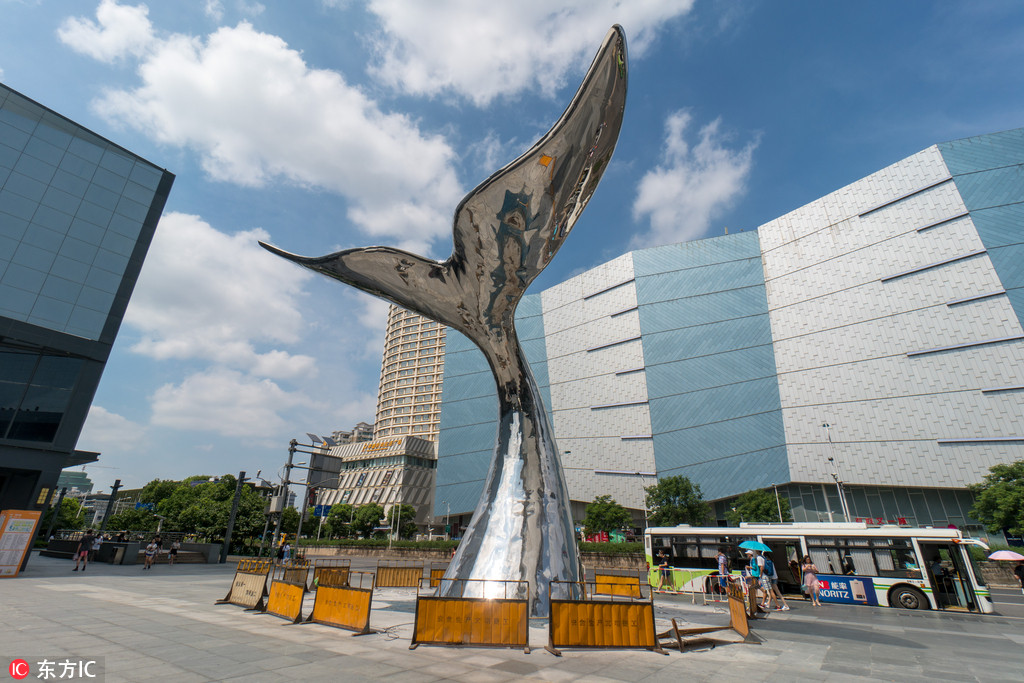 After more than a decade of restructuring, Yangpu district has finally transformed itself from a traditional industrial base to an innovation-driven zone with a focus on sustainability.
Located in northeastern Shanghai, Yangpu district is widely recognized as the cradle of China's modern industry. It was also where the country's first water plant, gas plant and thermal power plants were built.
Formerly called Yangshupu, Yangpu's industries alone accounted for one-sixth of the city's revenue, and nearly 3 percent of China's total between the 1950s and 1970s.
After undergoing an industrial restructuring in the 1990s, the number of factories in the industrial district plunged from 1,200 to 200, with the population of factory workers also dwindling tenfold from 600,000 to 60,000. According to Jiang Qin, deputy director of the Yangpu district development and reform commission, the district's contribution to Shanghai's industry shrank sharply from 25 percent to 3 percent following these changes.
"It was a universal puzzle as to how we could perform a successful restructuring for old industrial areas, but Yangpu has managed to carve out a path by leveraging the resources of local universities and State-owned enterprises," said Jiang.
Today, the district is home to companies of all sizes, including the regional headquarters of multinational corporations and research and development centers, and had a GDP of 170.3 billion yuan in 2017. Its new industries span modern design, advance manufacturing, big data, artificial intelligence, cultural and creative and new energy, all of which have grown 15 percent annually for the past few years, according to authorities.
Occupying 60.61 square kilometers, with a population of 1.3 million residents, Yangpu is home to 10 prestigious Chinese universities including Fudan and Tongji. The district is also known for nurturing several well-known Chinese industrial brands including bicycle companies Forever and Phoenix, Warrior shoes and Chung Hwa pencil. In addition, the district has an area that is home to a number of historic buildings.
In the process of its transformation from an industrial district to a cultural and innovative zone, Yangpu has closed down industries with high energy consumption and pollution as well as low value-added ones such as forging, casting, electroplating, heat treatment, non-ferrous metals, textiles, chemicals, printing and shipbuilding.
For instance, the compound comprising red-brick buildings at No. 2866 Yangshupu Road, which used to be a cotton textile factory, has since been turned into the Shanghai Fashion Center which has a slew of lifestyle and retail amenities.
"The 130,000-square-meter area is now a hotspot for families and travelers because it offers a good combination of international brands and entertainment that are scattered across the buildings. We receive 3 million visitors every year, and our joint revenue reached 440 million yuan in 2017," said Wu Qing from the Shanghai Fashion Center
Meanwhile, the Donghua Textile Factory was developed into an innovation campus called Changyang Valley, which is home to 150 leading startups and small and medium-sized technology enterprises. A former steel mill under China Baowu Steel Group has also been turned into an Internet plus innovation workspace for business starters.
The recently opened 2.8-kilometer-long riverside stretch in Yangpu is a reminder that the past has not been forgotten despite modernization. Industrial buildings located within a 262,000-square-meter area within this riverside stretch have been preserved and opened to the public for sightseeing. Modern elements such as flower beds and outdoor seats have been added to the area too.
"Protection of the ecological environment and high-quality economic development seem to contradict one another. But the Yangpu project has demonstrated that the two can actually coexist and even benefit from each other," said Gao Huixia, an official from the Ministry of Ecology and Environment.