Futures price insurance helps Chinese soybean farmers hedge risk
Xinhua | Updated: 2018-12-10 15:23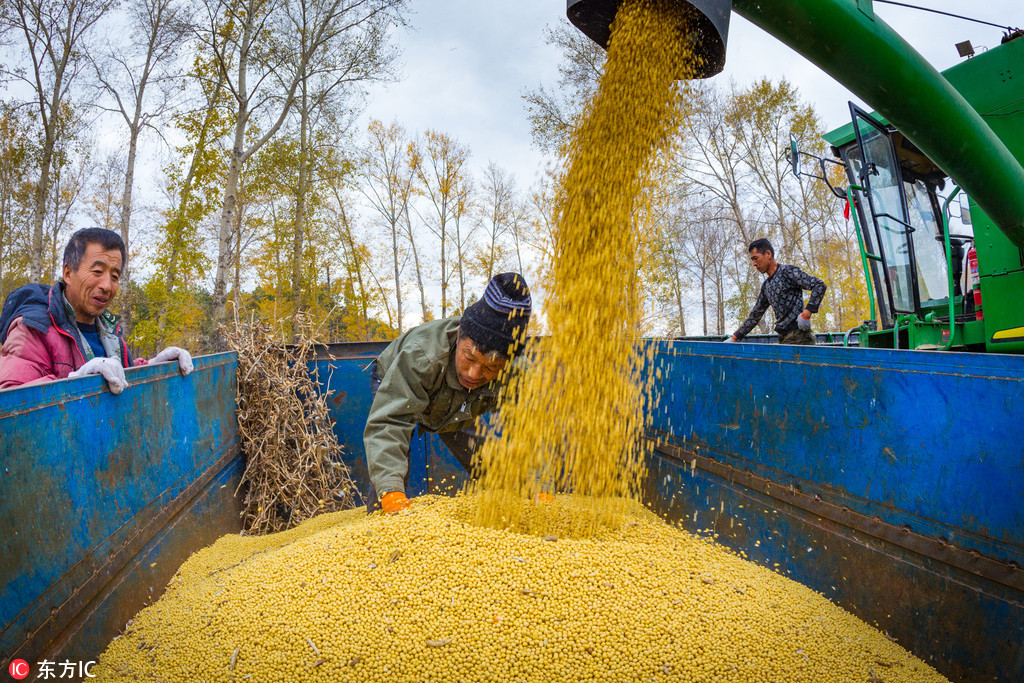 DALIAN - Soybean farmers in Northeast China's Heilongjiang province have received a special premium of 1.44 million yuan ($209,500) from a so-called "insurance plus futures" pilot project.
Under the pilot program, insurance companies provide price insurance for soybeans, an agricultural futures product. Farmers and agricultural enterprises buy insurance to ensure the minimum selling prices or earnings. Insurance companies perform reinsurance by buying OTC (over the counter) options from futures brokerage companies.
According to the Dalian Commodity Exchange, which operates the soybean futures trading in China, the trial implemented in Nenjiang county, one of China's largest non-genetically modified (GM) soybean plantation areas, covers 22 households with an outcome of 15,000 metric tons of soybeans this year.
The county produces 1.05 million tons of soybeans a year, accounting for 10 percent of the total output in China.
As the insurance period ended on Nov 30, the average market price of soybeans was 3,625.46 yuan per ton, lower than the farmers' insured price of 3,721.66 yuan per ton. They are merited to receive an insurance compensation of 96.2 yuan per ton or 1.44 million yuan in total.
The prices of soybean futures fluctuated widely this year. The main soybean futures contract fell to 3,255 yuan per ton by the close of trading on Thursday, down by 22 percent compared with the price peak of the year.
China's two commodity exchanges in Dalian and Zhengzhou have introduced the "Insurance+Futures" mode in 56 pilot projects involving 678,300 tons of spot contracts of corn, 114,000 tons of soybeans, 12,200 tons of cotton and 45,000 tons of white sugar, benefiting 100,000 farmers.
The two bourses have vowed to steadily expand the financial options of agricultural products to help farmers manage price risks.